This is the first in a three-part series about the role boatbuilders and boatyards play in Maine's coastal and island economy.
In the early 1990s, Ed Gray was walking across the beach at Spurling Cove on Great Cranberry Island, and came across Jarvis Newman trying to jack up an old boathouse.
Gray had spent summers on the island as a kid visiting his grandparents, moved there full-time, and made a living in various ways, as island residents do. He handled the town's trash and snowplowing contracts, owned a boatyard, and restored antique cars. On this day, he had done some trucking and was headed home.
"Jarvis was sitting there with a tiny bottlejack," said Gray. "He's a determined person, and he said, 'I'm going to jack the building up.' He had just bought it. I said, 'What are you going to do with it?' He said, 'I don't know, but I'm going to jack it up and get it straightened out.' I said, 'Oh, really.'"
Newman was well-known for fiberglass boatbuilding in Southwest Harbor. Gray was a bit bored with what he was doing. He and Newman decided to start a new yard, Newman and Gray. They hired a company to raise the building and began storage, maintenance and refits. Newman bought one or two derelict boats a year, mostly Newmans, Gray took a chainsaw, cut the tops off, and rebuilt them. Then Newman sold them.
It was a success. Located in premier cruising grounds and associated with two name builders—Newman, and Bunker and Ellis (Bunker was Newman's father-in-law)—storage and repair filled to capacity, more buildings went up and the refit model was strong.
Gray's five children grew up helping out, the yard a second home. After graduating from Colby College, elder son Josh completed a one-year program at The Landing School in Arundel, worked with Newman a while, then with his father. When Ed retired, in 2012, Josh bought him out. Then he called his younger brother, Seth, a mechanical engineering graduate from the Wentworth Institute of Technology in Boston, who partnered up.
Today, storage is up 50 percent and investments in upgrades are ongoing. With a workforce of nine, the brothers think the yard is the island's largest employer.
Now they've got their most cutting-edge project: finishing for a Great Cranberry resident a John M. Williams-built hybrid of a modern Doug Zurn Yacht-designed hull and a classic Stanley lobsterboat top. Twin Volvo Penta D-6 engines combined with Volvo Penta IPS pod drives and joystick control are the latest in performance power.
Backed by the brothers' experience and workforce talent going back 30 years, the yard, said Josh, is well-positioned as a leader in cutting-edge technology as much as the classic finish work involved.
But there are challenges to working on an island—mainly, transporting workers and materials from the mainland. Josh lives on-island, but Seth lives on the mainland and transports other mainland employees in the yard boat, even on the coldest days.
"This year we bought a larger passenger ferry with heat," said Seth. "By the time they get to the dock, the boat's warmed up and everybody drinks their coffee."
Materials paint quite a picture. Everything is delivered to Seth's house. He loads it on his truck, offloads to the boat, offloads to the island truck, then offloads at the yard. Last year's refit took six boatloads of lumber. Some boards weighed up to 500 pounds. Those get thrown off the boat into the water, then towed ashore for the forklift to retrieve.
They're used to the extra effort, but it hikes costs.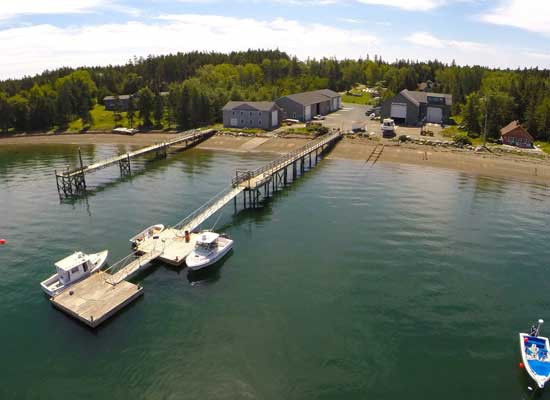 COURTESY NEWMAN & GRAY
"You can't up-charge just because you're on an island," said Josh. "It's part of your overhead."
But they wouldn't trade their location.
"We could be working in a steel building, or we can have this view," said Josh, gesturing toward the sea.
And there's nothing better than being a small business.
"There's no boundary between a person working on your boat and the customer," said Josh. "Customers talk about four layers of management at other yards. And once we get them, people stay. Some boats, we've worked on for 25 years."
That connectivity means they've never had to advertise.
"We have a strong customer base and they're not afraid to talk about us," said Seth.
The brothers feel strongly that they're an important part of a tradition that could otherwise fade due to the high price of island property, scooped up by wealthier summer people. Ironically, said Josh, traditional industry is part of what makes the island attractive.
"It's why people come here—the industry, the tradition of building boats on this island. And people on the island want to see businesses grow here. So you feel like you have the community behind you."
THRVING IN DIVERSITY
Newman and Gray is a great example of a thriving business in the marine trades, one of Maine's strongest industry clusters. It's got themes variously shared with other such businesses—generational ownership, traditional craftsmanship joined with innovation, owner/operator relationships, diversification into various services.
The cluster propels many types of interlocking activity, including boatbuilders, composite materials fabricators, marinas and boatyards, sail makers and canvas shops, rigging and cordage manufacturers and wholesalers, marine diesel engine mechanics, naval architects, servicing dealerships, marine supply outfitters, yacht brokerages, research centers and industry associations, fishing, marine research, marine transportation, and timber harvesters and lumber mills (reported in 2009 by the Maine Department of Labor's Center for Workforce Research and Information).
Yachts, lobsterboats and cruising grounds are three of Maine's most iconic images, so boatbuilders are at the center of this activity. Those images are grounded in long traditions of craftsmanship, but innovation and diversification are also central to progress.
There's astonishing diversity. Take the Boothbay Harbor region. Sixth-generation Hodgdon Yachts uses cutting-edge composites translated from the aerospace industry to build superyachts. Boothbay Harbor Shipyard restores wooden classics. Washburn & Doughty Associates specializes in steel and aluminum commercial tugboats. Stimson Marine crafts small wooden boats. Paul E. Luke Inc. once produced boats and parts and now continues with storage, service, repairs, and refits. Edgecomb Boat Works specializes in classic wooden boat restorations and recently expanded to fiberglass.
Hodgdon, the largest employer, is sixth-generation; the small Stimson yard is going into second-generation, and Luke the third. Storage, repair, maintenance and marina activities are also part of these and other yards; those activities expand as various companies acquire other properties.
Mount Desert Island/Trenton is another shifting microcosm. Just to name a few, the 1930s-vintage Hinckley Company started in wood, boomed with World War II-boat production, became an early fiberglass sailboat pioneer and in the 1990s launched its successful line of jetboats, recently celebrating No. 1,000. Founder Henry Hinckley's sons Bob and Hank grew up in the business, Henry sold the yard outside of the family, Bob later took over, other owners came onboard, and Hank started his own boatbuilding yards.
During the war, Henry partnered with distant in-law Bink Sargent to buy an existing yard and start Southwest Boat to build war and fishing boats. They separated afterward, Sargent went to Florida to design fiberglass boats, but Southwest Boat is still going.
Jarvis Newman learned fiberglass at Hinckley, took a mold off a wooden Raymond Bunker and Ralph Ellis boat, and began a successful company, which spun off other builders like Tom Morris and Lee Wilbur to finish Newman's boats.
Ralph Ellis's sons Don and Dennis started fiberglass boatbuilding at the Bunker and Ellis shop; Don expanded over the years and has a son in the business. Ralph Ellis designed models for Don and for Lee Wilbur. Lee's daughter and son-in-law later took over the Wilbur shop. Tom bought a bigger yard, partnered with naval architect Chuck Paine, and produced high-end sailboats.
Again, that's just a few examples. Other boatbuilding shops, small and large, are going strong, have come and gone, or have seen successive tenants.
Workforces range from a few to Hinckley's 200-plus. Most produce one or two boats per year. Most or all offer the storage, repair and maintenance that's often the bread-and-butter during, say, the recession, when new-boat orders dropped precipitously.
GEOGRAPHIC RANGE
Geographically, yards range the coast from Eastport-based Millennium Marine, a Canadian transplant producing commercial vessels, to Kittery Point Yacht Yard, and inland, like Hampden-based Puffin Boats. They range from old-style plank-on-frame builders to the latest building materials and navigation/electronics technologies, prompting the Maine Department of Labor to cite the industry as a "shining example" utilizing STEM disciplines.
Mainly, there's a strong element of personal interest. Stewart Workman at SW Boatworks took a leap of faith during the recession and purchased the original Calvin Beal Jr. molds because he loved the designs—and had a hit on his hands. Just for fun, Jock Williams at the John Williams Boat Company teamed up with a Hawaiian builder to craft a Polynesian-style outrigger in fiberglass. Peter Kass at South Bristol-based John's Bay Boat Company simply enjoys the solid craftsmanship of  boatbuilding.
Maine-built boats have an emotional draw, said Phil Bennett, the vice president of sales and marketing of The Hinckley Company and a Maine Built Boats director.
There are benefits and challenges to that, he said.
 "Where else can you go to a yard and talk directly with the person who's building your boat?" Bennett said. "It's that small-town intimacy that's missing from big-box interactions.
"But Maine is also susceptible to being like a museum," he warns. "Businesses need to evolve. You can build or restore boats in a simple building somewhere, much the same way they did in the 1920s, and people love that. But customers still expect to be able to send you an email; they expect you to have the technology to incorporate into your work."
The industry took a big hit during the recession, but has come back strong.
"As a rule, I can't say the whole industry is absolutely back on course and booming. But people who trimmed their sails have picked up boat speed big time, and in some cases, that meant not relying just on new boatbuilding but on including refit work in their bag of offerings," said Bennett. "That's been a good adaption in a changing environment."
Demand is strong both for pleasure and work boats, he said. Many companies have plenty of refits and upgrades, too. Maine's small yards appear to be equally strong. And related suppliers are enjoying strong demand.
"People are putting new engines and propulsion systems in their boats, and upgrading their electronics," he said. "The area of navigation electronics, in particular, has improved by leaps and bounds. And now that people have navigation apps on their phones and in their cars, they have an appetite for knowing where they are in a user-friendly way."
Electronic advances includes systems such as wireless remote steering. Such new technology is here to stay, he said. "It's not like hemlines going up or down. And that's one of the drivers that helps the entire industry. Technology, particular in engines and navigation, adds value to the boating experience. People are saying, 'That's what I want.'"
MORE WORKERS NEEDED
That means job security—and more workers are needed.
"If we have challenges, it's finding enough talented people in all disciplines who want to work," said Bennett. "And because of the amount of business some shops have, we know it's not going to be just temporary work. Everybody's got help-wanted signs out."
At the Maine Marine Trade Association, Executive Director Susan Swanton works to promote awareness of job opportunities.
"As a society, we've convinced people that the only pathway to success is to have a four-year degree," said Swanton. "There needs to be awareness of the career opportunities in this industry. A good boatyard is not just a place you go to for 40 hours a week so you can put food on the table. It's a place where you can actually have a very rewarding career. You can come in as an entry-level worker and move yourself up the career ladder."
The association collaborates with high school and college career advisors to promote the marine trades for entry-level jobs, apprenticeships, and internships. It works with The Landing School in Arundel (recently named the No. 1 community college in Maine) to help make connections to industry. The school's placement rate "is off the charts," said Swanton.
"We also encourage our members to brag a little about the great work that they do so that everyone understands this is an industry with an amazing past and an unlimited potential for the future."
BY THE NUMBERS…
From the National Marine Manufacturers Association:
• Maine's recreational boatbuilding and services alone amounted to more than $1 billion in sales in 2013.
From the state Department of Labor's Center for Workforce Research and Information, excluding Bath Iron Works:
• 74 boatbuilding establishments in 2015.
• Boatbuilding jobs averaged 1,550 from 2001-2008, declined to just under 1,100 in 2010 due to the economic downturn, but recovered to 1,492 boatbuilding jobs in 2015.
• 104 marinas with 880 jobs in 2015. Marina jobs peaked in 2008 (1,000).