Reflections is written by Island Institute Fellows, recent college grads who do community service work on Maine islands and in coastal communities through the Island Institute, publisher of The Working Waterfront.
In the library, Tremont residents gather around flood maps. Disoriented at first, we find key landmarks—the school, Hansen's Outpost, the harbor—and then begin.
In these gatherings, residents create their community resilience plan. It's a different kind of map—a roadmap to fulfilling the visions we've cultivated in conversations in library corners, scribbled on sticky-notes, and fed with fiddle tunes and potluck food.
Community values, fears, and hopes for the future guide my daily work with the town and A Climate to Thrive as an Island Institute Fellow.
Every so often, we have a win we can get our hands, heads, and hearts around.
Jotted down on paper, they become real at pancake breakfasts and lobster boat races, while yanking weeds in community gardens, or reading the cards kids made for the town's 175th birthday.
Slowly, at the speed of trust, alchemy occurs. A path to a thriving future, amidst tangible challenges, emerges. "Climate work," once controversial, becomes about the things we value; it ceases to be a struggle against and becomes a struggle amidst. By refusing to let our paths forward diverge and leave some in the dust, we braid our different ideologies and priorities and come together at the crossroads.
What does that look like in practice? It's applying for federal funds to equip the town's public safety facility with solar and battery storage, transforming it into a resilience hub that maintains power and supplies critical services during outages and crises.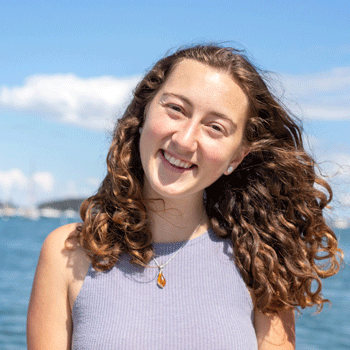 Blackouts can last for days in the bitter cold on Mount Desert Island's "quiet side," where residents have voiced the need for resources so they can stay warm and safe. We have the chance to meet this need with renewable energy because of an outpouring of federal resources.
Accessing that funding is daunting, to say the least. But behind the pages of litigiously-worded guidance and technical scoping is a key opportunity: an engine that can drive forward projects once out of reach. These projects multisolve, protecting the most vulnerable among us while saving the town's hard-earned money, providing grid services, driving renewables forward, and cutting emissions, all at once.
My team and I hit submit on the final form, breathed out, and walked to the pond. We dove in, the water beneath Beech Mountain almost warm, the tension of bureaucracy melted into a kind of peace. A reminder that it's worthwhile. We go back to this landscape to remember why we do this work, with all the tools at our disposal, for the places we call home.
The scale of our problems and the necessary fixes feel massive. But every so often, we have a win we can get our hands, heads, and hearts around.
We got the news days later that another of our prize applications had succeeded. That $100,000 in federal funds were on their way to shepherding a solar cooperative into being, vastly expanding possibilities for communities to own the energy they rely on. If we are confident that our community is behind us, we can seize these opportunities when they arrive, making strides on a road ahead that we've laid out together.
I think of the words of Ruth Moore, the Tremont-born writer whose work transported many "from aways" to this island: "the place you were homesick for, even when you were there."
This longing abides in the conversations I've been dwelling in, the push and pull between love and precarity of place, between constancy and the constancy of change. We are living in a world remaking itself— for worse and, if we succeed, for better.
When it's grounded in community, acting on climate creates abundance. It keeps our lights on, keeps money in our pockets, keeps out the cold. On this island where the sea draws nearer, we have the chance to not merely cope with loss but to lead towards a future where that abundance includes us all. We dwell in that possibility together—that's the complication and the hope of it all.
Brianna Cunliffe works with A Climate to Thrive on Mount Desert Island focusing on education and community-based climate action. She recently graduated from Bowdoin College with a degree in environmental studies and government.