Reflections is written by Island Fellows, recent college grads who do community service work on Maine islands and in coastal communities through the Island Institute, publisher of The Working Waterfront.
By Dylan McBride
A year ago, I was a college senior majoring in medieval studies with little idea of what I wanted to do after graduating—and with too many papers to write to give it much thought! I loved the range of topics I was engaged in, but it seemed like time to get outside of the classroom and step beyond my comfort zone.
One thing led to another, and a few months later I arrived in Milbridge as a newly minted Island Fellow to transform the dream of a "bike bus"—a mobile youth-centered bike repair shop—into reality. I'd gotten my wish for something totally new. I didn't even have a driver's license when I accepted the fellowship!
I was determined to dive in, be serious, and do good work. My job involves helping teach kids bike repair, getting them riding safely and happily, and improving bike resources in a county with a scenic bikeway but no bike shops. It requires a lot of computer and paperwork, but the most important component is the hands-on part working with students and bikes.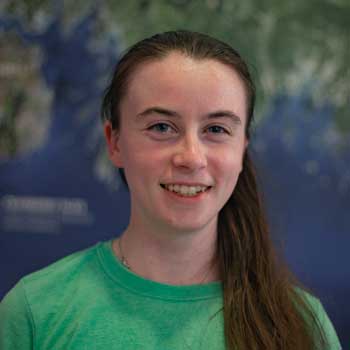 Dylan McBride
These past few months, I've watched kids bomb down a snowy hill on bikes, wipe out spectacularly into a snowbank, and then hop back up with a grin to ride again. Watching them change a tire for the first time and think about what their dream bike could look like, the kids have taught me a lot about priorities.
Kids are good at having fun. They're good at trying hard, falling down and going right back at it. They're good at seeing "maybe" where adults can only see "can't." For a short time, adults encourage this. We laugh good-naturedly over their fearlessness, tell them to pedal faster, ride harder, and not look down.
Then, all too soon, we start telling them to slow down, put the fun on hold, get serious and learn. We tell them to forget the "maybes"—there is one right answer and having "too much fun" learning won't get you there.
Since the start of my fellowship in September, I've been reminded to take my cues from the kids I work with. The keyword for the work I do has rapidly become "fun."
Bikes are fun. Even when they are a means of transportation, they are still fun. A bike program should also be fun. If it isn't, there's something wrong and nobody is likely to learn anything. And if that's the case, then what's the point?
The bike bus program is about new opportunities and creating something different for the students. Bike repair is hands-on technical learning, but it's also something people do for fun. My position allows me the freedom to create something responsive to the kids themselves. We get to try, fall down, and try again with better results.
Early in the process I found that the more I encourage the students in their curiosity (the more I embrace their maybes), the more fun they have and the more they remember out of what we teach them. The more I dive into my own drive to be curious and have fun, the more possibilities we get to explore together.
These kids have reminded me that having fun is not the opposite of being serious, that good work and fun can go together, and that the time for celebrating curiosity didn't end when I got my diploma. The students, my advisors and I have much more bicycle fun ahead of us. We have new adventures to try, and a lot more falls to learn from. Let's pedal fast, not look down, and enjoy the ride ahead. I'll bring a repair kit if anyone gets a flat.
Dylan McBride is working with the Washington County Council of Governments to develop and implement the Bike Bus, a mobile bicycle repair and riding program for youth to improve physical and emotional health, build social and mechanical skills, introduce children to outdoor recreation assets in their community, and build interest in environmental stewardship. McBride majored in Medieval Studies at Smith College.