The Gatherings: Reimagining Indigenous-Settler Relations
By Shirley N. Hager and Mawopiyane, University of Toronto Press
I confess to being skeptical when I opened The Gatherings: Reimagining Indigenous-Settler Relations, a book of reflections on a series of "gatherings" of white and Native people in Maine and Maritime Canada in the 1980s and '90s. It seemed all too possible that such events—and a book about them 30 years later—could be just another New Age version of white people "playing Indian," as the scholar Philip J. Deloria phrased it.
To my surprise, the participants had the same hesitation.
The gatherings, co-organizer and co-editor Shirley N. Hager explains, were conceived in the mid-1980s when a small group of white people in Portland decided they wanted to address the long, painful history of settler-Native relations. If settlers' descendants and indigenous peoples could understand each other better, they thought, then relations could get better and life could get better.
A small group of white people in Portland decided they wanted to address the long, painful history of settler-Native relations.
They sought out members of Penobscot, Passamaquoddy, Micmac/Mi'kmaq, and Maliseet communities—collectively referred to as Wabanakis, or First Nations—who might be open to trying to create grassroots relationships that might foster communication between deeply divided people. The first of the gatherings took place in 1987, and they continued once or twice a year through 1994.
We learn from the recollections and philosophical reflections of 14 of the participants that no one was sure how, or even if, the proceedings would work. Wabanaki, or Dawn Land People were among the first to suffer the ravages of the European settlement of North America; they harbor generational distrust after five centuries of mistreatment ranging from bad faith legal dealings to efforts to exterminate them.
The white participants suffered from a sense of generational guilt about this history, as well as the vague sense that they didn't understand the Native point of view. The gatherings were not trying to build bridges; they were trying to leap an abyss.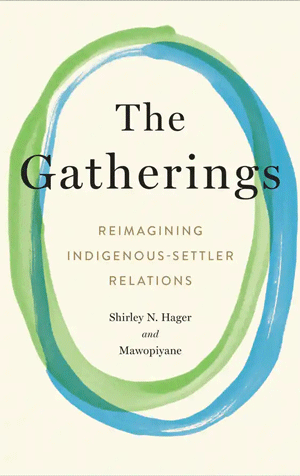 The first recollection begins with these skeptical, yet hopeful sentences by Miigam'agan, a Mi'kmaq woman of the Fish Clan in northeastern New Brunswick: "I used to get upset with my partner gkisedtanamoogk when he would go to these Gatherings. 'Why do you invest time out there when there is so much work to be done at home?' He would talk about the importance of building alliances and he would say, 'Not everyone is arrogant, not everybody's a racist. There are friends out there and they need our support too.'"
From there we dive into each participant's views of a microcosmic struggle to navigate the bewildering tangle of personal, cultural, social, environmental, and legal differences, misunderstandings, prejudices, suspicions, and resentments between peoples. The section of recollections is followed by a brief middle part that answers the looming question of why the Gatherings ended. Then a section of essays talks about the frictions, perils, and hopes that arise when Natives and settlers come together.
The result is the feeling that as the Gatherings took shape—changing, for example, from a Euro-American-style meeting with start-times and agendas that emphasize talking, to a traditional indigenous talking circle that emphasizes listening—an authentic effort to find common human ground developed.
There was a measure of success.
Miigam'agan is asked by Shirley in the latter part of the book "about the pressure indigenous people can feel from non-Natives wanting to learn how to be more connected to the Earth." Miigam'agan replies: "I've been … learning about European history and the comparisons with our [Native] culture. And I see that our spiritual knowledge, our original instructions or Earth-based ways, were all the same."
A recurrent theme in the perennial philosophies is that once you clear away the many superficial differences among people, a common moral and spiritual reality shines through.
The Gatherings themselves had solved little, at least tangibly, by 1994, when Native people not taking part suspected the white participants were "playing Indian" and their heavy-handed objections overwhelmed the endeavor. But as the latter chapters of the book demonstrate, common sensibilities about justice, relationship, and unity grew among the participants.
This set up a powerful momentum of feeling that some of them, in the 2010s, decided to preserve. Calling themselves collectively "Mawopiyane," a Passamaquoddy word meaning "let us sit together," they spent several years piecing together this simply framed, but profoundly encouraging book.
Dana Wilde is a member of the National Book Critics Circle.