Island legend, writer and historian Ivan Calderwood left his island home and land to the town of Vinalhaven for the purpose of providing a home for older islanders no longer able to adequately provide for themselves. The Ivan Calderwood Homestead is now Vinalhaven's eldercare facility, home at any given time to eight or so of our own who'd rather live out their remaining years in the embrace of their own community than in a remote mainland facility.
Among the many folks who come and go regularly are the administrator, Neil Martin, his devoted staff, and the many volunteers who serve as the facility's board of directors. Others come to entertain or socialize with the elderly residents, among them a nine-year-old girl.
Kailyn Hufsey's great-great grandmother, Maddy Hildings, is a resident at the Homestead. Kailyn is devoted to her gram and to all the elderly residents for that matter, and to the staff. A young girl might be expected to find other things to attract her attention and Kailyn does, but she gets the most satisfaction from looking out for her gram and for the other residents at the Homestead.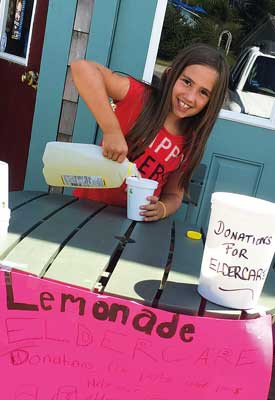 She shows up for craft night to help those whose dexterity is not what it used to be; decorates the living area and individual rooms for Christmas and special events; shows up to join the residents for lunch or dinner or just to socialize with them; and told me she likes to visit just to see what the elders, as she calls them affectionately, are up to.
Administrator Martin says the place just lights up when Kailyn arrives and, having now spent a little time with her myself, I can certainly understand why.
Earlier this year the Homestead asked for contributions to help them purchase a walk-in tub for residents who found it difficult to climb in and out.  Fisherman's Friend, an island business run by Kailyn's family, publicized the need and collected contributions from the store's generous patrons, mostly lobstermen.
Kailyn struck on the notion that she might augment those donations by setting up a lemonade stand, the proceeds from which would be benefit the Homestead. She went ahead with this enterprise and quickly found herself dealing with the many little intricacies involved in running a small business.
She had to refine initial signage that designated eldercare as the beneficiary, spelling out that it was the Ivan Calderwood Homestead she was collecting money for and not just her aging grandfather Roger. She learned that she had to tend to business and could not wander off to gab with a friend because a patron, impatient and thirsty perhaps, might go off in search of a drink elsewhere. She learned to set up in the shade and thus lend a "coolness" to the already inviting iced lemonade.
She learned, too, that Sunday is a good day to be in business because lobstermen, who are not allowed to haul on Sunday, come in to pick up the fixings for early Monday morning on the water—their "haul lunch."
Kailyn has her operation down pat, serving youngsters in half cups with lids so they don't spill and make a mess.
One day she took in over $120 and, having conducted an earlier assessment of the Homestead's needs, bought them new linens. More recently, she purchased pots and pans and utensils for the communal kitchen. At the end of the day she's off to visit with Gram and the other residents or to shop for whatever she has determined the facility needs and that she can afford. 
Phil Crossman lives on Vinalhaven where he owns and operates the Tidewater Motel.