Dylan Bunker explains his course of study at Maine Maritime Academy in much the way Goldilocks explained her taste in porridge.
There are three tracks for the marine engineering degree, the 22-year-old senior says. One is very much a hands-on discipline, one is rooted in the theoretical, and one has ties to both the practical and analytical.
That last track, the marine engineering technology major, is what suits Bunker.
"Things break or wear out, and it's your job to fix it…"
"It teaches you the basics of marine engineering systems," he says, and explains the design of systems that handle propulsion, pumps, electric, and hydraulics, so they can be analyzed and improved. But his classroom and shipboard education also has him getting his hands dirty maintaining and fixing these same systems.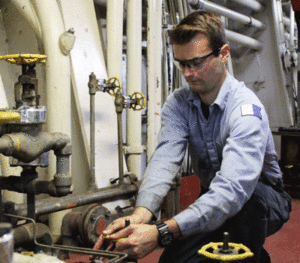 When he graduates in May, Bunker hopes to "ship out" as an engineer.
Last summer, as part of an internship, he was aboard a Polar Tankers ship, a subsidiary of ConocoPhillips, traveling to Valdez, Alaska.
"Twice a month, they go up there and get oil," he says. The ship then delivered its cargo to ports in Washington—Ferndale, March Point, and Cherry Point—as well as terminals in San Francisco and Honolulu.
For a young man who grew up and went to high school in Bucksport, these ports of call were alluring, he admits. And yes, he did get ashore to see the sights.
"Every time we got into port, the crew urged me to get off and explore," he says. "They'd give me $100 to get something to eat, get a haircut, have a good time."
After graduating, would he pursue a job with that same shipping line?
"Absolutely," he says.
Bunker sailed on Maine Maritime's training vessel State of Maine in 2018 for a 72-day voyage.
"We went to Spain, Rotterdam, Belgium, Lisbon, Italy," he remembers. The training voyage is critical to a mariner's education, Bunker explained. "Every freshman got to go down to the engine room, and every freshman got to stand a watch. It's extremely valuable."
Part of the value is dealing with the unexpected.
"A lot of things happen out of the blue," he says. "Things break or wear out, and it's your job to fix it, or prevent it, so it's not inconvenient to fix it."
Bunker chose to participate in what the academy calls regimental training, which imposes a military discipline to those cadets who choose this approach. And he was recently elected by his peers as chief engineer.
"I run the cruise for the upcoming year," he said, "making sure that the freshmen are all up to speed," and working with the ship's crew to ensure readiness. The voyage is tentatively scheduled for April to May.
"It's an honor," he says of the chief engineer status.
Another honor bestowed is being named one of ten students to receive a Scheel Scholarship. Other Maine Maritime students from Maine's coastal counties to receive scholarships are:
Sawyer King of Appleton
Eric Mote of Blue Hill
Tyler Alley of Jonesport
Noah Caramihalis of York
Cassidee Lawrence of Perry