Every summer for the last five years, Amy Goodwin's son and daughter fight over the same thing: a treasured summer visitor from the Bronx named Simone.
"They each wanted to do something different and they each wanted her to do something with them," said Goodwin, a 38-year-old education technician who lives in Brunswick with her husband and two children, ages 10 and 12.
Goodwin and her family participate in a summer experiences program that, ostensibly, is for the benefit of low-income children from New York City, but which, Goodwin says, is just as enriching to host families like hers.
"My kids count down the days until (Simone) is coming," she said. "It's something that has made our summers."
The Goodwins are a host family for The Fresh Air Fund, a nonprofit that has, since 1877, placed nearly 2 million children from low-income homes in New York City into its own camps outside the city and into the homes of host families living in the country. The mission of the nonprofit is to give these children a chance to get out of their crowded city environments and play in the outdoors.
Maine, an outdoor enthusiast mecca for hundreds of years, is an ideal location for these inner-city children to visit, said Sheryl Cardozo, director of The Fresh Air Fund's Friendly Towns program.
"It's a beautiful, beautiful place," she said. "Our New York City children are so lucky to get to spend the summer. You have everything. You have lakes. You have mountains. You have ocean. You have lobster!"
Last year, 208 families in Maine hosted children from New York City for a week or longer in July and August.
"It's a cultural exchange that enriches everybody who's involved," said Cardozo. Host families report they get more out of the experience than they ever anticipated, she said. Goodwin's family can attest to that.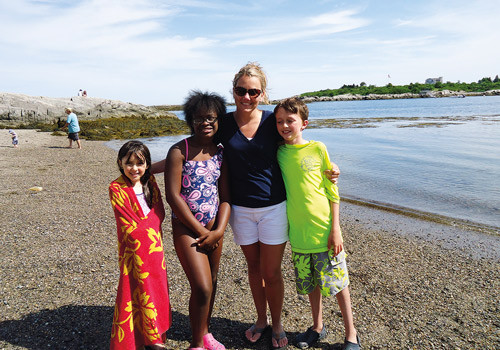 COURTESY AMY GOODWIN
They started hosting Simone, now 13, when she was seven (the nonprofit doesn't divulge participant last names for privacy reasons). She was the family's first hosting experience and it's been nothing but terrific, says Goodwin.
"We knew after that first summer we wanted her back and for longer," she said. "We didn't have enough time to do all the fun stuff we wanted to do with her."
The Fresh Air Fund pays for the children's transportation to Maine and back home, but host families pay for everything else, such as food and whatever activities they do during the visit, said Goodwin. However, there is no expectation that host families offer their visitors expensive experiences.
"It's about the experience of getting them out of that city," she said. "As long as they can be outside playing, riding bikes or going swimming—that is the important part—just getting them outside."
Families do not have to be wealthy to offer those things, she said.
Part of the fun of hosting a child from New York City is that Goodwin and her family get to be tour guides, she said. When Simone is here, she said, her family does touristy things that they wouldn't normally do.
"It makes us enjoy our state more by having her here," she said. "We realize what an amazing place we live in."
When Simone is visiting, the Goodwins take her to the beaches and Portland Head Light, but most of the time is spent doing things that her kids take for granted: swimming in the ocean or in the lake at their "roughing it" camp (the outhouse weirded out Simone at first), eating lobster, going to working farms, running around the backyard.
While lots of fun is had by the Goodwins when Simone visits, Amy Goodwin recognizes how much of a learning experience it is for her family—for her children especially. By getting to know Simone, they learn that not everybody has the same experiences they do or access to the same things—like a backyard to play in, she said.
"It kind of puts things in perspective for my kids and makes them appreciate what they have," she said.