By Tom Groening
As the state celebrates its 200th anniversary this year, Mainers are reflecting on their history. And John Worth of Belfast, who has spent his life on the water, is investigating and highlighting the maritime part of that history.
Some years ago, Worth learned that Maine is one of two states—Massachusetts is the other—that has an official merchant marine flag. In 1939, the legislature created the Maine Merchant Marine Flag and Ensign, just two years before the state established Maine Maritime Academy in Castine, in anticipation of the nation's needs as it prepared to enter World War II.
Worth has been an instructor at MMA, and from 2003 to 2009, served as captain of the academy's historic schooner Bowdoin, and it was there that he learned about the flag.
"I got sort of excited about it when I was at Maine Maritime Academy," he remembers. "I started to fly it then on the Bowdoin."
Worth learned that Donald MacMillan, who captained the Bowdoin on its first trip to the Arctic in 1920-21, had been given the merchant marine flag to fly on his 1940 expedition.
"He flew it all the way up to the Arctic Circle," Worth learned, and the flag appears to then have been "stuffed into a sail locker on the Bowdoin," which is where Andy Chase, a long-time MMA professor, found it. Chase helped bring the schooner back to MMA, Worth also notes.
"I'm a merchant mariner enthusiast and booster," Worth said, and so he was able to purchase several of the flags from Hamilton Marine, and now flies it on his own recreational boat, on Maine State Ferry Service vessels when he fills in as captain on some runs,andhe'slearned that some of his former students have purchased the flag and flown it on the ships on which they now work.
In addition to Hamilton Marine (which has several locations in the state, and an online store), Worth said the Maine Flag Company in Portland manufactures and sells the mariner flag. The company's Chris Korzen notes that the business was launched "specifically to make the Maine merchant marine flag and branched out from there." That project led to the company making the original Maine flag, which got a lot of attention as the state marked its bicentennial.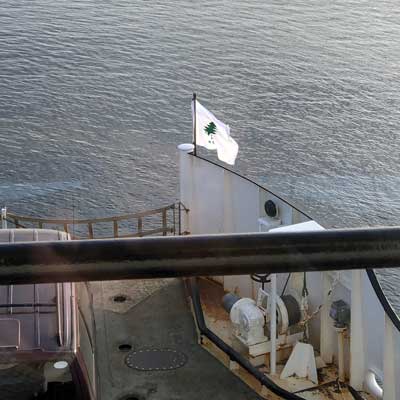 The flag flown on a Maine State Ferry vessel. PHOTO: COURTESY JOHN WORTH