By William Hall//Photos by Michele Stapleton
Power-generating technology piloted in Washington County will soon provide a commercial source of electricity in Alaska.
The technology's developer, ORPC Inc., unveiled its RivGen Power System April 17 at a ceremony in Brunswick, attended by Gov. Janet Mills and 150 others. ORPC will deploy the 65,000-pound, 50-foot-long device this summer on the Kvichak River in the southwestern Alaska village of Igiugig.
"ORPC is a shining example of how we can harness innovation to grow our economy and create a clean, sustainable energy future," said Mills. "I am proud of ORPC's continued exploration and growth and look forward to the leaps and bounds they achieve in markets around the world and here at home in Maine."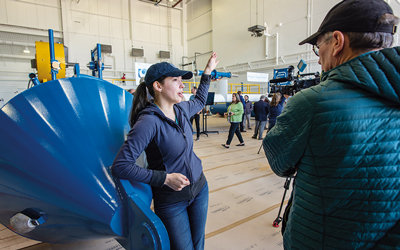 ORPC tested a RivGen prototype in Igiugig in 2014 and 2015, and then developed the commercial system with the help of a $1.5 million grant from the U.S. Department of Energy.
In 2012, the company launched a similar device, TidGen, that can produce up to 180 kilowatts of electricity from the tides of Cobscook Bay, between Eastport and Lubec.
CLEAN, LESS COSTLY 
Whether based in Alaskan river water or Maine sea water, the ORPC technology harnesses currents to spin underwater turbines, which are positioned between two submergible pontoons. The turbines generate electricity, which is then fed into an existing power grid. The result: less need for costly or environmentally damaging energy sources, such as fossil fuels.
The RivGen device can produce up to 80 kilowatts of electricity. In Igiugig, a hamlet of 50 people about 250 miles from Anchorage, the device is expected to replace up to half of the community's current diesel-generated power—which can cost as much as 80 cents per kilowatt-hour. Ultimately, the village's goal is to use diesel only for back-up power generation.
"This is game-changing technology," said Nathan Johnson, ORPC's vice president of development in an interview after the ceremony, as the device was being prepared for shipping from a Brunswick Landing warehouse to Alaska.
The consistent, predictable nature of tidal and river currents is a key advantage of marine renewable energy, he said. It's ideal for remote areas where fossil-fuel-based electricity production is expensive, he added. In northern regions such as Alaska, where solar power isn't always practical, marine renewable energy may also be the go-to renewable energy.
"Solar and wind power have their place, but they may not always be sustainable in some places," Johnson said.
Eastern Maine and its powerful tides also are prime territory for ORPC's technology. In fact, ORPC began a demonstration project on Cobscook Bay just two years after the company's 2004 launch in Florida as Ocean Renewable Power Co. In 2007, ORPC opened an operations office in Eastport.
WORLDWIDE, LOCAL OPPORTUNITY
Today, the company's headquarters is in Portland, and a field office is in Anchorage. ORPC also operates subsidiaries based in Montreal, Canada, and Dublin, Ireland.
ORPC, which says it was the first company in the U.S. to deliver power from ocean energy to a utility grid, has now completed 11 installations of its turbine technology. The company also holds 39 patents and has raised over $90 million in funding.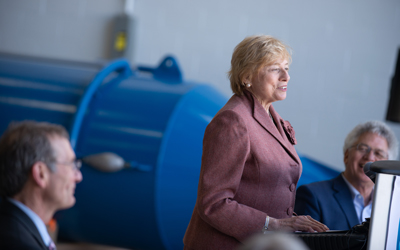 In March, ORPC launched a crowdfunding campaign through Netcapital, a private equity portal, to raise additional growth financing, and already has received over $550,000.
"We feel strongly that democratizing investment in early-stage growth companies is in keeping with our core values, as it allows anyone to make an investment in ORPC," said Chris Sauer, the company CEO, chairman, and co-founder in a prepared statement. "With our current technology, we estimate our total addressable market is almost $480 billion."
Worldwide, 700 million mostly indigenous people rely on diesel fuel to provide electricity for their homes, according to Sauer.
Despite that large potential and ORPC's continued growth, the company doesn't appear to have lost sight of its local roots.
"We still see Eastport as the Kitty Hawk of tidal energy," Johnson said.
Working with local communities is an important part of ORPC's business model, he noted. In Maine, the company has worked on its technology with the help of 280 partners and contractors in 14 of the state's 16 counties, according to company president and COO John Ferland. Since 2007, ORPC has spent over $36 million on Maine goods and services.
The collaboration not only benefits Maine businesses, it allows ORPC to better understand the environmental challenges facing its products.
"Local knowledge, whether in Maine in Alaska, is absolutely essential," Johnson said. At the same time, he feels ORPC is building on Maine's rich maritime history.
"This is a different way to make a living from the sea, which has been part of Maine's heritage for generations," he said.
Nathan Johnson is a member of the Island Institute's board of trustees.