Whether it's to look at a boat or to buy one (or just spend a nice day out on the waterfront), the Maine Boat & Home Show, on the Rockland waterfront August 9-11, is the place to be. The show is the largest of its kind north of Newport, Rhode Island, and this year, there will be more than 100 craft, large and small, luxurious and down-to-earth, power and sail, displayed both on land and in the water. There will also be a host of activities for young and old, plus art, fine furniture, jewelry, live music, marine gear, and local food.
Maine's boatbuilders are among the finest in the nation, and here's proof," said John K. Hanson, Jr., show producer and publisher of Maine Boats, Homes & Harbors magazine. "In my mind, no one boat is the star of the show, they all are. Your ticket gets you aboard many of the boats, and you can even schedule a test drive in Rockland Harbor from the Demo Dock."
The powerboat selection might not cover the entire alphabet, but it's close. It will range from dayboats and cruisers to commuters and runabouts, both stately and zippy. There'll be the elegant 22-foot-long Pulsifer Hampton, built by John Lentz Woodenboats, and a 22-footer from Redfern Boats, billed as "the fiberglass boat for wooden-boat lovers." 
Yarmouth Boat Yard's blazing fast Pursuit Boats OS355 Offshore with triple Yamaha 300-hp outboards, will appeal to those in need of speed, as will one of the more unique craft on display: the 18-foot torpedo-stern runabout being shown by King Hell Boats—it's powered by a Harley Davidson engine and steered with motorcycle handlebars.
There'll be plenty of big boats too. Palm Beach Motor Yachts will present a Palm Beach 55, a sleek high-performance motor vessel with top-notch interior joinery and amenities.
The DiMillo's Yacht Sales lineup will include the elegant Sabre 48 Salon Express, with engines and drive units that have been moved aft to open up more usable interior space. Also on tap are the Sabre 38 Salon Express, Back Cove 37, and the Back Cove 37 Downeast.
New to the exhibitor lineup this year, Navic's Draco 27RS is a 27-foot Norwegian-designed sport/utility powerboat with a retro flair. East Coast Yacht Sales will showcase the distinctive Axopar line of Finnish-designed sport boats as well as the classy and seaworthy MJM 40z.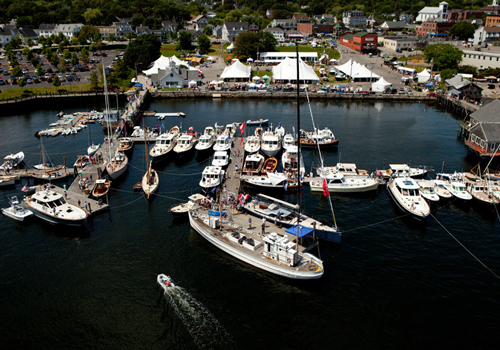 Speaking of classy, the Hinckley Company will showcase its jet-driven Picnic Boat 34, featuring state-of-the-art systems and technology.
Nighthawk, a 55-foot S&S designed motoryacht built and maintained in peak condition by Lyman-Morse Boatbuilding, and a Wilbur Yachts 34 hardtop Downeast cruiser will be on display.
Yachting Solutions will have a selection of vessels from Hunt Yachts, Rossiter, and Vanquish, as well as a Beneteau Gran Turismo 40, which blends sporty handling with practical cruising accoutrements. And those who like all things retro shouldn't miss their painstakingly restored 1955 Huckins power yacht Northern Spy.
In the tugboat category, Moose Landing Marina will showcase the spacious Ranger Tug 31 CB trawler yacht, a great cruiser that also can be trailered. Moose Landing also will have Ranger Tugs in 23-, 27-, and 29-foot lengths, as well as Brig rigid inflatable boats from 10 to 17 feet.
In search of speed? Look at South Port Marine's selection from Everglades, Sea Pro, and Cobia, which includes the speedy new Everglades 340 DC dual console.
Also on hand from Yarmouth Boat Yard will be a Cutwater Boats C302 Sport Coupe, a speedy family cruiser (with twin Yamaha 300s) that can sleep 6. 
Southport Boats will showcase its new 33 DC hardtop dual-console layout which rides on Southport's proven Hunt-designed offshore-capable hull. Maritime Boats will have both a 189 Defiant center console and a 1480 Skiff center-console.
Buzzards Bay Yacht Sales will showcase Steiger Craft in 31- and 25-foot lengths; stout and seaworthy cabin boats that make great fishing machines or island commuters. Rosborough Boats USA will have on hand a 24.5-foot pocket trawler with newly revamped interior layout and upgraded systems.
On the brokerage front, Gray & Gray Yachts will offer a trio of quality pre-owned yachts: a Grand Banks Europa 42 and a Europa 46, plus a classic 1960s wooden Robert Rich lobster-style cruiser.
For those who prefer sail, long-time exhibitor Classic Boat Shop will have one of its ever-popular and classy daysailers, the Pisces 21, displayed on the seawall. 
Bridges Point Boat Co. will showcase the Bridges Point 24, a Joel White-designed classic daysailer that recently went back into production.
Larger sailboats will be on hand too. The Hinckley Company will bring a Morris 42, which combines the sleek fast lines of a daysailer with the amenities of a cruising boat, and the Yachting Solutions lineup will include a sweet sailer as well.
In addition to the many fantastic boats that are for sale, an intriguing pair of working boats will visit the Icon Dock.
On Friday, visitors can tour the 59-foot diesel-electric steamship America, and learn about the builder Tom Joyal's mission is to get veterans and their families out on the water.
Saturday and Sunday the burly Wallace Foss, the oldest in-service tugboat in the United States, will be on location.
There'll be loads of boats on the docks plus there will be a veritable armada of vessels displayed around the show grounds. Eastern Boats will have a 238 Islander, a 22' center console, and the new 21 Pilot. Jeff's Marine will show off a restored 1968 Bertram.
The Landing School LS 17 will be on hand, as will a First Light 18 by Pease Boat Works. Pemaquid Marine will have a Banks Cove 22, and Portland Yacht Services a North Coast 190 center-console.
A restored Lyman Sleeper from Rocknak's Yacht Sales will be on hand, as will a Rosborough 246. A variety of skiffs and tenders from 10 to 15 feet will be exhibited by Salty Boats of Maine, and Seaway Boats will have an 18 Sport and a 22 Sisu. 
The aptly named The Boat Guy will bring an Abaco Boats Panga 14. Yachting Solutions will present an Antares 21 and a wooden Lyman, and Yankee Marina's pair, a Tidewater Boats 198 CC Adventure and a 232 CC Adventure will round out the extensive list.
Learning to love and build boats starts at an early age here on  the coast of Maine. Students from the Maine Ocean School in Searsport will show off their entry in the 18-Volt Electric Canoe Challenge, to be held on Saturday at high noon. 
Owls Head Transportation Museum (Tent H) has a raft of activities planned for young sailors, who can also climb aboard a CedarWorks "Ship Ahoy" play boat nearby in the Food Court.
They'll be joined by a fleet of nautical nonprofits in the "Get Involved" section (Area A), including Rockland's own The Apprenticeshop with hands-on demonstrations and a rowing gig, a Hurricane Island Outward Bound School pulling boat, and Penobscot Marine Museum with knot-tying demos.
For an up-to-date list of all show exhibitors, boaty and otherwise, visit Maineboats.com/Boatshow/Visitors/Exhibitor-list
Admission: Adult tickets $15, available at the gates and online. Kids under 12 get in free. Special Access Passes, which include parking and other perks, also available. Gates open at 10 a.m. daily.
For more information, visit maineboats.com/boatshow or call 800-565-4951. The show was founded in 2003 by Maine Boats, Homes & Harbors magazine.