By Sarah Craighead Dedmon
State snowplows descended on Machias the morning after an April storm, but they weren't there to remove spring snow. Instead, they plowed debris from the Machias River, deposited during a violent storm and spring tide. It was the second time in four months plows removed seaweed from Main Street.
"That is the kind of scenario we watch for—a spring tide and, heaven forbid, a high tide that corresponds with a storm surge," said Tora Johnson, professor and director of the GIS Laboratory at the University of Maine at Machias. The April 9 spring tide—the tide just after a full or new moon—measured more than 15 feet, the highest of the month, and almost the highest of the year.
Much of downtown Machias sits below "base flood elevation," the area expected to flood once every 100 years. But Johnson says those flood events are happening more frequently now.
"I think there are a couple of reasons for that," said Johnson. "One is that in the Gulf of Maine, the sea level is rising faster than it is in other places, so we're seeing an increase in the height of the water." The other is the frequency and direction of intense storms.
"Statistically, one or two of these happening in ten years, you'd think, 'Yeah, bad luck.' But five of these? We think no, this is a trend," said Johnson.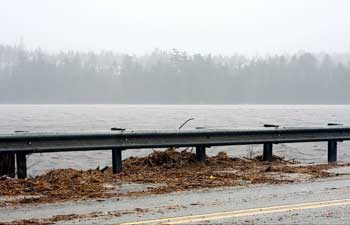 Storm damage is often costly and paid for by the state, the town, businesses, and even fishermen. The most recent storm caused the Machias Wastewater Treatment plant to have an overflow event, seeping waste into the river and closing lucrative clamming flats in Machias, East Machias, and parts of Machiasport for 21 days. Though shellfish markets are currently down due to coronavirus, a clam flat closure in high season is economically devastating.
"An engineer who is very familiar with the infrastructure in downtown Machias told me we just narrowly avoided catastrophic failure of the dike and other infrastructure," said Johnson. "Another foot of storm surge and that would have been it."
To counter that threat, the town of Machias is pursuing a solution to protect its businesses and infrastructure from floods, while creating a scenic river walk that celebrates the town's historic relationship to the Machias River. The Machias Waterfront Resilience and Renewal project began in 2018.
"Flood protection, protecting the land from erosion, and bringing the focus back onto the river, all those things are interwoven into [the project]," said Machias Town Manager Christine Therrien.
Public hearings, surveys, and economic analysis went into phase one, which was completed in 2018 using funds from a Maine Coastal Program grant. Now in phase two, the town has applied for a Small Harbor Improvement Program grant to raise the elevation of its boat landing, a low point where the river often backs up onto Main Street.
Using a $200,000 pre-disaster mitigation planning grant from the Federal Emergency Management Agency, the town recently awarded Baker Design Consultants the task of creating the project's final design. Johnson and her students also are using funds from the grant to assess "living shoreline" suitability for Machias Bay, including the Machias waterfront.
"There are different ways of stabilizing shoreline. You can stabilize it using a seawall, a berm, or just plants," said Johnson. "But only certain techniques work in certain places."
A seawall is a vertical or near-vertical wall, and a berm is a sloping lump of raised ground. The current plan for downtown flood protection is a combination of seawalls and berms, the latter of which can be planted with grasses, but which would be more engineered than a typical living shoreline solution.
If all goes well, phase three will construct the town's flood protection solution, which would extend along the river behind Main Street, constructed where wharf timbers are still visible at low tide, remnants of Machias' heyday as a lumber town. Therrien and others believe a riverside walkway built on top of the floodwalls could inject new life into the Machias economy. But if project funds won't extend that far, Therrien says flood protection is the top priority.
"I've been saying to the board of selectmen that this is absolutely an imperative project," she said. "While I truly want the river walk for people to enjoy, the flood protection has got to happen for the businesses downtown and the long-term health of downtown. We have to start now."