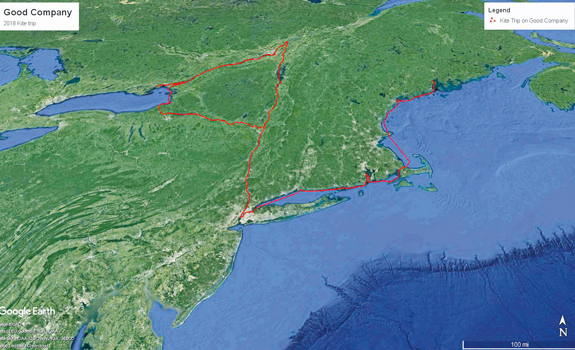 By Tom Groening
John Worth is a salty guy. Saltwater may not run in his veins, but he certainly has spent a lot of time in, on, and around the sea.
He attended Maine Maritime Academy in Castine. He and his wife Trish ran Belfast's first excursion schooner, the Sylvina Beal,for five years back in the 1980s. He and another Belfast area man, Duke Tomlin, owned and operated Maine Port Towboats in upper Penobscot Bay from the late 1980s through the early 2000s.
Then came a return to MMA, this time as captain of the academy's historic schooner Bowdoin,on which Worth sailed with students to the brink of the Arctic, a realm the boat had been built to explore. And after stepping ashore again, he continued to teach the next generation of mariners at MMA, before retiring two-and-a-half years ago.
Except, as he told an audience at the Penobscot Marine Museum in Searsport on June 20, he's "failing at retiring," and still works part-time running tugs and as a Maine state ferry captain.
This salty life stood somewhat in contrast to the subject of Worth's talk at the museum, in which he recounted a trip he and Trish took last summer through part of the Northeast's freshwater transportation infrastructure, a network of rivers, canals, locks, and lakes that were once as important to the country as the interstate highway system is today.
The trip is dubbed "the Kite" because of the shape it traces on a map, with the string being the westerly course through Long Island Sound and then north up the Hudson River. The kite shape is formed by a rough rectangle that takes in the Erie and Champlain canals, Lake Champlain, the St. Lawrence River and Seaway, and Lake Ontario.
In all, their six-week journey took them through 58 locks, and the boat rose to a maximum height of 420 feet above sea level.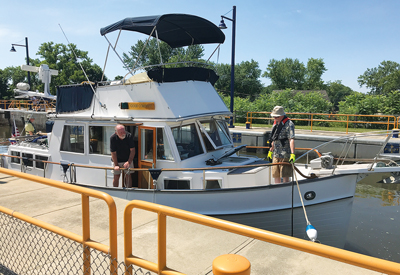 The Worths left Belfast last June on their boat, Good Company,a single-engine 42-foot Grand Banks, cruising at 7.5 knots, and traveled down the East Coast, covering 55-60 miles a day.
"Cruising has really changed a lot," Worth said, with cell phones and other technology allowing them to review docking options and costs, and then calling ahead to a marina to book a night's stay. The boat's automatic pilot, which could be modified with a remote control, made for what Worth joked was some "fairly decadent" cruising.
"We ate really well," he added, a contrast to his usual on-board fare: "A couple of Wing-Dings and three Pepsis and I'm good to go to Boston."
The Maine to New York leg was characterized in part by visits from former students.
Near Cuttyhunk, an island west of Martha's Vineyard, a former student who operates an oyster farm there served up a delicious sampling of his product to the Worths. That area also posed a problem, as Good Company briefly ran aground, the result of bottom conditions not matching what the most recent chart said.
After passing around the tip of Manhattan Island, the inland waterway journey began in earnest.
"It was really fun for us to go up the Hudson," he said. Once away from the developed area just north of New York, the scenery was beautiful.
The Worths enjoyed passing the military college West Point, which their son attended. They saw the Clearwater, the sloop launched by folksinger Pete Seeger in the 1970s to raise awareness about pollution in the river. One night's dockage was below Ossining, home to the infamous "Sing Sing" prison. Mansions high above the river also provided photogenic scenes.
Near Albany, the Worths passed through six locks, "all within 400-500 yards of one another," which took two-and-a-half hours to negotiate. Locks are chambers in a waterway that close on both ends so operators can raise or lower water levels to allow boats to move above dams or falls or into a man-made canal.
It was important to keep fenders out and hold onto ropes as the water rises, Worth said.
"It can get a little exciting when the water gets ripping in there," he said.
"Locking up," as it's known, was less than pleasant.
"You're going into this cavernous, smelly, big chamber," he said. Locking down was better.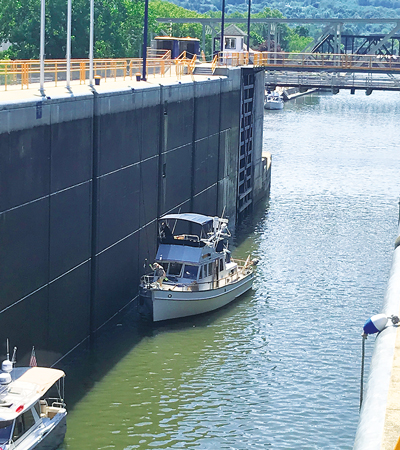 The fabled Erie Canal—derided at the time of its construction as "Clinton's Ditch," a shot at New York Mayor Dewitt Clinton, a supporter—was not as narrow as might be expected, Worth said. A few parts of the waterway would allow for mules to pull barges, but many sections were wide and scenic, as his slides showed.
Sometimes, they had to wait for other vessels to make the "locking up" worthwhile to operators, and while some were free owing to an anniversary of the Erie Canal, most required cash payments to pass through.
The maximum draft on the Erie Canal is listed as six feet, but Worth said many sections were deeper. They discovered the height of a boat could be a problem when passing under bridges, which meant they had to scramble to lower a radar mast.
It was also hot, Worth recalled, with temperatures reaching 100 degrees on the Erie Canal. Both the Erie and Champlain canals are still active waterways, but no longer a vital commercial artery.
"I think one of the things that was sad about the trip was how industry was gone," he said, showing a slide of a 19thcentury factory, now shuttered. "It's a little ghost-townie."
Parts of the Champlain Canal were plagued with milfoil, the invasive weed.
WhenGood Companyreached the St. Lawrence Seaway, the terms changed.
"Now you're playing with the big boys," Worth said. Some of the ships were those that visited Searsport, he recalled.
Several couples joined the Worths—and their now departed, but much beloved, dog—for different legs of the journey, and a few of those couples were in attendance at the museum talk.