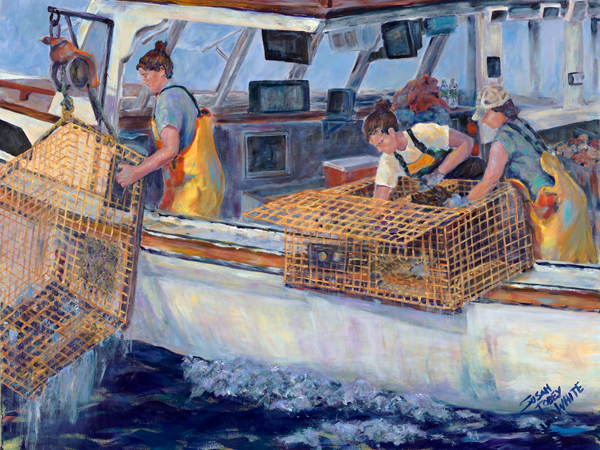 By Carl Little
The first painting in Susan Tobey White's exhibition "Lobstering Women of Maine" at the Penobscot Marine Museum in Searsport is a tour-de-force: a woman wearing an orange Grundéns bib dumps a crate of herring into holding bins. The fish form a kind of wriggling waterfall as the red-haired lobsterwoman focuses on making sure the bait lands in the right spot.
(And, before you object to the gender language, the introductory wall text with the exhibit explains that "Most of these serious, hardworking women call themselves lobstermen and sternmen.")
The woman, Genevieve McDonald, captains the F/V Hello Darlings II out of Stonington. We learn she is a leader in the lobstering community: the first woman to serve on the Maine Lobster Advisory Council and the first female commercial fisherman elected to the Maine House of Representatives, in all-island district 134 stretching from Cranberry Isles to the Marshall Island Township.
But in the painting, she is all lobster business, intent on preparing for a day on the ocean.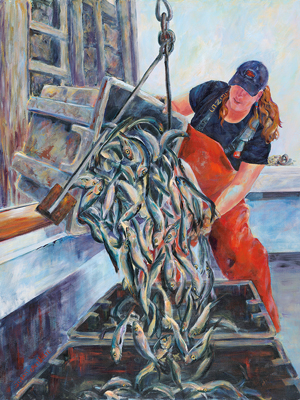 Most of the 13 acrylic paintings in White's show feature lobstering women in action: hauling traps, stringing bait, painting buoys. In her portrait of Leah Farnsworth, based on a photograph by Letitia Baldwin that ran in the Ellsworth Americana few years ago, the fisherwoman rows across Corea Harbor. Again, there is a determination in the portrayal as Farnsworth, in sweatshirt, with sunglasses propped on her head, half turns to find her bearing. 
The wall text for this painting mentions one of the icons of Maine coast lobsterwomen, Jean Symonds, who has fished out of Corea since 1971 and continues to haul traps in her mid-80s. We learn that Symonds loaned Farnsworth money to buy her first skiff and helped her set a mooring. Many of the write-ups in the show mention this generational aspect of lobstering, which seems often to start with an encouraging grandfather. 
White is not the first artist to paint lobstering women; Alison Hill and Michael Vermette, among others, have depicted them in action. From the data, we should expect more: out of 4,500 commercial lobster licenses in Maine, 200 are now held by women, who also work as crew, banding, measuring, filling bait bags and other tasks. 
"In all the roles," writes White, "women's work is essential to the success of Maine's lobster fishery." Her paintings of ten-year-old Norah, who carries a trap that is nearly as wide as she is tall, and Jolene, a little girl in tutu wielding a small fish net off a Maine wharf, speak to the future. 
White, who has a shop/gallery in Belfast, likes to work in series; previous themes include dancers and vegetables. This time around she is something of a documentary artist, but her colorful, expressive approach to her subjects heightens their presence, even making them heroic. This is a tribute with a special flair. 
"Lobstering Women of Maine" runs through Oct. 20. For more information, visit penobscotmarinemuseum.org/.