PHOTOS BY KELLI PARK
How well is Ethan DeBery doing with lobster boat charters? So well, that he has advice for his colleagues.
"People have asked me, 'Why don't half of the lobstermen do this?' I tell my buddies to get their captain licenses and I could send them fishing charters all day long," said DeBery, 39, who owns and operates Fish 'n Trips near Fort Popham State Historic Site in Phippsburg.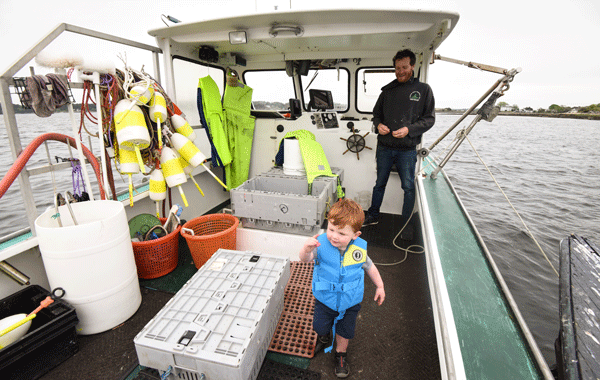 DeBery is a third generation lobsterman and a master Maine guide with a USCG Masters Captain's license. He began running a ferry to Seguin Island, transporting the lighthouse caretakers back and forth once a week, after he returned home from college in 2004 to face a long wait for a lobster license.
"We always got so many questions about what the guys were doing on the boat…"
Along with a captain's and lobster license, running lobster tours requires additional insurance and safety protocols.
Fishing and offering tours can be hard to juggle, Clive Farrin was told.
"Someone once told me that I'd never make it," said Clive Farrin, who owns and operates Go Lobstering in Boothbay Harbor and can trace his ancestors back to the sea captains of Castine.
"Well, I'm 14 years down the road, and I would say I'm pretty successful." Farrin has been a full-time lobsterman for the past two decades after a career as a school teacher, and now hauls 150 traps and runs three, 90-minute lobster tours a day in the summer for up to 6 people on a 36' Jarvis Newman. At age 74, he no longer wants to haul 250 traps a day and, by the time the tourists stop coming to Boothbay Harbor, fall fishing picks up.
DeBery also finds the silver lining in his circumstances.
"I came at it from another angle, where I kind of got stuck chartering to begin with. Now that I'm lobstering, I've already got that momentum," said DeBery. Though Fort Popham doesn't offer a wharf or buying station, it does bring tourists, "so I work with what I got."
Eric and Kate-Lyn Knight, both 32, operate Rocky Bottom Fisheries in Portland and offer tours. As Eric started to fish farther offshore in a bigger boat, the couple saw an opportunity with their smaller vessel.
Kate-Lyn left her corporate job to run the tours in 2019 and now manages bookings. The Knights offer three or four 90-minute tours each day in the summer for up to 12 people with the help of ten employees, many of whom are family members.
Education is a common thread among these lobstermen.
"We always got so many questions about what the guys were doing on the boat because of where we're docked," said Kate-Lyn. "The more questions we got, the more we saw that there is a need to bring people out and show them and share our knowledge and passion."
Farrin echoes this.
"Part of my motivation was to educate the public about what Maine lobstermen have been doing to keep the fishery sustainable for the last couple hundred years," said Farrin. "It gives them a real look into what goes into getting the critter from the ocean to the plate."
Sometimes, that education is very hands-on.
"I'm going to put you on the back of the boat and we're going hauling," DeBery tells his passengers. "If you step near the rope, I'm going to yell at you. You're probably going to get a bunch of bait on you and you're probably going to have to burn your clothes when you get home."
He will offer lobster bakes on Seguin Island for some of his charter tours.
"This is our industry. We love it. We protect it," says Kate-Lyn. "The smartest move for anybody is to keep your ears open, your eyes peeled, and diversify if you can."
Rocky Bottom Fisheries plans to add boats to its fleet to accommodate the surging demand. The Knights also said that they'd like to open a fish market and expand their offerings, which currently include bachelor parties, birthday parties, wedding celebrations, and a culinary collaboration with Luke's Lobster.
"There are a lot of moving parts. It's all about balance," said Kate-Lyn. "We've definitely got some things up our sleeve."