Notes on the Landscape of Home
By Susan Hand Shetterly, Down East Books
Notes on the Landscape of Home confirms Susan Hand Shetterly's status as one of Maine's and this country's finest environmental writers. Like Terry Tempest Williams, who lives nearby on the Blue Hill peninsula, Shetterly weaves personal life experience into outward-looking essays that focus in large part on nature and our interactions with it.
In the opening piece, "Children of Orion," Shetterly offers her MO for regarding the world: "If you pay attention to the land where you live," she writes, "…you enter into a conversation with it, until it becomes a voice inside you and some of the boundaries between you and it dissolve."
Many of the 32 short essays recount those conversations and subsequent voices.
Shetterly recounts her mother's coming-of-age walking trip on Cape Cod following in the footsteps of Henry David Thoreau…
Shetterly takes us along to some of her favorite places. There's Little Moose Island, a 54-acre land-bridged (at low tide) retreat adjacent to the Schoodic Peninsula. A visit in late fall of "the COVID year" leads to reflections on climate change and the crucial role horseshoe crabs in Delaware Bay play in the successful annual transit of birds along the Atlantic flyway.
The perambulation also inspires a charming description of a greater yellowlegs "tipping—forward and back—as if it were a pitcher of cream at a busy tea party."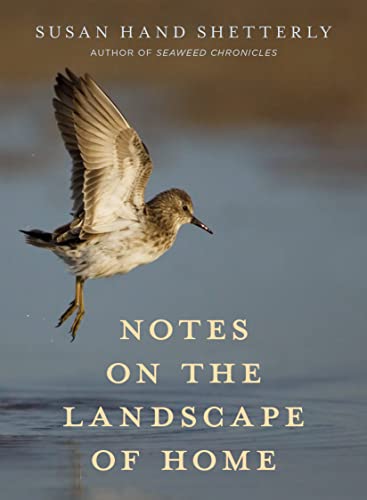 Among the creatures Shetterly celebrates are elvers, alewives, frogs and salamanders, bluefin tuna, turkey vultures, and the woodcock whose call she likens to "some sort of bizarre electrical malfunction." She also honors forests, an apple tree, seaweed, and Cashes Ledge, a protected "hope spot" in the Gulf of Maine.
A number of pieces pay homage to individuals who have made stewardship a part of their lives, among them, botanists Pam Johnson and Kate Furbish, farmer Bill Thayer, biology professor Gayle Kraus, whale disentangler Joe Howlett, writer E. B. White, and bald eagle restorer Mark McCullough.
Of special resonance are Shetterly's remembrances of Passamaquoddy scholar Wayne Newell, who dedicated his life to preserving his people's language.
In several pieces, Shetterly records the challenges, rewards, and sometimes setbacks to saving the land and waters. In recounting the creation of the Carter Nature Preserve in Surry she describes the ups and downs of the process, from the Blue Hill Heritage Trust accepting title to the property to the subsequent arrival of unleashed dogs, campfires, cairn-builders, and rude foragers.
Like so many of us isolated by the pandemic, Shetterly found relief in outdoor-oriented activities, from joining a Social Distancing Bird Club ("birds are a way into the world outside ourselves") to mapping out new gardens in her yard. The shutdown also leads to fresh riffs on literature (Sarah Orne Jewett's The Country of the Pointed Firs) and art (Winslow Homer's The Artist's Studio in an Afternoon Fog).
One of the longer pieces, "The Map," appears near the middle of the book, a fitting spot as it is the beating heart of the collection. Here Shetterly recounts her mother's coming-of-age walking trip on Cape Cod following in the footsteps of Henry David Thoreau who traversed the peninsula in the mid-1800s.
Thoreau is one of the guiding spirits here; he is the focus of another essay, "The Art of Sauntering" and makes other cameos in the collection. You can hear echoes of him in Shetterly's immaculate and lyric prose as when she writes, "We're nourished by what's left of wildness."
She carries on his message and spirit with panache and plentitude.
Carl Little writes about art and literature for several publications and has published several books on art in Maine and New England. He lives on Mount Desert Island.