When Linda Norton (1943-2018) moved to Camden in the late 1990s, she was returning to childhood haunts. She had spent summers there with her grandparents and had a deep attachment to the town.
Born and brought up in Portland, Conn., after graduating from high school Norton spent time in England and Ireland pursing equine studies. From 1978 to 1998, she managed Sundance Farm in Cobalt, Conn., a boarding stable and breeding farm for national show horses. She also ran a fine art and faux finishing studio.
Later, Norton worked in the paint and wallpaper department at Route 85 Lumber in Amston, Conn., where she assisted customers with color and pattern selections and instructed faux finishing in bi-monthly classes.
Norton clearly relished the red of the boat and building, not to mention the deep black of the barge and hull…
After moving to Camden, she was a sales associate at Rankin's Hardware (2004-2012). She also designed a home studio, which she opened in 2000.
Her mother, Ruth Norton (1915-2000), had encouraged her to become an artist. Originally from Camden, Ruth had attended Pratt Institute and Boston University where she earned a teaching degree in fine arts. She returned briefly to her hometown to teach art at the Elm Street School before marrying and moving to Connecticut.
"Mom instructed me starting at age six when I was being a very annoying child," Norton wrote in her book Marine Watercolors: Penobscot Bay, Maine (2010). "She handed me a small tin of watercolors, a glass of water, paper, and a brush, and said 'Go paint.'" Linda did so, beginning a lifelong love of the fluid medium, which led to exhibitions in Maine and beyond and a fervent fan base.
Over the years, Norton painted many waterfront subjects: the schooner Grace Bailey hauled up for the season, a collection of colorful mooring balls, a shrink-wrapped windjammer, a wall of lobster traps in the snow, the schooner Roseway docked at Camden.
She also painted a stunning series of on-board paintings, called "From the Deck Of," highly detailed images of sails and rigging.
Among the waterfront paintings is a portrait of a bright red tugboat docked in Belfast Harbor. Norton clearly relished the red of the boat and building, not to mention the deep black of the barge and hull, set against a lightly limned shoreline landscape. Her rendering of reflections is brilliant; even the bow numbers showing depth of draft appear distorted in the water.
When asked how she starts a painting, Norton noted that it varied but that she tried to get the most amount of paper covered with washes very quickly "to eliminate the stark white of the paper." In the tugboat painting she achieved a stunning balance of pale and bright hues.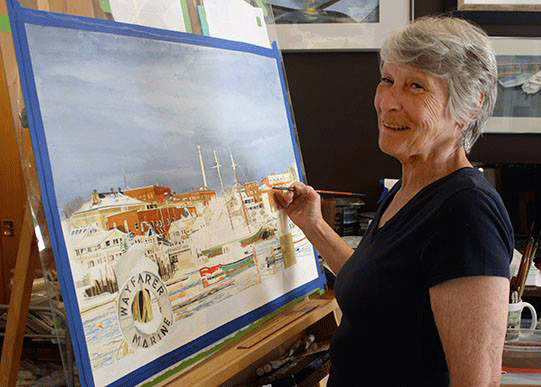 Ben Fuller, former curator at the Penobscot Marine Museum, notes that the "M" on the building and the boat in Norton's watercolor is the mark of Maineport Towboats Inc. of Belfast, which operated around 1988-2005. The vessel appears to be the Mack Point, built in 1953 as the Communipaw by RTC Shipbuilding Inc. of Camden, New Jersey.
Over the years the boat changed ownership, location, and name several times before Capt. Arthur Fournier of the Penobscot Bay Towing Company in Belfast purchased it in 1985 and renamed it the Brian F. In 1988 Maineport Towboats Inc. acquired it, and the single screw tug became the Mack Point. According to tugboatinformation.com, in 2006 the boat was purchased by Ocean Tug and Barge Logistics of Port-au-Prince, Haiti.
In her book Marine Watercolors: Penobscot Bay, Maine, Norton wrote that she was "upset that so much of the waterfront now supports seasonal summer residents with only 20 miles of 'working waterfront' remaining on the thousands of miles of coast." It was "imperative," she believed, that everyone support "the retention of and addition to this working coastline."
Norton's watercolors underscore her passion for this element of the Maine landscape. The waterfront provided her with plentiful subjects, including a noble tugboat in Belfast Harbor.
Linda Norton is one of 100 or so painters featured in Carl and David Little's The Art of Penobscot Bay forthcoming from Islandport Press.