The Island Institute, publisher of The Working Waterfront, named Kim Hamilton as its president, effective April 1. Hamilton has served as the organization's interim chief programs officer since September, overseeing the Institute's climate, economic resilience, and leadership programs and serving on its senior leadership team.
The Rockland-based nonprofit's board of trustees cited Hamilton's "strong leadership, mission-driven focus, proven fundraising success, and commitments to Maine's coastal and island communities" in selecting her for the position.
Hamilton earned a Ph.D in demography from Brown University and a master's from John Hopkins University. Her professional experience includes a tenure as president of FocusMaine where she led efforts to accelerate job creation in the agriculture, aquaculture, and biopharmaceutical sectors. She has also served as chief impact officer at Feeding America and director of strategy planning and management at the Bill and Melinda Gates Foundation.
"I want us to be known as the organization that fights hard for Maine's islands and coastal communities."
—Kim Hamilton
Hamilton is originally from North Yarmouth and now lives on Chebeague Island.
She steps into the role as the organization marks 40 years of working to build sustainability in island and coastal communities and sharing solutions for addressing the coast's most critical concerns.
"During her time as interim chief programs officer Kim has done a fantastic job advancing our work to create a sustainable coastal economy, create climate solutions, and advancing our history of creating leaders for Maine's coastal communities," said Kristin Howard, chairwoman of the board of trustees.
"We look forward to seeing Kim build from this early success in the years to come."
Hamilton cites her ties to the region in informing her approach.
"As a Mainer and islander, I deeply understand the dynamics of year-round island living and the challenges and opportunities faced by Maine's islands and coastal communities," she said. "As Island Institute president, I am honored to step into this role as we celebrate our first 40 years and lay a strong foundation for our future."
Hamilton agreed to answer questions from the newspaper:
The Working Waterfront: What drew you to the Island Institute?
Hamilton: If you live along the coast in Maine, you're more than likely to have heard of the Island Institute. That was true for me. It wasn't until I had the opportunity to step in as chief programs officer, however, that I understood the span of its reach and its extraordinary history.
I've also come to know and deeply appreciate the people in the organization and their commitment to Maine's coastal and island communities. I don't know of a more dedicated team so singularly focused on the future of Maine's coast.
Now that I live on Chebeague Island where my family has deep roots, I especially appreciate the community connections the Island Institute has cultivated. I know some of the young people who have benefitted from scholarships and aquaculture farmers who have received support. The impact is tangible and real, and with a 40 year history, it spans generations. The opportunity to build on that legacy is exciting.
WW: What has your island experience taught you about how community works, and where and how an outside organization like the Institute can help and support it?
Hamilton: It's not just an island thing. Every community is different, and has different assets, opportunities, and challenges. This is as true in Mali as it is on Monhegan. That's why taking time to build relationships, listen to community members, ask questions, and commit to a long-term partnership is important.
That's only the beginning. Showing up, delivering on what you promise, and offering practical solutions gets you invited back. It's a privilege to be invited into a community, and we need to honor that.
WW: Tell me about your professional background.
Hamilton: If you're looking for a through-line in my career, you won't find it, except that I've always been drawn to organizations that are tackling big challenges—from immigration to food insecurity to job creation in Maine.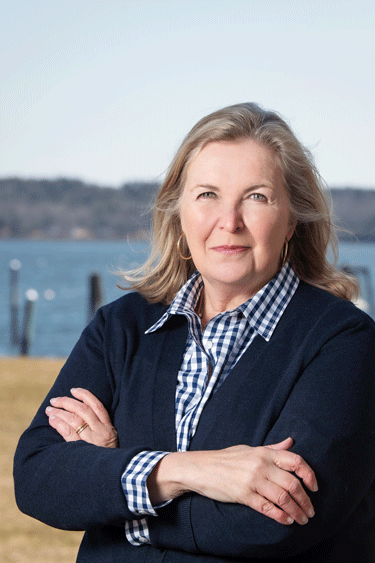 I spent many years working in global philanthropy at the Bill & Melinda Gates Foundation and other foundations helping visionary leaders build strong organizations. I've learned so much from those experiences about perseverance and vision.
I'm trained as a demographer, which has given me an appreciation of the long-term population trends in Maine and the impact on the state's economic vitality.
I was drawn back to Maine, however, by the opportunity to launch FocusMaine, a terrific organization working on growing high-growth sectors in the state, like aquaculture. That experience deepened my understanding of the extreme changes facing Maine's coastal communities and islands as well as the opportunities that are ours to seize.
WW: What are those big issues facing Maine coastal and island communities in the next five to ten years?
Hamilton: It's a long list. Sea level rise, the warming of the Gulf of Maine, challenges to Maine's iconic lobster industry, rising housing prices, economic volatility, energy security, and a working waterfront under duress. That's why we talk a lot about hope and community resilience at the Island Institute.
Communities all along the coast have evolved and responded over hundreds of years. Ingenuity is in our shared DNA, and I don't believe that will ever change.
WW: How would you like the Institute to respond to these concerns? And how would you like the organization to be understood by the communities it serves?
Hamilton: We've worked hard to develop strategies that play to our strengths and respond to community needs, with a special focus on climate solutions, economic resilience, and community leadership. These provide a framework for community solutions, not a prescription.
I want us to be judged by the value we bring, the ideas we share, and the respect we have for the communities that invite us in. I want us to be known as the organization that fights hard for Maine's islands and coastal communities.