By Casey Engelman//Photos by Jesse Groening
The stormy November morning crossing to Islesford (Little Cranberry Island) was rough, even by islander standards. And later, when the weather knocked out power on the island, the vital role Katelyn Damon plays in the community and surrounding islands became clear. 
"She's pretty much the reason we have a fire department," says Paul Hewes of Great Cranberry, one of the Beal & Bunker crew members. "She's really tied it together."
Damon, 31, a native of nearby Lamoine, is the island's public safety guru. She attended Mount Desert High School, and has been living and working on the island since 2010. An AmeriCorps position first called Damon to the island, after which she remained and was hired part-time by the fire department.
On the dock that morning, Damon bids goodbye to each of a half-dozen well-seasoned fishermen by name before heading to her home base most days— the Islesford firehouse.
"I had absolutely no background in public safety. No background in volunteer management. No background in anything," she says.
And still, she was able to piece it together. Damon says it was her determination to fulfill the job requirements with dignity and her sense of attachment to the island that encouraged her to make it work. 
"I quit college, actually, to live out here, because it didn't seem like a good use of money to try and keep going to college when I just wanted to be here. I just love this place. And then the town offered up that position and two people applied— myself and another islander. And they chose me and so from there I had to figure it out."
Her desk at the firehouse is a testament to how much Damon has going on each day. A white board covered in meticulously categorized lists is the centerpiece—checked boxes account for everything from budgets to community training, hose and fit tests, OSHA and HAZMAT regulations. On the desk, to-do lists and "to-file" folders share space with clipboards of monthly safety and health audit checklists and notebooks, presumably filled with more lists and notes.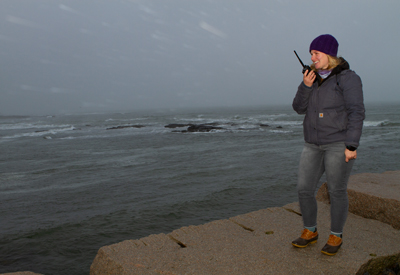 Prioritizing organization seems to have helped Damon make some headway on longtime goals for the fire department. Since 2010, their focus has been on achieving an Insurance Service Organization (ISO) rating of 9. This rating is an assessment of a fire department based on risk, or in layman's terms, how much water it can deliver, and how fast and how long it can sustain delivery. Achieving this rating reflects well on the department, and means financial savings islanders.
"We had to show we were completing trainings on a regular basis, were servicing trucks, and were having these tests," she said. "So we had to show that history in those things before we could even apply for ISO class 9. They didn't even want to hear from us until we could show that we were continually doing those things."
And though getting this box checked meant filling out a lot of paperwork on Damon's part, along with waiting for a 2,500-gallon cistern to be installed in the town field, it also meant benefits for the island community. The department's goal was finally reached in June of 2018. As a result, Damon says islanders have seen decreases in home insurance premiums of between $500 and $2,000.
She continues to speak of the benefits to the island when the building goes dark—the power may be off, but Damon's emergency response mode is kicking in full throttle.
POWER OUT
"We need to head down to the dock," she says, packing her bag and putting on her coat with cool urgency. The dock has the best cell reception, and Damon corresponds with the utility company on behalf of the town in instances like this. In cases when the timeliness of aid is often based on the number of affected individuals, efficiency in communication is critical.
After calling the utility company, she posts on Facebook about the information she's gleaned—a downed tree on Little Cranberry means their power had to be cut for lineman to make the repair safely. They'll be out on the 11 a.m. mail boat that afternoon. An islander walks up to the truck and starts chatting with Damon about the outage; she briefs him.
"Power went out, but the generator's on. It's all good," he replies, prepared for storms of this nature and their effect on the island.
He walks back to the lobster co-op pump, where he fills his tank with gas to keep his generator going, and Damon goes back to virtually communicating with the islanders and the fire chief. The island is small, and Damon recognizes the need for intentionality and community when it comes to dealing with emergencies.
"We're it. There's no mutual aid. There's no other truck from another town that's going to show up and bring equipment and be able to help us truck water or add additional firefighters," she says.
Though a small community, it is a well-oiled machine when it comes to coping under pressure. Damon has an on-call fire corps comprised of men who are prone to be at sea during fishing season, and as such has compiled a secondary land-based list of firemen for times of need. And despite her age, she can still command the group with grace.
"They don't give me any guff. I've been lobstering and worked on the boats, and done the fire stuff, EMS. So they listen. I also will yell if they don't," she says. "I'm younger, I guess, but we're like a big family. So everybody pitches in and gets along."
On Islesford, it seems some of the energy to sustain and revitalize the community and infrastructure have been initiated by younger folk like Damon. Malcolm Fernald initiated connecting the island to broadband, and the company representative, Nate, served as a volunteer EMT while on the island. Richards Howland, the current fire chief, is young by island standards. A new firefighter on Little Cranberry is a recent transplant from New York with more experience than Damon had seen in a while, bolstering the presence of capable workers creating a life on the island.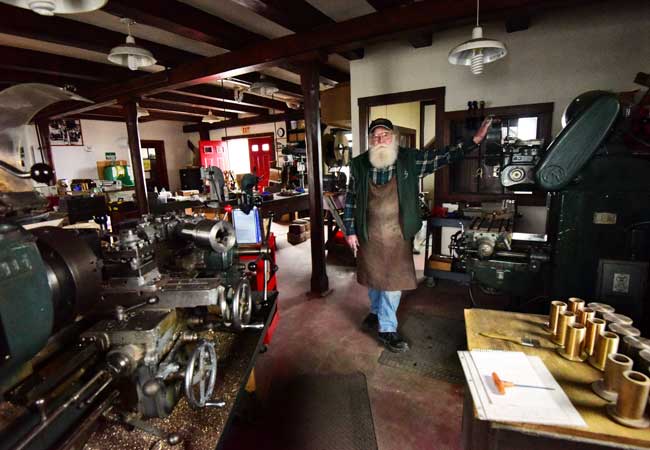 This camaraderie came in especially handy one day in October 2018. A local man went missing and the Hancock County Sheriff Department, Maine Warden Service, Damon and Fire Chief Howland, stayed up most of the night, planning and devising plot maps for grid searches. Damon says it was one of the scariest things she has had to do professionally, but couldn't have accomplished it without the people of Islesford.
"It was tough, but the whole community came together to help find him. We had 60 people waiting outside the town office for instructions on what to do. The town offices, they set up tables, it was our hub for volunteers waiting to search. And people that couldn't search made food and made coffee and tried to make everybody comfortable. The store on Great Cranberry sent over plates and drinks and water and all kinds of things. Everybody was right there."
Sadly, the searched ended with bad news, but the scene Damon described speaks of a functioning community, in which volunteer and professionals blend their efforts.
She's earned accolades for her work, and holds the titles of the island's public safety coordinator, constable, emergency manager, rescue service chief, and firefighter.
And mom. Damon can send her five-year-old son to walk down the street to a friend's house with an eased mind. She can help neighbors unload their month's supply of groceries from the mail boat in the winter, and take heart in knowing they will turn around and do the same for her. 
"There's no hustle and bustle about things, it's just very relaxed and calm for the most part. Until the radio goes off and then it's not. But that's ok, it adds a little adventure to the slowness. The scenery, the views, the beach. Picking up seaglass, and walking the dogs off leash and not having to worry about a whole lot."
Later that afternoon, the waves have calmed and the mainland is in sight. Several residents of Little Cranberry are on the return trip. Hewes and the other crew member chat with them about that morning's weather and the rumored outage on the islands. All present are in the loop on what's happened, and how it will be mitigated, thanks to the quick and efficient communication between Damon and her fellow islanders. It brings comfort to know that in a moment that could have meant sustained darkness, she is there to spread the light. 
Casey Engelman is a recent transplant to the Midcoast where she is relishing life on the coast. She attended Indiana University, where she studied journalism and food anthropology, and often employs both disciplines in discovering the origins of the treasures of everyday life to create her stories. She operates a catering company called Stone's Throw.