The Maine Crafts Association (MCA), a statewide nonprofit organization that builds upon Maine's rich craft traditions by nurturing a vibrant, supportive, inclusive craft community and strong individual craft artist practices, has named potter and educator Marian Baker of Yarmouth as the 2021 recipient of its Maine Craft Artist Award.
The award recognizes Baker's dual accomplishments in both her personal practice as a professional maker and studio-gallery owner, as well as in her years of dedicated service to the education and career development of a younger generation of ceramics students.
In 2009, the MCA began to annually honor individual Maine craft artists in recognition of their exceptional bodies of work and contributions to the field.
As a potter for over 40 years, Baker has highly developed strong stylings that are easily recognized…
The award juror is guided by these benchmarks: excellence in craftsmanship, inspired design, a singular voice or style, and a career of service to the field. The 2021 awards were selected from many peer nominations by MCA founder Carolyn Hecker, who has served as executive director for more than a decade, establishing the MCA as a statewide organization and network of craft artists. Since founding the MCA in 1983, Hecker has remained involved and supportive of the organization and craft artists throughout Maine.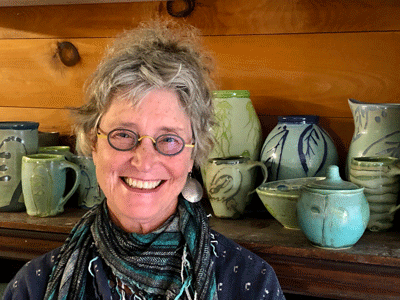 Baker is an example of successfully balancing both a long-standing teaching career and a strong professional studio practice.
While teaching at Maine College of Art & Design from 1985 until 2019, Baker founded Islesford Pottery on Little Cranberry Island in 1989. Furthering the Maine maker's tradition, the studio and gallery represents several Maine potters during the summer months.
Baker often uses the space to feature her students' work by creating a resident potter position at Islesford Pottery, allowing alumni to make and sell their work while learning the aspects of running a business and promoting personal growth in their work.
As a potter for over 40 years, Baker has highly developed strong stylings that are easily recognized by her peers and experts in the craft community. Predominantly using wax-resist glazing techniques alongside colors found in nature, Baker's work tells stories within the mysteries in their layering, playing between matte and shiny surfaces. Her ceramics have been featured in over 15 publications and have been featured in exhibits across the U.S.
Baker chooses to create useful pottery because she believes handmade things can enrich the lives of their users. She sees her works as a bridge between art and daily life.
In selecting Baker as a 2021 artist award recipient, Hecker wrote:
"Marian Baker is the truest of Maine craft artists. Her practice is central to her life and career and she is central to Maine craft. Her ceramic work is stunning and she has an energy for producing and educating that is very special, making her an essential piece of the history of Maine craft.
"I am honored to have the opportunity to honor her in this way, through an organization which has both supported Marian's practice and career, while having benefited from her steady dedication and participation."
On behalf of the MCA, Hecker also selected artist, author and educator Tim McCreight of Harpswell as a 2021 Maine Craft Artist Award Recipient.