Annika Rogers has spent most of her life working hard to excel, both in school and in sport, competing locally in sailing and internationally in snowshoeing. The Islesboro Central School senior has been rewarded for her efforts with a $5,000 scholarship from the Maine Sports Hall of Fame.
Rogers, 18, grew up running cross-country with her mother. Eventually someone suggested they try snowshoe running. They tried it, liked it, and have been snowshoeing for the past four years.
"It's a nice way to spend time together, training and going to races," said Rogers. "It's more than just running. There's more technique involved, and it's harder. Plus the people are interesting and quirky. One of my favorite things about snowshoeing is the people," she said.
It has been through snowshoeing that Rogers has proven herself a world-class athlete, winning the Maine State Snowshoe Championships in Rangeley in 2015, and placing third at the U.S. Snowshoe Association Competition in Bend, Oregon in 2017. It was that third place showing that landed Rogers on the U.S. Junior Women's' Snowshoe Team and led her to compete for the United States at the 2018 World Snowshoe Championship in Picos de Europa, Spain where she earned a bronze medal.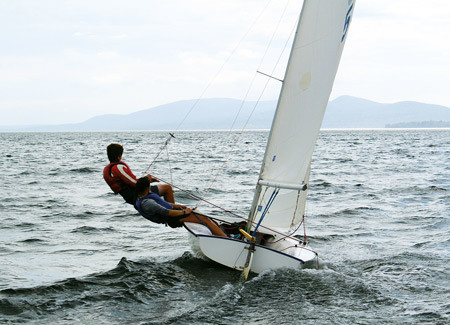 As if competing on the world stage in an individual sport were not enough, Rogers is also a member of the Islesboro Central School sailing team. She began sailing at age 10.
"The first week, I fell in love with it," she said. Within two years Rogers started racing sailboats. "I've lived on Islesboro since I was five," she said, "so I love being on the water and outdoors. Racing (sailboats) is a challenge. I love how there are so many more layers to racing with teamwork, strategy, and being aware of all your surroundings."
Rogers competes with her schoolmates in the Pen Bay League, racing teams from Mount Desert Island, Boothbay Harbor, Rockland, and Southern Maine in fall and spring seasons. Last fall, "My crews and I had our best regatta of the past three seasons, coming in first in B division and second overall in the fleet," she said. "With our performances throughout that season and the team coming in first at that regatta, we won our league."
The Maine Sports Hall of Fame chooses at least five scholarship recipients each year, based on outstanding athletic ability and performance, academic aptitude, achievements, school leadership, and community service. This year there were over 200 applicants from Caribou to York.
"The quality of the applicants was exceptional," said Dick Whitmore of the Hall of Fame. "In the final selection, all three aspects—athletic, classroom success, and give-back quotient—were considered. The competition was very close but Annika's profile stood out."
Next fall, Rogers plans to study engineering, computer science, and math at Dartmouth College, where she was accepted for early decision. She credits her academic preparedness to having grown up in a small community.
"With the small school, we're very flexible," said Rogers. "I have been able to take online classes that challenge me in ways I need to be challenged, while doing grade level work in other areas. I don't think I would have had that opportunity at a larger school."
In addition, Rogers says small class size was a benefit.
"One of the great things about a small school is you can never really hide. You have to learn to participate because you can't get away with it," she said. However, never having been in a class with more than 16 students, Rogers is a bit apprehensive about attending large college lectures.
"I've never been in a large class," she said. "I'll just have to jump in and get used to it."
In addition to her studies, she will race on the Dartmouth sailing team. Her future in snowshoeing is questionable, though.
"In the winter, I plan on taking some of those harder STEM classes, so I don't know if I'll be able to fit snowshoeing in," she said. "If I am able to fit it in and go to races, I will not be racing as competitively, but racing for fun."