In September 2020, I left Islesboro for a gap year on the island where I grew up, Oʻahu, in Hawaii. Having a whole year to be back home was incredible, and most wonderful of all our adventures was my time volunteering with the Polynesian Voyaging Society, or PVS.
PVS was founded in 1973 to prove that the ancient Polynesian people had the ability to navigate and sail the Pacific Ocean. They built Hōkūleʻa, a traditional waʻa kaulua (double-hulled canoe) and sailed it over 2,000 miles to Tahiti using only non-instrument navigation, creating a wave of pride in Polynesian culture and interest in voyaging throughout the Pacific.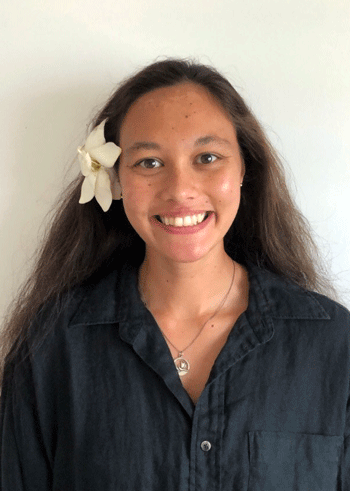 I love how PVS considers the cultural aspect of voyaging to be as crucial to the sail as any physical preparation.
In the decades since that first voyage, PVS has sailed Hōkūleʻa hundreds of thousands of miles over the world, becoming a symbol and a source of pride for the Hawaiian people.
To be able to volunteer for an organization doing such powerful work to reclaim Hawaiian culture was rewarding. We relashed Hōkūleʻa completely, a process which requires hundreds of hours of work and around 6 miles of line. Those lashings will take her around the whole Pacific Ocean on the Moananuiākea Voyage and hold her together for the next decade—so it feels like wherever she goes, I go in spirit, too.
But I didn't just go in spirit. I was incredibly lucky to be a crew member and a navigation student on Hikianalia, the waʻa kaulua escort boat for Hōkūleʻa, on a training voyage in May. The original plan was to voyage down to Ka Houpo o Kāne (the doldrums), but due to weather conditions, we had to stand by for over a week in Lāhainā, Maui. To a Hawaiian mindset, it was the only course of action that was respectful of nature, the wa'a, and the crew.
Instead of pushing on to sail through the raging 'Alenuihāhā Channel, we saw ancient petroglyphs in Nu'u, hiked up to a heiau, weeded a lo'i, snorkeled over the reef outside Olowalu, worked on Maui's wa'a kaulua, and became acquainted with the canoe compass and the star lines used in navigation.
I love how PVS considers the cultural aspect of voyaging to be as crucial to the sail as any physical preparation, as evidenced not just in the cultural training and protocol, but in the attitude towards any obstacle as an opportunity to learn and honor our traditions.
Once the 'Alenuihāhā Channel calmed down, we set out south from Maui. After the first light squall, a double rainbow emerged off our bow, reflected in the ocean as a circle of color.
As we sailed to Hawai'i Island, we could see Kohala, Mauna Kea, Mauna Loa, and Hualālai ahead of us, with Haleakalā behind. I could almost imagine what my ancestors must have felt, seeing these breathtaking peaks rise up out of the ocean after thousands of miles of sailing. A sense of how rich and united a kingdom Hawai'i is filled my blood.
We sailed south for about a day, out of sight of land. A ring of clouds lined the horizon, with 'ehukai underneath, lightening the sky's blue above the ocean. Bruce Blankenfeld, our captain and a Pwo navigator, pointed out the major eastern swell, a south-east swell, and a sporadic set of small waves from the north, fishing out useful knowledge from a chaos of water. He drew meaning and understanding out of the night sky, too, until I, too, could see starlines rise and set, and measure the moon's path along the ecliptic with my own hands. His lessons in navigation were expansive and illuminated my world, beyond just the sky.
The return home passed in a blur. In no time, we were back ashore, loaded with lei, feeling the exhaustion begin to sink in. But though the training sail has ended and I am back in Maine, I know that caring for the wa'a is a lifelong kuleana, and that I'll be a part of the wa'a 'ohana forever. I wouldn't want to voyage through life any other way.