There's a vibe on Islesboro which, subjective though that term may be, is confirmed by conversations with residents. They're proud of their strides toward energy independence and away from fossil fuels.
The motivation is something more than bragging rights, since all islanders typically pay more for energy—everything from propane and heating oil to electricity and gasoline. Solar power is emerging in various places on the island and there's even talk of developing an electric ferry.
Islesboro's active energy committee hosted an energy jamboree on May 21 at the community center, and in a series of three-minute-long comments from a range of speakers, the work and the commitment emerged.
"The bottom line is that our electric bill was $150 last year…"
Hope Kohtala, a program assistant at Efficiency Maine, explained how the quasi-state agency works to nudge adoption of new technology by providing rebates for electric vehicle charging stations, electric vehicles, heat pumps, and heat pump hot water heaters.
"Everything to stay cozy in a cold Maine winter, and cool in a hot Maine summer," she said.
Efficiency Maine, which is funded through surcharges on electric bills, also finances the purchase of this technology and lines up contractors.
Bill Thomas, a retired biological researcher and professor, now serves on the island energy committee. In 2010, he and his wife inherited a house on the island built in 1840. It was uninsulated and its wiring dated to the 1950s.
"It was clear we couldn't live here full time and afford to heat it," he said. The work began in the basement, which had standing water and rotting beams, and continued upward.
When a contractor did an energy evaluation, using the common "blower door" test by which air is sucked out of the building to reveal leaks, "the doors and windows were shuddering and shaking," Thomas said, an indication of how poorly it was sealed.
Among the improvements made were switching to LED bulbs, installing an air-to-water heat pump that provided radiant and radiator heat, a heat pump hot water heater, and photovoltaic panels.
"The bottom line is that our electric bill was $150 last year and $160 this year," he said.
One company that does energy audits like that completed at Thomas' house is Evergreen Home Performance.
"We work to reduce the energy waste in the building," said the company's Brian Robinson, mostly by addressing air-sealing. "It's really hard, unsexy work, but it's meaningful because it's forever."
Experts say the most cost-effective way to reduce energy bills is to retain the heat that is being produced, so weather stripping and caulking can make a difference.
Robinson said his Evergreen has been helped with a $350,000 investment from Efficiency Maine.
Earl McKenzie, a mariner with 40 years of experience as a captain, was an early adopter. In the 1980s, he built an electric-powered launch. Today, he and his wife own a 2017 Chevy Volt, an electric plug-in car which they charge through their photovoltaics. He also owns an electric lawnmower and currently is working on another electric launch.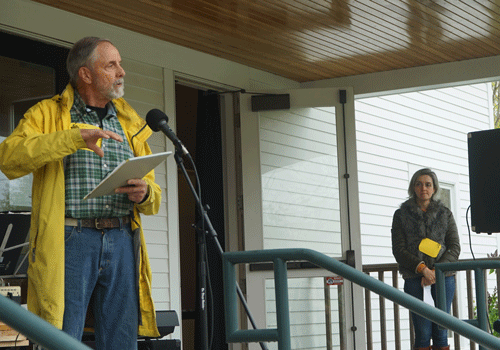 Tony Napolitano of Maine Community Solar explained how customers using utilities like Central Maine Power can subscribe, thanks to state law, to a community solar project and have the electricity produced there be applied to the consumer's bill.
"I always joke that I save about a beer a month, but I'm happy to support community solar," he said.
Emily Roscoe of the Island Institute, publisher of The Working Waterfront, said Islesboro is a national leader on the energy independence front.
She recounted work she had done in Shelburne, N.H. where a town-owned solar project was defeated by voters. By sharing facts about the project in one-on-one settings, public opinion changed.
"I watched these two gentlemen talk to every single person in town," building support, she said. They would be on hand at the town dump on its busy day to chat up skeptical residents. The project eventually won unanimous approval.
Emma Wendt, also with the Island Institute, highlighted the lessons that might be drawn from Roscoe's experience: find the right messenger and use the right words, she said.
When she speaks to fishermen about considering electric power on boats, she said, performance and cost are emphasized, not climate change.
Andrea Mengual, representing the federal Energy Transitions Initiative Partnership Project, said the program has funded 12 communities to assist in energy independence, including Islesboro and Eastport. The focus on making awards is "something achievable," she said.