Editor's note: This profile first appeared on the Upper Valley Educators Institute's website and is published here with that organization's permission.
In the first few minutes of our Zoom call, Marcela Carroll had to get up to make sure her students were transitioning to their independent activity. Elementary teachers are always being pulled in different directions, but perhaps this is more acute in a one-room schoolhouse.
Carroll is in her third year teaching on Isle au Haut. The community has between 30 and 40 full time residents, including Carroll, her husband, and their daughter. She teaches just four students—a pre-K student, a first grader, a fifth grader, and her own child, who is in third grade.
While Maine has seen people relocate to the state during the pandemic, and some seasonal families considered moving to the island full time, a migration did not follow.
"I'm basically the principal and the teacher. I miss other teachers."
"It takes a different kind of person," Carroll said of those who choose island life. "You have to rough it. It's really cold out here, you have to go shopping [off-island] for supplies, the doctor is not able to come right away, you are committing to seclusion."
Carroll is a science teacher by training, having earned her life science endorsement in 2008 from Upper Valley Educators Institute (UVEI), and although she is working towards elementary certification so that she can stay at the 100-year-old schoolhouse, she finds ways to incorporate science into much of what she teaches.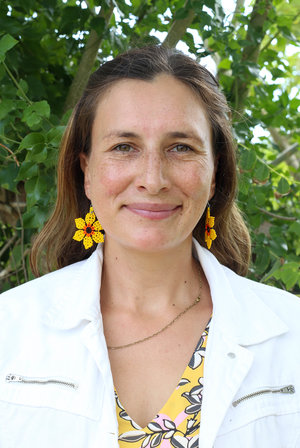 In some ways, teaching science is easy when the natural world around the schoolhouse begs to be explored through a place-based education model, which is central to Maine's island schoolhouses. For example, park rangers from Acadia National Park taught a lesson about moss, then Carroll took her students into the park—part of which is on Isle au Haut—to collect moss and make scientific drawings.
Last summer Carroll expanded the community garden and used it for students to set up a working farmstand where they not only sold food they harvested, but calculated costs according to weight and decided how to spend their tips. (They bought books.)
Carroll relies on volunteers and nonprofits to make experiential learning possible. Last year her students learned about reforestation and raised money to plant trees through a Vermont non-profit called One Tree Planted. This year they are learning about Native American history and raising money for the Wabanaki Alliance. She also wants them to learn traditional Native American skills.
"Ideally I'd like to build a canoe with them," she says.
Carroll says she draws on her experience at UVEI for the hands-on, cross curricular teaching she loves to do.
"The best part of the UVEI teaching program is the hands-on learning, the internship under the wing of an experienced teacher. You learn how to work as a team and how to plan lessons ahead of time," she says.
The Isle au Haut post is not the first time she's taught several subjects to a few students. For two years she taught at the now closed Rochester Middle and High School in Rochester, Vermont. The school struggled to maintain enrollment, with just three students in the high school in its final year. Carroll taught Spanish, health, family and consumer science, finance, and science.
Her next teaching position was in the Bahamas where she taught middle school science and Spanish to Bahamian students.
"It was one of the best teaching experiences. The culture was very similar to my Hispanic heritage," she says.
One of the biggest challenges to one-room island school teaching? "I'm basically the principal and the teacher," she jokes. "I miss other teachers." Although the PE and art teacher come in occasionally on a boat, Carroll and her assistant are the only full time educators. She collaborates with other teachers through the Island Institute which connects her with other island educators.
A technology like Zoom allows an early literacy teacher to instruct Carroll's students while Carroll teaches Spanish and science to students on another island.
"It's a lot of work," she admitted about the island experience, but when her older students help teach her younger ones, "it's pretty great."
Kristen Downey is director for teacher education programs at the Upper Valley Educators Institute, an experiential graduate school of education in Lebanon, New Hampshire.