Inspired by the natural resources of his island home, Vinalhaven's Willie Drury has launched a line of skin care products he's calling Maine Magic Mud.
Drury, 25, returned home after graduating college with a plan to go fishing. He had always been interested in starting a business, but didn't know what that business would be.
"I was thinking about what I could do, what do I have that I can contribute," he said.
Through conversations with family members, Drury was reminded of the local mud that people had used for generations as a skin treatment. In fact, Drury had used the mud two years ago as a healing agent for the skin on his ailing hands, a side-effect of winter lobstering. The mud worked wonders, removing dead skin and helping to heal sore wounds. This revelation led Drury to create skin care products using that island mud.
He started by researching the minerals in Maine mud, itemizing their beneficial properties and cross-referencing those to skin care. He also tested the local mud to make sure it was safe for use on skin.
"The minerals in the mud around here are really good for your skin," he said. "You could drink it if you wanted to… not that I'd recommend it."
In addition, Drury gathers his mud far away from polluted, high-traffic areas and as an extra precaution, bakes it at 500 degrees before manufacturing his products. All this "allows for peace of mind that we know it's safe," he said. And he follows FDA requirements for what a skin care product contains and how it is labeled.
It's important to Drury that Maine Magic Mud remain as environmentally friendly as possible. To that end, he is using as many organic ingredients as possible to manufacture Maine Magic Mud products.
"I want to run a good business," he said, "an ethical business. You can get the benefit of the mud using very little, so (harvesting it is) not going to be damaging to the environment."
While Drury admits he doesn't have any prior experience that qualifies him as an authority on skin care, he doesn't see that as an obstacle.
"The extent of my experience is that I have skin and (Maine mud) helped, and I wanted to bring that to other people," he said. "We've done as much research as we can. We're becoming experienced."
The "we" Drury refers to includes his friend, John Morton. Once Drury started the business, he recognized that he would need help. He recruited Morton to help build the company website as well as serve as a sales representative and assist in manufacturing. But more than that, Drury appreciates the moral support Morton provides.
"It's really great to have someone to bounce ideas off of and talk to," said Drury. "We're old friends, and are familiar with each other's strengths and weaknesses so at this point we've made a good team. Above anything else, it's great to feel like there's someone else in the proverbial boat I'm trying to build. It adds a little motivation." 
Maine Magic Mud currently produces five products: Turmeric Scrub, Peppermint Scrub, Exfoliant, and Tea Tree and Maine Kelp Shampoo and Conditioner. In coming weeks Drury hopes to add a facial mask kit to his inventory.
He is particularly proud of the mask kit. Other commercial facial masks come in liquid form, Drury explains.
"If what you buy is liquid, then there's some sort of preservative in it," he said. To offer an organic product, "We'll provide a kit, with all components separate." The consumer will then mix the components at the time of use.
When starting the company, Drury researched high-end skin care products.
"They all seemed to be similar," he said. "We have something that is unique—nobody else has it." Drury is hoping that will make all the difference.
Maine Magic Mud can be found at Archipelago in Rockland, at Go Fish on Vinalhaven, and at Groundcover in Bridgton, as well as online at www.mainemagicmud.com.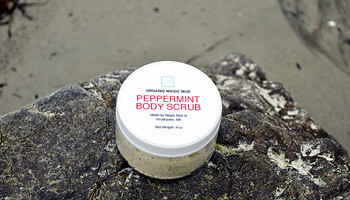 KRIS OSGOOD