Reflections is written by Island Institute Fellows, recent college grads who do community service work on Maine islands and in coastal communities through the Island Institute, publisher of The Working Waterfront.
Island Institute Fellows are adventurers and explorers by nature—they flock from all corners of the country seeking new experiences and community in some of the most remote places along Maine's coastline.
Fellows don't know what their placements will be when they are applying. It's a complete mystery. Fellows can find themselves creating town plans, working in museums, volunteering with food banks, and building community.
Not long after landing on Deer Isle, I found myself barreling down the Kennebec River in an inflatable raft with a bunch of middle schoolers kids in from Deer Isle and Stonington's after-school program.
Calling on veteran community partners, creating new partnerships, and going with the flow were essential…
We paddled furiously—though not always in sync—responding to our guide's commands. The kids and I attempted to stay in the raft, but as we bobbed closer to a Class 5 rapid dubbed "Big Mama," I was almost sure we would capsize.
The raft vaulted forward and careened at breakneck speed. Water sloshed into the raft and sprayed our faces which showed excitement, fear, and determination. There were delighted squeals and anxious exclamations. Almost as soon as we had approached Big Mama, she had left us swirling around in the river exhausted, laughing, and soaked.
The Deer Isle and Stonington "Mariners Soar!" after-school program's motto is "When Mariners soar, the sky's the limit!" It's a fitting motto for an after-school program where adventure and exploration are the modus operandi.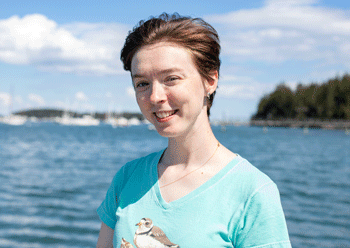 During this summer, Mariners Soar! had a series of summer camps that catered to varying interests: visual and performing arts, gardening, adventuring outdoors, and more. I found myself often leading expeditions with a couple of vans full of kids to do stuff I could only dream of doing at their age—sea kayaking in the rain, rock climbing in the rain, visiting an outdoor art gallery in the rain, hiking in the rain, taking a ferry in the rain—you get the idea.
It was a very damp June. Rain or shine, the kids were always down for an adventure with smiles on their faces.
Because of my background in marine sciences at UMaine, I was able to plan and run a week-long marine sciences camp with the after-school program. It was an interesting challenge because I knew ahead of time that we'd be short-staffed.
Calling on veteran community partners, creating new partnerships, and going with the flow were essential to making the week a success.
The week kicked off with a short visit to Penobscot Marine Museum in Searsport where the kids rigged sails and made fish prints. We visited the Discovery Wharf at Maine Center for Coastal Fisheries in Stonington and listened to Capt. Leroy's sailing stories, and perused the touch tank.
We explored tidepools around the island and of course had beach days. The kids also took a "Discover Scuba" class with Oceans Wide at the end of the week.
Nurturing curiosity, exploration, and discovery in this community is a fulfilling mission. I didn't even learn how to scuba dive until college!
One of the best things about my fellowship is that I get to bring my passions into my work. I am an avid lover of the ocean, plants, and outdoor adventuring.
As exciting and loud as some of the activities are at the after-school program, I often find myself enjoying the quiet moments in the school garden. The greenhouse is my sanctuary amid the chaos of a typical school day. Weeding, watering, and tending to the beds and the greenhouse leave me a lot of time to reflect on my day and fellowship in general.
The satisfaction of harvesting a handful of tomatoes or a bag of greens that I grew is a reminder that all good things come with time. Not every seed that I sow will grow, and that's OK. Just like all relationships and partnerships, the ones you water and tend will grow.
And sometimes the seeds we unintentionally sow into our communities surprise us: a gigantic squash might pop up out of the compost bin and produce the largest squash in the whole garden.
Katie Liberman works with school and summer programming on Deer Isle and Stonington. She has undergraduate and masters degrees in marine biology from the University of Maine.