Lobsters Without Borders (2022)
Don't Touch My Cocktail! (2023)
By Carol Chen
Carol Chen, a Camden resident, is debuting as a mystery writer with two books out now, Lobsters Without Borders and Don't Touch My Cocktail. Both feature "Jane Roberts," a novice public safety officer working in a small island community off the Maine coast.
It's hard to know if "St. Frewin's" is mostly modeled on a real Midcoast island reachable only by ferry (Islesboro? North Haven?). It is surprisingly devoid of cellphone service and the internet, a town decision made after a terrible car crash when a distracted driver hit another car, killing an entire family.
These fictional residents then eliminated access to that technology. Can you imagine that happening in real life? As a result, it's become a "retreat" destination, a place where you can really get away.
Her island career launch is marred not only by chasing after undies but the subsequent discovery of a dead body…
But it is mostly home to year-round families with island roots. There's also an enclave of wealthy summer residents, a classic old inn, and a yacht club. Jane Roberts has arrived to live there after deciding to divorce a cheating spouse and give herself a fresh start. She'd been an attorney at a major law firm but then enrolled at the Maine police academy.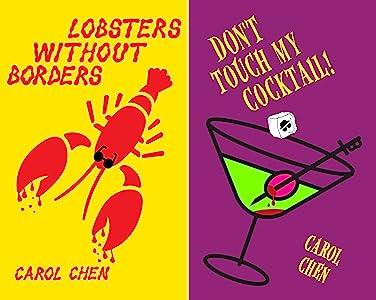 The first island crime she's called out on is a dog running loose with a string of clothesline holding underwear, snatched from the inn. She is the dog control officer but the timing is bad, interrupting her thoughts of dinner—maybe a pear parmesan pecan salad with roasted chicken?
Her island career launch is marred not only by chasing after undies but the subsequent discovery of a dead body holding a grisly souvenir—a raw lobster shoved down the victim's throat, giving "stuffed lobster" a new and perturbing twist.
Chen calls her books comedy and crime. The comedy is largely due to Jane's "thought bubbles," as they were. We're privy to her unspoken comments and reactions, which can be droll, self-deprecating, and sarcastic. Jane is funnier and quirkier than she lets on to others. She gets into some situations providing a laugh-out-loud moment, but sometimes an intended zaniness instead feels overwrought, contrived.
When Jane's sister shows up on the island for a surprise visit, we see Jane's facade of professionalism put to the test. As much as Jane wants to stay in the background and be respected for her propriety, her sister's arrival stirs unexpected excitement. There's instant recognition; she's familiar to those appreciative of the adult film genre in which she works. Jane prefers quiet office days and good home-cooked meals. (Her details about food brought to mind Robert Parker's mysteries starring a male detective, Spenser. Readers paid as much attention to his almost-recipes woven into the story as to clues about murders.)
We can tell Jane is, shall we say, evaluating the dating scene, but we're left wondering if, on that small island, the right person at the right time could be there.
Don't Touch My Cocktail addresses that last lingering question, returning us to St. Frewin Island only months later. I liked the inclusion of a "cast of characters" at the beginning of that book, something I had hoped for as a guide in her first one.
Chen does a remarkable job individualizing her long list of characters with dialect, personality, idiosyncrasies, backstories, and family trees. Her writing of dialogue is well executed and believable. Of course, there's also what every crime novel has in a formulaic way, besides crime—some bad guys and some you hope are good guys but can't be 100% sure, plus plot twists and a few red herrings that effectively keep you guessing who done it until the end.
Happily, most characters from Without Borders return in Cocktail, with international and political intrigue added. It's more ambitious than Without Borders and maybe not quite as much fun. I was glad that both books dabbled in food porn—Chen's references to succulent homemade dishes. Me, I'm ready for thirds.
Tina Cohen is a therapist who spends part of the year on Vinalhaven.