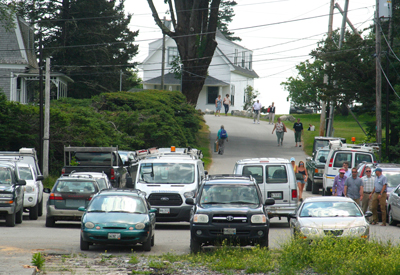 By Laurie Schreiber
Twenty years ago, Great Cranberry Island had a year-round population of just 37 people, mostly age 50 or older. There were no children living on the island and the school was closed.
There was a whisper going around: How long would Great Cranberry remain viable as a year-round community? Things looked bleak.
Today, the population has doubled and includes young families with children. The school is open on an alternating schedule with the school on neighboring Little Cranberry Island. Small businesses have formed. Tourism is thriving. Cultural and arts events abound. 
It's a turnaround that positions Great Cranberry as a model of resiliency and grit, thanks to a community that has come together in the revitalization of its school, infrastructure, and economy. 
And yet, the community remains mindful that its status is fragile. 
"It doesn't take much for one setback to have ripple effects," said Phil Whitney, a longtime community leader whose family roots goes back to the island's settlement. "We can do great things in 15 or 20 years, but it can all end in a short time. We have to be aware of what we're trying to do to make things happen."
Whitney and others spoke at an Aug. 1 presentation at the Great Cranberry Historical Society, hosted by the Island Institute, publisher of The Working Waterfront.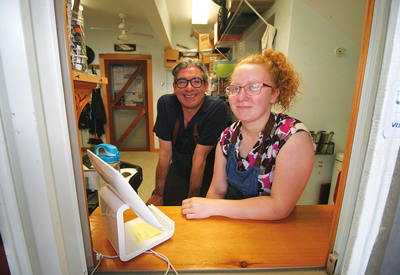 It was a sunny day with a breeze coming off the water, where the harbor was full of boats and paddle boarders. The town dock was crowded with young year-round and summer residents, sunbathing, greeting friends coming in on the mailboat, and dunking into the sea. A barge loaded with a U-Haul motored in; onlookers guessed it carried goods for a wedding that weekend.
A "stretch" golf cart shuttle traversed the island's mile-long road, carrying residents and visitors for free to their destinations. Cranberry General Store, overlooking the harbor, was busy with people buying lunch at its takeout. The deck at Hitty's Café, which is part of the community's hub, likewise filled with hungry folks.
Whitney recalled that, when he and his wife Karin moved back to the island in 2001, things looked pretty bleak. It was one of only 15 Maine islands that still had a year-round population, out of 300 in the early 1900s. But it was difficult to make a year-round living. Real estate, coveted by summer residents, was pricing out affordable homes. 
But, he said, "We didn't want to become the next island to go under."
So individuals, organizations, and the town worked to reverse trends. 
An important move, in 2003, was the town's acquisition of dedicated parking on the mainland for year-round islanders, making it possible for them to get back and forth easily.
In 2008, the Great Cranberry Island Historical Society opened Cranberry House as a community hub for the Preble-Marr Historical Museum, archives, year-round arts and cultural center, gift shop, and Hitty's Café. It's now attracting 5,000 visitors each summer.
The society averages 500 events per year, including meetings, movies, plays, lectures, exhibits, classes, and potlucks. Its success inspired the society to launch a new fundraising campaign to double the size of the building.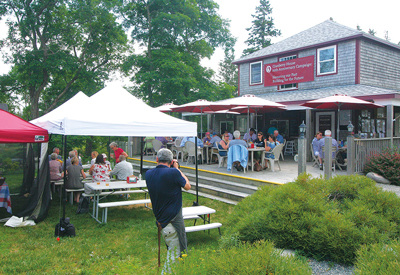 Other initiatives included establishing a commuter ferry to make it easier for people to travel to the mainland for work. Expanded broadband access allows residents to telecommute. New on-island businesses include an oyster farm and a gift shop. The nonprofit Cranberry Isles Realty Trust developed affordable housing that has attracted young families from as far as North Carolina and Virginia. 
By 2016, there were enough children to reopen Great Cranberry's school. Great Cranberry and Little Cranberry combine the student bodies and have them alternate schools every two years. That "critical mass" was key to helping both islands, said recently retired schoolteacher Audrey Noether.
"They learn and grow from each other," she said.
Computer technology, she noted, is also instrumental. The Outer Islands Teaching & Learning Collaborative is a "virtual classroom community" that fosters collaboration across islands, said Noether. 
"When I think about the sense of community and the sense of responsibility students have toward one another, it's really amazing," she added.
The school system has been key to sustaining year-round viability, agreed Ingrid Gaither.
Gaither and her family were attracted to Great Cranberry for its affordable housing program. 
"Once you start a family, you decide where you're going to put down roots by the school you want for your children," Gaither said. "I never felt like I sacrificed my son's education in order to live here. That was important. It didn't bring me here, but it kept me here. I think it's key to keeping families and attracting new families."