By Laurie Schreiber
At any given moment, inventive entrepreneurs are busy working on an astonishing array of start-up activities at the Union River Center for Innovation in Ellsworth.
In a small laboratory, Monoclonals Inc. founder Christine Soto is developing novel antibodies for certain strains of bacteria and viruses. In a nearby office, Gerald Collins is working on business strategy for a new physical therapy device created by the company he co-founded, Treadwell Corp. 
Atlantic Ocean Aquaculture, founded by Roger Bason, is developing harvested and wild seaweed products for applications like animal feed and biofuel generation. Clyde Ford has a rapid prototyping and 3D printing startup in the works. SteriPEN makes ultraviolet, handheld water purifiers. 
GenoTyping Center of America, a genetic testing service, maintains its business office here as its Waterville lab continues to expand. Gel Hydration Technologies is developing hydration solutions for animals. Another start-up, Eagre Games, recently launched its first product, a virtual reality game called ZED.
Union River Center for Innovation, or URCI, is a business incubator and co-working facility launched in 2016 with support from private donors and eight founding partners: the city, Ellsworth Business Development Corp., Jackson Lab, the University of Maine, Maine Technology Institute, Maine Center for Entrepreneurial Development, Maine Community Foundation, and law firm Eaton Peabody.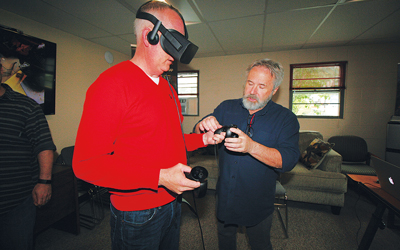 "The thing that strikes me most is the partnership that has made URCI the success it is today," said Janna Richards, Ellsworth's economic development director. "You've got the city, the Ellsworth Business Development Corp., the tenants, and so many local businesses and foundations and groups that believe in the mission of the center and what it's doing. Surrounding all those partnerships, you've got a lot of people who have not only diverse expertise, (but) they have a knowledge base that's able to sustain and grow the center and to grow the economy in this region."
With a focus on STEM (science, technology, engineering, math), URCI syncs well with the area's growth in those industries, particularly given Jackson Lab's expansion last year into Ellsworth and nearby higher-ed research arms. Located at 415 Water St., URCI provides joint workspaces, a community lab, private offices, high-speed internet and a conference room equipped with a 60-inch high-def video monitor. Printing, copying, scanning, mailing, and faxing services are available. Co-working space can be rented on a day pass or monthly membership. The goal was to provide space, affordable rent, support services like coaching and business workshops, and a culture of responsiveness from established institutions.
The tenants themselves land here for a variety of reasons. For affiliates like Atlantic Ocean Aquaculture and Gel Hydration, URCI provides professional resources, infrastructure, and space as needed.
"They're a terrific resource," said Bason. "They've got business and technical assistance, they've made great connections, and they've been a base of operations in order for us to get started. We maintain an office there so we can do the administrative work. They've got a meeting place and we assembled the equipment in the basement."
Soto, a New York native and graduate of Drexel University in Philadelphia, identified URCI as a great place to bootstrap her business, Monoclonals Inc., after 15 years working in research and development for other companies. In her development of novel antibodies, she was interested in focusing on strains of bacteria and viruses that don't receive much mainstream attention, like Lassa virus and meningitis. Finding it difficult and expensive to set up her own lab space in conventional settings such as established biological firms, Soto discovered the innovation center by calling zoning offices throughout the region.
Recently, Soto was setting up a biosafety cabinet, which creates a sterile environment. Other equipment included a microscope and incubator. 
"I had to start from scratch, find a small space, buy equipment," she said. "I do whatever I have to do.  I have part-time jobs, but they're flexible. That gives me time to be here."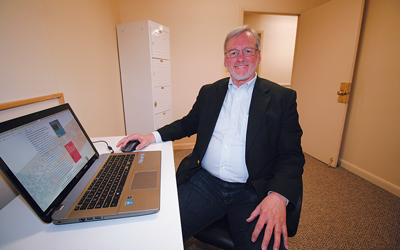 Eagre Games founder Chuck Carter, 61, has a successful career as an illustrator in the science and entertainment industries, working on more than two dozen video games and non-game work for the likes of NASA and National Geographic. But he had an idea for his own product, so he leased an office at URCI, bootstrapped his funding, and focused on developing ZED. As ZED rolls out, and with upfront investment for his next game, he plans to stay where he is.
"I like the people who run the incubator here," he said. "The rent is reasonable. You get the support you need from people who are helping out on the business side. It makes being a small start-up company a lot easier."
Others that have successfully launched their businesses include the computer company called Just I.T., which recently expanded its space there; and Pro31 Cleaning Solutions, which grew so rapidly it's moved on to new quarters.
"We try to fill our spaces with a blend of people," said Kat Taylor, a co-founder of GenoTyping Center of America who also helps administer URCI. "We have companies that rent our offices or have day jobs and are trying to start their own company. We're even able to attract people from out of state to come here and grow their businesses. They're budding entrepreneurs. There's a lot of synergy."