Just East of Nowhere
By Scot Lehigh (Islandport Press, 2023)
Anyone passingly familiar with Eastport will recognize it immediately in Scot Lehigh's new novel, Just East of Nowhere.
We get a tour of the place in the first pages when young Dan Winters gets off a bus at Perry Corner and hitchhikes into his hometown. A local storekeeper picks him up halfway to the Passamaquoddy Reservation, and we gather from terse conversation that word of Dan's return will spread quickly.
He gets out at the foot of the High Street hill and walks up to his alma mater, Shead High School, where he looks in wistfully on a JV basketball practice. A cop who knows who he is spots him, gives him grief about the school being closed to visitors, and warns him to watch his step. Dan's obviously got some history to live down.
He walks to the waterfront to gaze at the breakwater, "Eastport's aquatic town square," which spurs detailed memories of his not-quite-lost youth. He then ambles along Water Street through the North End, and comes to face to face with the house where he lived with his mother and that "had seemed like a prison he'd never escape."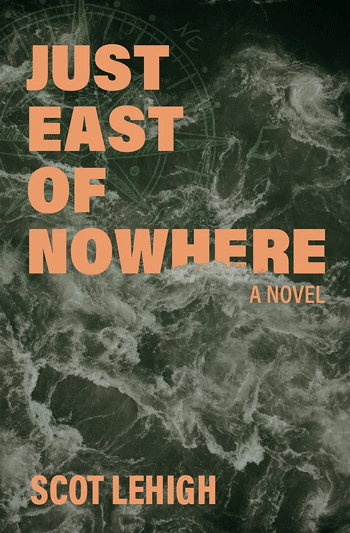 For as the story opens, Dan has returned from college to attend his mother's funeral. At this point we realize his sort of shell-shocked state of mind in these opening pages really is a version of Camus' "my mother died today. Or maybe yesterday, I don't know." This sense of detached, existential ambivalence and latent anger makes up the emotional condition, but not the atmosphere, of most of this story, which is told in mainly objective, at times almost wry sentences.
Events revolve around Dan's quest to find out who his father was and why his mother moved, young and unmarried, to Eastport from ambiguously close but distant Lubec. Hinging on this history, an altercation with two high school classmates launches the story's key events.
The classmates are Sonny Beal, from a fishing family that had relocated for murky reasons from the Machias area to Eastport, and Griffin Kimball, Sonny's unlikely sidekick. After the altercation, the story makes a sharp left turn to focus on Griffin, his disaffected family life, and how he stumbled into the friction with Dan. The friction mistakenly comes to center on innocent Susan, the love interest of both boys.
The narrative spends a great deal of time sorting out Dan's and Griffin's inner struggles, and it's tempting to say that the physical geography of Eastport equals the psychological geography of the teenagers in this book. But it would be a stretch. The matter-of-fact prose vividly sets the physical scene, but it also lightens the angst we're told the teenagers are feeling.
This dissonance becomes apparent when, toward the end of the book, a near-tragic mistake with a firearm is euphemistically interpreted as a moment of personal empowerment. The matter-of-fact interpretation seems to belie the gravity of the mistake.
The many other adolescent misdeeds—serious and ridiculous, some deep in the past—made by young adults in the story have already led to far-reaching pain and suffering, and the event with the firearm could have been even worse. The easygoing narrative skates over the fact that a deadly shooting has far deeper moral implications than a simple learning opportunity.
Still, Just East of Nowhere provides observant details of life in Eastport, where Scot Lehigh himself grew up before lighting out on a successful career as a journalist. Just East of Nowhere unfolds the fact that in outback Maine, if you're not a high school sports hero, expectations are low, and how teenagers' resulting feelings of doubt, dread, and alienation from civilization's far-away centers—such as Bangor, Portland, Boston, New York—can actually play out in life.
Dana Wilde is a former editor and college professor living in Troy.