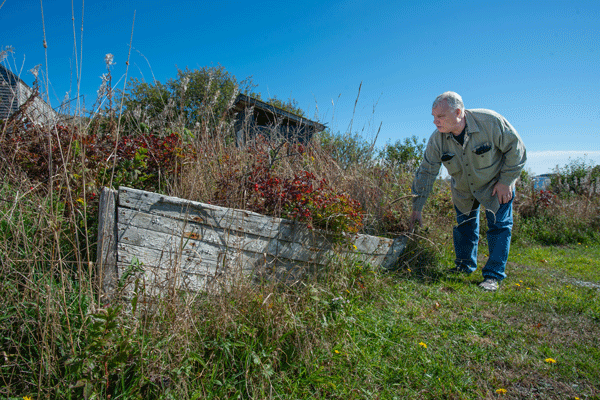 Campbell "Buzz" Scott has a sunny demeanor and friendly smile for the old friends he runs into as we tour Matinicus, the island some 20-plus miles off Rockland where he grew up. Now 62, he reminisces with women he attended school with on the island, and has a warm exchange with an older couple who provided a second home for him and other kids when things weren't great with Mom and Dad.
But from my perspective, the moment that anchors this visit is when Scott stands outside the home he grew up in and casually gestures to a peapod on the lawn, hemmed in by weeds, its planking looking as if it would give way to a hard kick.
"This was my first boat," he says. "My mother bought it for me for $50. She said, 'From now on, if you want something, you've got to earn it.'" Another islander gave him 25 traps, he remembers, and at age 12, Scott began his working life.
A few minutes later, he is a bit wistful, looking at his childhood home, now a seasonal rental.
"The lighthouse would shine in my window every night," he said.
They say you can never go home, but of course you can. It's just that when it's Matinicus, you can't easily make a daytrip by ferry, but you can if you visit by airplane.
And on Sept. 29, that's what we did, flying on Penobscot Island Air on a cloudless autumn day. Along with photographer Michele Stapleton, we joined Scott with the idea of seeing the community through his eyes.
I first met Scott at a conference earlier this year, where he had a table showing his work through the nonprofit he launched called OceansWide, dedicated to removing "ghost" traps from the ocean bottom.
"There's 12 to 15 million traps in the ocean," he says, most because their lines have been inadvertently cut by a boat's propeller. To get an idea of the scope of the problem in Maine waters, Scott reports his group removed 3,000 from the inner region of Boothbay Harbor, all in 60-feet of water or less. Only about 20% were reusable, he said.
At one point during our visit, we stop and get out of a borrowed pickup near the harbor, and Scott gestures to a pile of traps—hundreds of them—tangled in a patch of what looks like wild raspberries.
"This island has thousands of traps on it," he says. "When I was a kid, the island was pristine."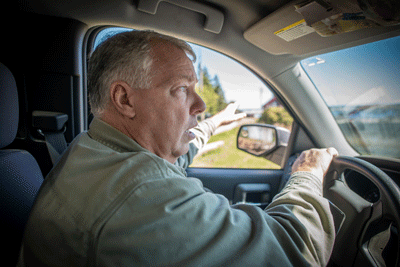 A few minutes later, we walk to the working part of the harbor and see a lobster boat tied to the pier, traps being lowered aboard. Scott calls out to the men at work and confirms that they are taking decrepit traps to the mainland where they will be disposed of at a municipal trash center.
OceansWide has developed equipment to crush the traps, but recycling markets are elusive. The process begins with the wooden runners, hard plastic escape vents, and woven heads being removed.
"We're working with Maine Sea Grant and Haystack," the crafts school on Deer Isle, to find other uses for the escape vents, Scott said.
"They know they have a logistical issue that they haven't dealt with in 30 years," he said of Matinicus islanders, but now, the community agrees the gear must be removed, for which he is proud.
Scott is working with the owner of a pier on the harbor to purchase the property and set up a trap removal operation for OceansWide.
Not surprisingly, traps and boats and fishing have been a big part of Scott's life, though that life took him far from the Gulf of Maine.
"My mother came out here when I was three," then at about age ten, the family moved there permanently. The house had no indoor plumbing and no electricity then.
"I basically learned to read like Abe Lincoln, with a candle burning," he says with a smile.
"I fished with everybody out here and had boats of my own," he said, and in his 20s, he flew a two-seater airplane, working as a spotter for an island herring fisherman.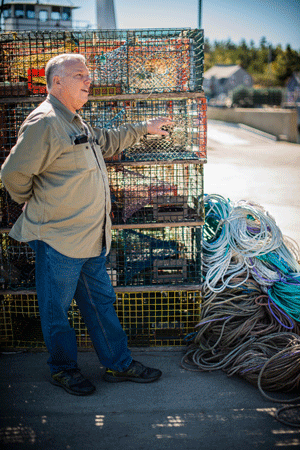 But at age 27, an older man gave him some advice.
"I was good friends with Clayton Young, who owned the store," Scott remembers. Young took him aside and suggested he consider seeing the wider world.
The store burned to the ground in 2008. Scott remembers older men, World War II veterans, sitting around the stove in winter and telling stories about the island.
Despite the memories, Scott took Young's advice and left, joining the Navy Seabees, a construction division, and served four years of active duty, including during Desert Storm in 1990-91.
"I've stood up and fallen into more things than I care to tell you about," he jokes. He studied engineering, biology, and architecture at the University of Maine, then, "My first wife dragged me to Oklahoma."
He met an old friend in Colorado who offered him the opportunity to work for a research project in Antarctica. That led to 34 trips over ten years to the region, working for Monterey Bay Aquarium's research institute.
For a time, he worked for Bob Ballard, famed for having discovered the wreck of the Titanic, doing searches over other wrecks. He also worked on the Deepwater Horizon oil rig in the Gulf of Mexico, five years after the oil leak there.
Scott lives in Newcastle now, but finds himself visiting Matinicus often. Walking and driving around the island, that familiarity is evident in waves and shouts of "Hey, Buzz!"
Islander Laurie Webber greeted us at the unpaved island airstrip, and we pile into her truck, drive to her house, and then she loans it to Scott.
"Back when we were kids, we all knew each other, we shared all our property," she says. After leaving for the mainland for years,
Webber now lives on the island from April to November. Her husband has fixed up the family homestead.
"My kids are fifth-generation owners," she says.
At the harbor, we see the Island Transporter, a private ferry service, arrive with a septic pumping truck coming onto the island. Paul Murray assists the driver.
"He keeps everything running," including the island's electric grid, Scott says of Murray.
On our tour, we stop at Donna Rogers' house and sit in her kitchen. She lobsters here during the warm months. Recently, she says, there has been a lot of activity in the real estate market.
"We had a big influx of homebuyers," she says, with five or six new owners, probably related to the pandemic.
Reminiscing with the older couple who were at times surrogate parents, Scott tells a story about working on a herring seine and having two friends throw him into the net as a sort of initiation. He also recounts the time a humpback whale crashed through the net, eliciting a laconic response from one man: "Huh!"
The easy conversations Scott shares with these old friends speaks of a rare bond, maybe even intimacy, imparted by growing up on an island. It's clear he relishes being here.
Growing up here in the 1960s, it was even harder to get to and from the mainland.
"That's the big change," he says. "No one went ashore in those days."
The peapod he fished from as a boy, hauling traps by hand, is returning to the island soil. Scott hopes his plans for cleaning up the island's derelict traps is a way to continue working here, and a way to give back to the community that he loves.