Walking into the Pilgrim's Inn, the slight undulation of the 14-inch-wide floorboards immediately gives away the fact that this is a historic building.
Then there are other wonderful features. Large fireplaces and chimneys are made of handmade bricks and have beehive ovens set in the back and pot-hanging trammels over the central fire. Shallow closets and a short but wide barn door are tucked in here and there.
The exposed overhead beams are roughhewn, the hand-made wood paneling on the walls worn. There are molded tin ceilings and door hinges. The joinery of walls with ceilings and floors sometimes take an unexpected curve, seeming to signal the work of hand rather than power tools. The walls are clearly not the monolithic smoothness of sheetrock; they have the texture of plaster and lathe, probably layered over horsehair insulation.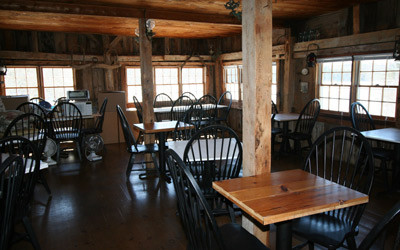 LAURIE SCHREIBER
"We fell in love with the place," said Nicole Nedar, as she and her husband, Scott Hall, enthusiastically point out the historic features of the 18th century building during a recent tour. On the walls are hung antique boards for Chinese checkers and other games. One of the building's six fireplaces has a beautifully molded inset featuring column and ivy carvings. An antique chest of drawers is decorated with an intricately carved garland of flowers. The hallways wander a bit, and guestrooms unexpectedly appear.
This is a community landmark, built in 1793 by Ignatius Haskell as a private home. According to information provided on the inn's website, Haskell was engaged in the coasting trade from 1775 through the mid-1800s, an activity that dominated Deer Isle culture. In 1806, the Bolina, Haskell's first ship, launched from his boatyard in Northwest Harbor and made its maiden fishing voyage to Labrador.
In 1890, Haskell's descendent, Elizabeth Cush Haskell, began operating the house as a guesthouse, calling it The Ark. Summer visitors would arrive by steamer from Rockland, Portland, and Boston to stay for the season. The library in The Ark was where, in 1895, townspeople selected the famous all-Deer Isle crew to sail the Defender in the America's Cup. (In 1899, another all-Deer Isle crew was hired to sail the Columbia in the America's Cup.)
Elizabeth Haskell died in 1944 and The Ark, unoccupied, fell into a state of neglect. In 1975, The Ark was reestablished as Pilgrim's Inn by George and Ellie Pavlov and was named to the National Register of Historic Places in 1978.
It's operated as a seasonal inn ever since.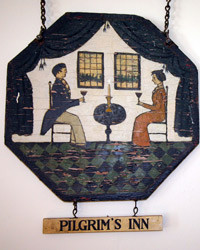 Nedar and Hall, who finalized their purchase of the inn during the blizzard last February, are the sixth owners, arriving from the greater Philadephia area from careers that had nothing to do with innkeeping. Hall is a Navy veteran, and served in the Middle East during Operation Desert Storm in the early 1990s. He then worked in corporate management for many years, specifically for pharmaceutical and medical device companies. Nedar was a dental hygienist for over two decades, and also worked in landscape architecture for several years. Hall's work had them moving at times, to places like Kansas City, Missouri, Switzerland, and Germany.
They thought about transitioning to innkeeping many years ago, but at the time didn't have the money or the life experience to do it. But they came to a crossroads and revisited the idea and started looking.
"I'd always worked in these corporate positions," said Hall. "We said, 'Let's do something for us, that we can have a little more control over.'"
They had traveled a lot and loved the hospitality they'd received in the smaller, family-owned type of lodgings. And they're hospitable people themselves. So they found a brokerage that offered seminars about the management specifics of innkeeping.
"We thought about it a long time. Then we started looking," said Nedar.
They weren't necessarily looking for an old inn. It just had to be in a great place. Last summer, they discovered this one through a broker.
"We said, 'OK, this is it.' It's a beautiful building and beautiful piece of property with all the water views, and this is the kind of community we want to be in," Hall recalled.
Nedar recalled their first visit to Deer Isle.
"It just got better and better the closer we got," she said.
They credit the structure's longevity to its heavy build and the care that previous owners have taken.
"Previous owners have made the investment to say, 'OK, we're going to do this work and do it right,'" Hall said. "And as we're going around and seeing things, we can see they respected the integrity of the building."
Now, preparing the inn and its Whale's Rib Tavern for the upcoming season, the two view themselves as stewards of a building and a spirit.
"People have done upgrades over the years," said Nedar. "But it's still in enough of its original form that you can sit in one of the rooms and imagine the roaring fireplace and the women in their big hats and the men with their walking sticks."
Nightly room rates in high season range from $159 to $229. For more information, see PilgrimsInn.com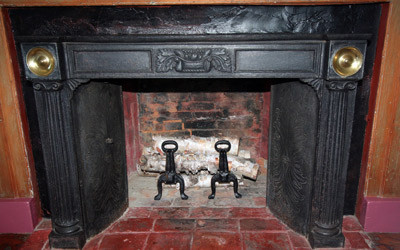 LAURIE SCHREIBER