BAR HARBOR — Work is underway to build headers and cut lumber to make studs, part of a volunteer effort to construct a Habitat for Humanity house.
While most will picture a group of adults doing the work, for past nine years, it's been students at Mount Desert Island High School enthusiastically providing the labor. The students have enrolled in a semester-long Habitat for Humanity class to build walls for homes in Hancock County.
Recently, the sound of hammering and sawing could be heard in the school's shop class, as students worked under the oversight of technology teacher Bruce Munger and social studies teacher Wilton Jones.
"I love woodworking and it seemed like it was for a good cause," said student Griffin Costello, taking a moment to explain his interest. "And it seemed like it would be fun."
"It helps people," said another student, Amy Crossman.
MDI built its first house in the 2006-2007 school year. The class got its start as a team-teaching concept between the technology and social studies departments.
"I'm a humanitarian by nature and I'm a builder by nature, so it made sense to me," Munger said.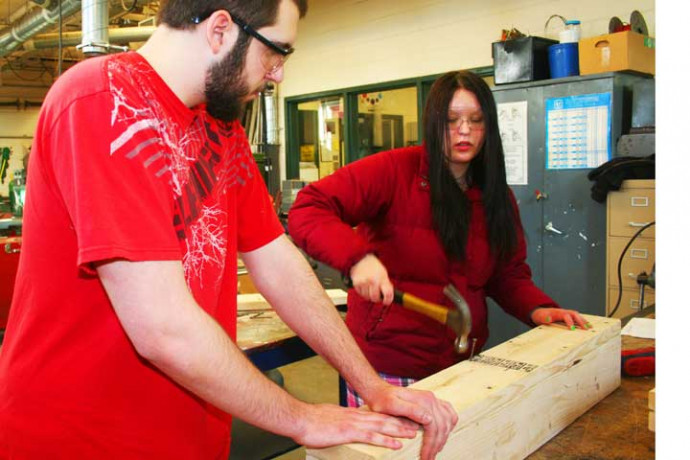 The students learn technical skills such as how to read a blueprint and use power tools. They build the walls as panel sections; for example, they construct four, 12-foot panels for a house's 48-foot-long wall. That makes it manageable to build in the shop and transport to the site.
The civics engagement part of the class is also important, said Jones. "The biggest thing is helping kids understand there are ways to contribute to their communities. It's meaningful for them to be actually building somebody's home."
In 2010, Sumner Memorial High School in Sullivan teamed up with MDI when it started a construction class to build roof trusses. The Maine Community Foundation awarded the Hancock County Habitat chapter a grant to buy a 10,000-pound hydraulic press for Sumner's use; the press is critical for gang-nailing the trusses.
"The kids get good, hands-on experience," said Sumner teacher John Wells. "It's just like being on a job site. They get their tools ready, they look at the blueprints, they get ready to cut."
MDI and Sumner most recently contributed to a house completed last December in Sedgwick, for a mother and her two children. The walls currently under construction at MDI are based on a typical floor plan for the next family. Although Hancock County Habitat for Humanity isn't ready to announce the family or site yet, executive director Kelley Ellsworth said site work is scheduled to begin spring 2016.
MDI and Sumner might be unique, as a high school team building modular house units in a semester-long class. But other high schools around Maine participate in their local Habitat branches.
For example, Habitat for Humanity York County partners with students and teachers from Biddeford Regional Center of Technology, Kennebunk High School and Thornton Academy, and plans are in the works to engage students from Sanford High School this spring, said York County Habitat weatherization coordinator Ali Simpson.
"These students are predominately involved in constructing storm windows for our weatherization program, occasionally going out on home assessments to measure windows," said Simpson. Some also work at ReStore, Habitat's resale store.
At MDI, about 100 students have been involved over the years.
"I remember going into this with some trepidation," said Munger. "We didn't have the house plans; the funding wasn't all there. But we had great kids, the willingness, and the support. And it worked. This is house No. 8. It's been very fulfilling."