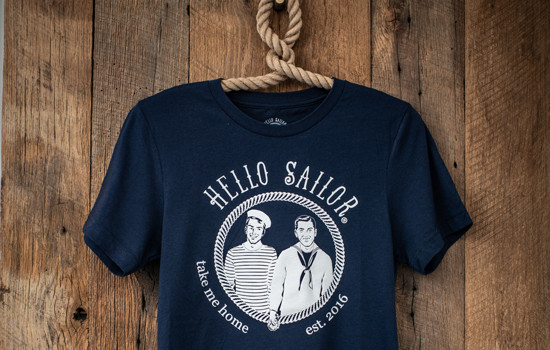 By Sally Noble//Photos by Michele Stapleton
A happily married couple, they packed their memories of long, lazy summer vacations—like that of their first meeting, in 2003, at campcamp.com, a free-spirited gay camp in the Maine woods. Weary of their frenetic life in the Washington D.C. area, filled with dreams of a slower-paced, more authentic way of life, they took the leap and moved to Maine.
Careful planners, they hired lawyers to reincorporate their relocating businesses, bought a mid-18thcentury house in Newcastle, and after an intense, last-minute 12 hours spent stripping up old rugs, their movers arrived last July.
Welcome Don Bostick and Danny Cain. And Hello Sailor TMH, their nascent business of nautical themed T-shirts and mugs with saucy homosexual entreaties. 
"In 2015, we started with a modest plan targeted at gay men who love sailing," explains Cain, 56, an affable psychotherapist who still provides therapy via telemedicine to his downsized patient roster.  
"The people (of the D.C. area) were cutthroat, stressed, and angry, with too many cars and no place to park," explains the soft spoken Bostick, 55, an interior designer who directed expenditures of over $100,000 to refurbish their new, showcase house, completed just in time for their first Maine winter.
With seed money of $50,000, Hello Sailor TMC, an online and wholesale business, launched in 2017. Their brand has definitely evolved since Bostick wrote the copy for their evolving website, hellosailortmh.com.
First, the company name. The phrase, "Hello Sailor," explains Bostick, is a "homosexual proposition that dates back to World War II." Tied into the belief that the "hyper masculinity of a man in uniform" draws men who fantasize about "being rescued," Bostick's website promises "tight T-shirts with images of hot sailors with cheeky sayings."
Cain, the self-assigned director of the couple's new business, has broadened the company's appeal to include the entire LGBTQ community—first, through e-commerce, then from hosting a table of Hello Sailor products at Boston Gay Pride in 2017, and Cain keeps listening closely to his evolving market.
For example, he heard the complaints from lesbians who didn't want such form-fitting T-shirts. So now the business also sells unisex T-shirts featuring two women under a Hello Sailor message—an alternative to the highly buff, bare-chested sailor, reading "Looking for Seamen."
"Innuendo sayings haven't been popular," Cain observes. "For a large group of men, 'Hello Sailor' works, but not 'take me home' or 'man in every port.' The bestseller so far has been the gray sleeveless T," he continues. "This tells us there is more demand for realistic looking"—rather than artistic renditions—"sailors with beards, and we are creating more designs now with this in mind."
Seeking like-minded vendors, Cain does his research.
Currently, mugs are produced in Wisconsin, and fresh, plain T-shirts from Ohio are shipped to a LGBTQ friendly printing press in Connecticut. To ensure quality control before shipping from Maine, each Hello Sailor TMH product is examined to guarantee perfection before Cain warehouses inventory in the sewing room on the second floor.  Currently the brand sells in stores in Provincetown, Mass., San Diego, Calif., Fort Lauderdale, Fla., and Rehoboth Beach, Del.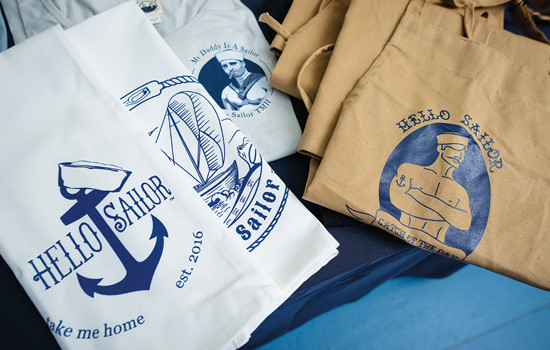 Cain has experimented in selling his product line directly to Maine retail establishments, but without luck so far. Last year, he visited Portland, Kennebunkport, and Ogunquit.
"While it was a one-off excursion, the feedback was, 'It's not a good fit for my store,'" reports Cain. "In Ogunquit, they did point me in the direction of the 'gay store' in town which they felt would be the only option.  
Yes, a home line is in the works, with aprons, dinner napkins, and kitchen towels among the 20 items to be market tested at a trade show in Cape Cod this June.
So life is good for these newcomers.
"Our commute is to walk upstairs," Cain gleefully observes.
Bostick, meanwhile, has finally found time to channel his inner novelist and is currently working on his second, as yet unpublished, work of fiction. 
"Maine is not materialistic," observes Bostick. "All you need are L.L.Bean duck boots and a Subaru."