The phrase "buyer beware" seems inappropriate for someone settling in a pretty Maine waterfront community. But maybe "buyer aware" makes some sense.
After all, if that town has a working waterfront, a newcomer's expectations may not match reality. Fishermen's pickups driving by at 4 a.m. in summer. Diesel boat engines firing up a little later. Stinky, dried bait on the dock. Equally stinky lobster gear stacked nearby.
Those pretty fishing boats bobbing at their moorings in golden sunlight at cocktail hour come with all of the above.
Several years ago, Maine Sea Grant produced brochures distributed by real estate agents making those new homeowners aware of what it meant to live in Harpswell and Jonesport-Beals. Now, Maine Coast Fishermen's Association, Harpswell Heritage Land Trust, the Holbrook Community Foundation, the Harpswell Anchor newspaper and website, and Cundy's Harbor Library have taken the concept up a notch or two with Scuttlebutt: A Guide to Living & Working in a Waterfront Community.
One of the ideas behind Scuttlebutt is that it can be replicated in other waterfront communities.
The 5-1/2- by 8-1/2-inch glossy publication, illustrated with engaging photos and graphics, welcomes visitors and new settlers to Harpswell, which, with 216 miles of shore, has the longest coastline of any Maine town. Other numbers included in the publication are that this town of 5,031 residents is surrounded by 200 small islands (only 94 are named), and that it has 79 commercially zoned wharves.
One of the ideas behind Scuttlebutt is that it can be replicated in other waterfront communities, says Monique Coombs, director of community programs at Maine Coast Fishermen's Association.
"There's a lot of changes happening in Maine's coastal communities because of things like COVID migration, the ability to work remotely, and gentrification," she said.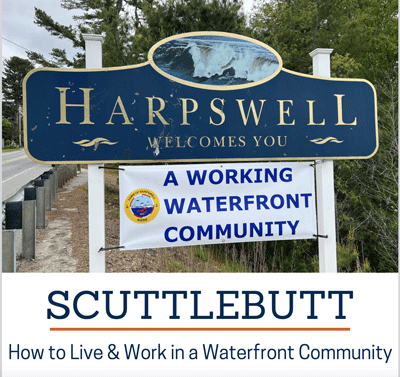 "We have to balance these with the culture and industry that has made up working waterfront communities for generations," she said.
"We think helping educate new and summer residents about living and working in a waterfront community allows us to celebrate commercial fishing and mitigate potential future conflict."
The Harpswell version is fact-filled and makes its points about the salty realities of the town, including defining the terms access, commercial fishing, working waterfront, rights of way agreements, and working waterfront convenants.
"Wharves are beautiful and full of activity, but they can be slippery, rickety, and potentially hazardous," one page notes. "Forklifts beep when backing up, bait trucks are noisy and smelly, boats have bright lights so they can see and be seen, and things are often moving quickly.
"If you live near a wharf or are just visiting to buy some lobsters, pay attention to what's going on, watch your step, and recognize that fishermen are working hard to provide the best seafood in the world."
Scuttlebutt also offers advice on how to "be a good neighbor and steward of the Gulf of Maine ecosystem" by minimizing or eliminating the use of lawn fertilizers and insecticides, cleaning up after dogs, and using rain barrels to conserve well water.
But it's not preachy.
The guide also includes recipes for making lobster stock and crab dip, tips for dealing with the salt air, and descriptions of other fisheries. It even directs readers to other nonprofits working to sustain the way of life towns like Harpswell enjoy.
Interestingly, the publication notes that the term "scuttlebutt" referred to the cask of drinking water aboard a ship, the maritime version of "water cooler."
The guide was created following a series of panel presentations in the fall of 2021 and spring of 2022, "Living and Working in a Waterfront Community: A Conversation Series." Coombs says 1,500 copies were printed, though more will be published this summer to distribute to visitors.
Those interested in developing such a guide in their community should contact Coombs at monique@mainecoastfishermen.org. The organization offers to help communities fundraise and produce a similar guide specific to the community. The approximate budget is based on printing; the cost of producing 1,500 was about $2,000, Coombs said.