PHOTO STORY BY KATIE JOHNSON
There's a new boat in town, and a new way to get out on the waters of Casco Bay. Maine Baycycle, run by captain and Peaks Island native Neil Kinner, provides a 90-minute pedal powered cruise of Portland's waterfront that's different from anything else out there.
Maine Baycycle uses a 32-foot Cascade Cycleboat with ten pedal stations and space for four additional people. It's very common for passengers to switch off from pedaling to relaxing and passing out drinks. Seal and osprey sightings are common, and fishing boats go by while passengers pedal past the wharves of the working waterfront.
The boat may be booked privately, but the voyages also are booked on a first-come basis, Kinner says. Passengers are encouraged to bring snacks, beer, wine or soft drinks; hard alcohol is not permitted. Maine Baycycle is perfect for a birthday party, bachelorette or bachelor party, or just a fun day out on the ocean, he says.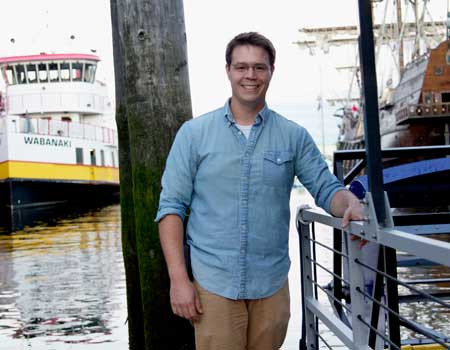 KATIE JOHNSON
Kinner began operating the business in early June. The experience is unlike any other cruise, he believes. Passengers chat across the bar and pedaling stations while sipping drinks and powering the boat on its course. There is a small motor for backup and a licensed captain to steer.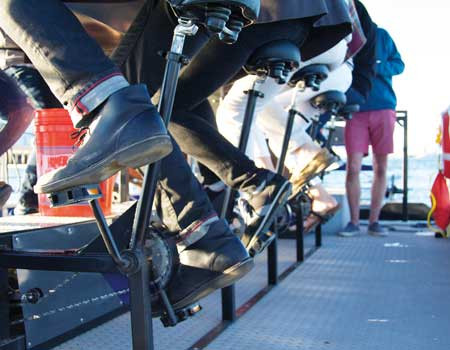 KATIE JOHNSON
Passengers meet at Bell Buoy Park on Commercial Street (near the Casco Bay Lines ferry) in Portland to board. Cruises are offered by reservation at 11 a.m., 1 p.m., 3 p.m., 5 p.m. and 7 p.m. daily.
For information, contact Maine Baycycle by email at info@mainebaycycle.com or call (207) 370-9508.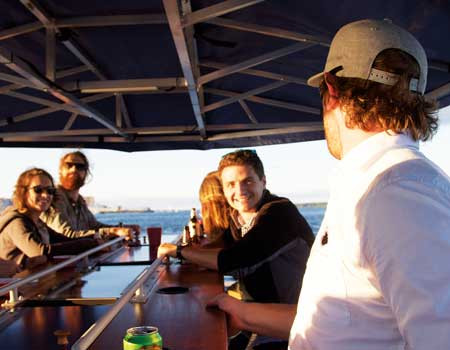 KATIE JOHNSON