Editor's note: The following first appeared in Waterman's Community Center fall newsletter, and is reproduced here, with permission, because it offers insight into how island communities negotiate change… even small changes.
In the 1960s, Waterman & Co. general store was at the height of its activity. Franklin Waterman was the chief proprietor and the store provided islanders with all varieties of S.S. Pierce goods, such as meats, fresh fruit and vegetables, yard goods, coal, hardware, kitchen equipment and, of course, penny candy.
On Main Street, behind the store, was a green storage barn in which the delivery truck and assorted odds and ends were stored. At some point, an unknown person, in keeping with the trends of the '60s, painted a large peace sign on the big green barn door. It wasn't perfectly rendered, but it got the idea across and stayed there for 35-plus years.
Fast forward to 2004: Waterman's Community Center has taken root in the location of the old store. The new building emulates the lines and look of Waterman & Co. general store, including the green barn. Rather than being a separate structure, the new "green barn" is part of the community center and houses a section of the backstage area of the theater.
The center's trustees, assuming this was a fleeting inspiration, painted over the peace sign…
Sometime in the first year of the community center's existence, another unknown person (and presumably not the same one from the 1960s) painted a peace sign on the new green door, replicating the symbol from decades ago. The center's trustees, assuming this was a fleeting inspiration, painted over the peace sign, making the barn door solid green again. But another peace sign soon appeared, marked by paint drips and looking unkempt.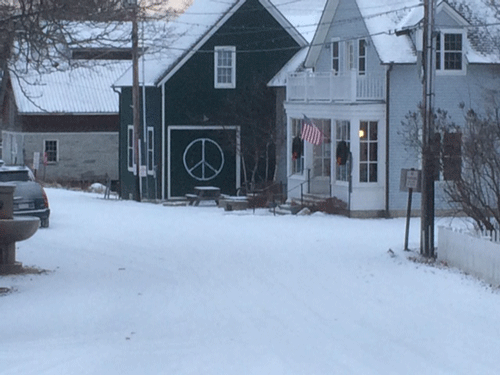 As a trustee was painting over the second peace sign, a passerby asked why it was not being left as is. The trustee responded, "If they would do a decent job, maybe we would."
Soon after the second sign was painted over, a third version appeared, the one seen today, which is neatly done.
A year or so later, after one of Waterman's year-end fundraising appeals, a donor note arrived saying, "When are you going to paint over the ugly peace-sign graffiti marring your beautiful building? Until you do, this is my last donation."
This upped the ante on the peace sign issue and the question of how to proceed was brought before trustees at their next meeting. The choices were: embrace the peace sign because it echoes a bit of North Haven village history, even though doing so could risk angering and alienating some donors; or paint it over again and accept that this may be a never-ending cycle.
Much discussion and debate ensued, but the unanimous decision emerging was to leave the peace sign in place. Since then, it has become a touchstone for Waterman's and the entire North Haven community.
Postscript: Soon after the donor unhappy with the sign was notified of the decision to keep it intact, the donor sent a check with a note that read: "You win. I'm happy to keep supporting this great organization. I'll just have to squint as I drive by."