Mountain Girl: From Barefoot to Boardroom
By Marilyn Moss Rockefeller, Islandport Press, 2022
Review by Tom Groening
I have a habit of "interviewing" people when I first meet them. Occupational quirk, I suppose. I find myself, in situations in which I am not reporting, asking people a lot of personal questions.
I met Marilyn Moss Rockefeller in the mid-1990s when she moved her business, Moss Inc., to Belfast. I was editor of the weekly Republican Journal, and I remember being a little intimidated, probably because of her last name, and also because of her business success.
So, for once, I didn't pepper her with questions about where she was from originally and what she'd done in her early years. Intimidation aside, I was immediately fond of her, as were some of my newspaper colleagues. She had a calm confidence, a warm smile, and a natural beauty.
Though Rockefeller's life had ranged from West Virginia to Connecticut, and then to Michigan, a twist brought her to Maine.
And so I eagerly read her recent memoir, Mountain Girl: From Barefoot to Boardroom. The assumptions I'd made about her name couldn't have been more wrong. And that's what makes her story so entertaining.
Rockefeller (the surname came late, by marrying into the family) began life in rural West Virginia in the 1940s, living mostly with her grandparents in a setting that sounds like she could have been neighbors with TV's The Waltons. Lots of family time, lots of gathering around food, and lots of love. Just not from her mother and father.
Her mother was an educator, and an ambitious one whose career gradually took her away from young MarilynRae (her father insisted on adding "Rae") for longer and longer periods, coinciding with a northerly migration from job to job.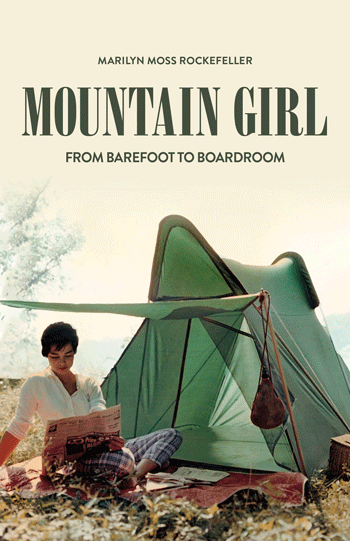 Her father, whom she credits with teaching her to ignore gender limitations and with embracing a tenacity to succeed, was a drinker and a wayward husband. He died while she was a child.
Rockefeller's writing style is the right match for the sweep of the decades she covers. No flowery prose, no long contemplations, just a brisk account, lingering over moments that loom large, then and later, and teasing out their meaning in honest self-examination.
One of those moments came in landing a job while in college in Michigan, working for Bill Moss. Moss was a fabric artist, designer, inventor, and a reluctant and unskilled entrepreneur. He also was handsome, charismatic, charming, and almost two decades older than Rockefeller. And a drinker and philanderer, she writes.
The 1960s in Ann Arbor is depicted as a fertile environment for creativity and experimentation—she writes about a night that the band Velvet Underground and Andy Warhol crashed in the couple's house—but not without a dark side, as freedoms created relationship casualties.
Though Rockefeller's life had ranged from West Virginia to Connecticut, where her mother had remarried, and then to Michigan, a twist brought her to Maine. At one point, her mother purchased a place on North Haven, and in the late 1960s, Rockefeller and Moss built an experimental house—a curvy dome, covered in a specially treated paper—on the island.
Though her husband's innovations in the tent business matched a growing trend in hiking and camping, his business sense kept Moss Tents perennially broke. The couple and the company set up shop in Rockport in 1970. It was there, after countless infidelities and selfish behavior, that Rockefeller ended her marriage to Moss.
One especially interesting section of her story is when a retired businessman offers to help Rockefeller rethink the company. Lots of tough love, delivered with a smile, changed the company from losing to making money. Good lessons here for any entrepreneurs.
And yes, she finds love with James "Pebble" Rockefeller, who is everything Moss was not—kind, attentive, loyal. She confesses to having, for a time, to share his heart with his late fiancé, the writer Margaret Wise Brown, whose Vinalhaven cottage Pebble inherited and which served as a writing retreat for penning this memoir.
If I ever meet Rockefeller again, I think I still will have a question or two. But as with any good memoir, I now feel like we're old friends.
Tom Groening is editor of The Working Waterfront.