Summer is here and it's not only more human visitors crowding into the state. There are also reports that large numbers of lion's mane jellyfish have been spotted in Maine waters, but no one knows for sure if they are more abundant than usual.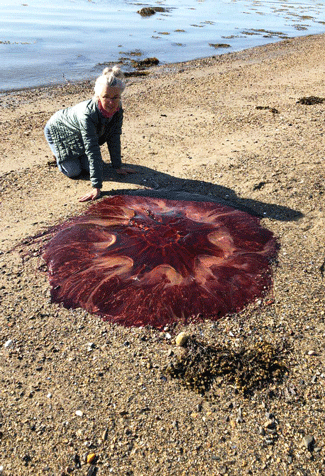 "There seem to be more around this year than in previous years," said Mike Doan, a research associate at Friends of Casco Bay in Portland. The organization's volunteer "water reporters" are seeing the creatures both east and west of Casco Bay, he said. There also are reports that lion's mane jellyfish have been spotted as far east as Patten Bay in Hancock County.
But whether what Doan called anecdotal reports that lion's mane jellyfish are abundant this year means their population is on the rise is less sure. "It's hard to tell if it's just one year or there are just more," Doan said.
Nick Record, a senior research scientist at the Bigelow Laboratory for Ocean Sciences in East Boothbay, agreed with that assessment.
"It's an open question whether jellyfish are on the rise generally," Record said in late June.
According to the Bigelow researcher, there has been no funding for the systematic tracking of jellyfish abundance in coastal Maine waters though, several years ago, the laboratory set up the still-active email address jellyfish@bigelow.org to collect data on jellyfish from the public.
"We got a few hundred, maybe more than a thousand, sightings at the email, but it was not a systematic survey like we'd like to get funded," Record said.
The cold waters of the Gulf of Maine are a part of the lion's mane jellyfish's normal habitat and, along the coast of Maine, "even with warming, we're still comfortably within the lion's mane jellyfish's comfort range," he said, though their annual abundance may vary widely.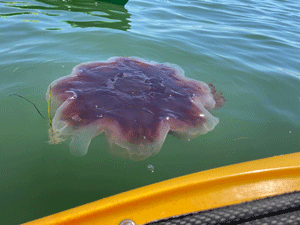 Water temperature is just one factor affecting the lion's mane's population. Jellyfish are better able than most other marine species to tolerate water with the low oxygen levels often found in areas with significant coastal runoff, such as along some parts of the Maine coast, Record said.
"They come and go year to year in pretty big swings," he said. "There's nothing to ring alarm bells this year."
If the number of lion's mane sightings is within the normal range, the sheer size of the jellyfish can still astonish.
The lion's mane jellyfish, Cyanea capillata, is one of the largest jellyfish species in the world. The gelatinous bell can be as much as 6 to 7 feet in diameter and each of the lion's mane's 1,200 stinging tentacles may stretch more than 100 feet in length, though most jellyfish spotted in Maine are much smaller.
Large or small, the lion's mane's tentacles have nematocysts that contain potent neurotoxins—used for defense and to paralyze prey—that can be harmful to humans
"Don't touch the lion's mane," Record warned.
The first report of a "really large" lion's mane jellyfish in Downeast Maine came in 2019. Last year there were six or seven reports of big jellyfish along the coast, primarily in Southern Maine and Massachusetts. This year, he said, at least one six-footer had been reported in Maine by late June.
"There's a good chance that what we see is part of natural fluctuation," Record said of the lion's mane sightings. "They can come in large numbers, then disappear."