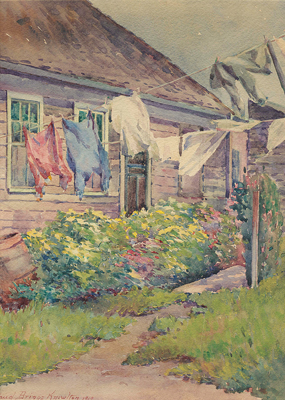 By Carl Little
Painter Maud Briggs Knowlton (1870-1956) and her husband, photographer Edward Knowlton (1860-1964), first set foot on Monhegan Island sometime in the 1890s. Traveling from their home in industrial Manchester, N.H., the couple was smitten by this remote, quiet, and picturesque island. Returning every summer thereafter for more than 50 years, they became active members of the vibrant art community. 
Thanks to the exhibition "A Life Made in Art: Maud Briggs Knowlton" at the Monhegan Museum of Art & History (through September), we now know a great deal more about this pair's contributions and connections to the island. We also have the opportunity to view for the first time a substantial selection of Maud's artwork—watercolors, oils, etchings, drawings, and ceramics, much of it borrowed—and Edward's glass plate and cyanotype photographs from the museum's extensive collection of his work.
A plein air painter, Maud Knowlton specialized in watercolor. Her paintings have a soft luminosity, the colors pale for the most part. She mixes impressionist passages with realist details. Pieces like Monhegan Shore Flowers and Monhegan Garden, both 1912, bring to mind Childe Hassam's watercolors of the Isles of Shoals. Others recall the paintings of another Monhegan watercolorist, Samuel Peter Rolt Triscott (1846-1925), who had a year-round home next door to the Knowltons. A 1926 watercolor depicts the doorway to Triscott's house.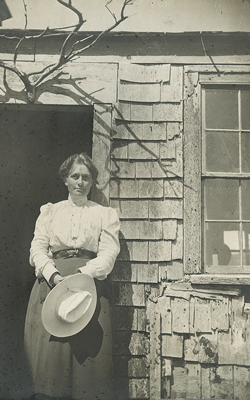 Knowlton's Monhegan subjects included many island houses (all of them identified by the curators), dories on Fish Beach, a lovely wash line, trees and coastal views, and several renderings of the gardens that fill in the spaces between, among, and alongside the island homes.
Edward Knowlton also recorded diverse island scenes, taking photographs of islanders, fish houses, seine nets laid out to dry, and grazing sheep. His Men Hauling Boat on Swim Beach might have been the inspiration for George Bellows' famous tribute to Monhegan fishermen, The Big Dory. Another memorable image is his portrait of six-year-old Jenny Sterling, who would later have an affair with Rockwell Kent.
Knowlton captured some unusual island events, including the arrival in 1921 of the first Ford Model T on Monhegan. If his images are not as brilliantly composed as those of the master photo-journalist Kosti Ruohomaa, they capture a time and place and, in some cases, record history. 
At times the couple chose the same subject. For example, Maud's watercolor of hollyhocks matches up nicely with Edward's image of the same subject, the tall flowers hugging the corner of a house. That Mr. Knowlton was an avid gardener must have pleased his flower-loving wife.  
The outstanding exhibition catalogue fills in biographical and art-historical detail. Susan Strickler, former director of the Currier Museum of Art in Manchester, offers a comprehensive portrait of Maud Knowlton, from her humble beginnings in rural Penacook, N.H., to her emergence as an accomplished artist and distinguished arts administrator. At the Manchester Institute of Arts, she taught everything from watercolor and block printing to silversmithing and Abenaki rug making; gave art history lectures; and started a program to prepare high school graduates to teach art in public schools. 
In 1929, at age 59, Knowlton became director of the brand-new Currier Gallery (now Museum) of Art, one of the first women, Strickler notes, to be appointed to such a prestigious position in America. She had her work cut out for her: On top of having to create a collection nearly from scratch, she had to deal with the stock market crash and World War II. On several occasions she exhibited Monhegan painters at the Currier and she organized the first museum exhibition of Andrew Wyeth's watercolors in 1939. 
In his catalogue essay, Robert Stahl, the museum's associate director who also manages its James Fitzgerald Legacy project, provides a detailed account of the island during the time the couple lived there. He describes a place humming with fishing and farming, art-making and rusticating. That Stahl and his wife are the current owners of "Candlelight," the house the Knowltons built on the island in 1922, makes his role most fitting. 
Rounding out the catalogue is "Edward Knowlton: Sharing Photography and Painting on Monhegan" by Susan Danly, an authority on the history of Maine photography. Danly ties his aesthetic to Naturalism, a direct style of fine art photography imported from England. She notes how he and painter/photographer Eric Hudson (1864-1932) shared a fondness for day-to-day details of the island community: "the ramshackle architecture, the weathered faces of the year-round fishermen, and the lighthearted holiday activities of summer people."
Before this show was mounted, Maud Knowlton may have been best known as the subject of Hudson's 1906 painting of her and fellow painter Alice Swett (1847-1916) seated on portable stools under umbrellas sketching near the Monhegan harbor. Now, at last, we get to see—and appreciate—what Knowlton was working on, there in the bright summer sun.   
"A Life Made in Art: Maud Briggs Knowlton" runs through the end of September at which point it travels to the Currier Museum of Art where it will be on display February-May 2020.