It's early October, still hurricane season, and Cam Brien, a professional yacht delivery captain, among other nautical gigs, is sailing a brand new 39-foot sailboat across Frying Pan Shoals, 15 miles off Cape Fear on the North Carolina coast, headed for the Annapolis Boat Show.
Brien had flown from his home in Castine to St. Augustine, Fla. where he planned to pick up the boat and head north, sailing "outside" along the coast from Florida to Beaufort, N.C. before following the sheltered Intracoastal Waterway (ICW) to Norfolk, Virg. then up Chesapeake Bay to Annapolis. As so often happens with boats, the plan changed.
Brien had already lost a couple of days before leaving St. Augustine because the boat wasn't ready for sea. Besides normal provisions, he had to buy some basic navigation equipment required for a safe passage—a not uncommon situation for a delivery. Such purchases are always billed to the boat owner.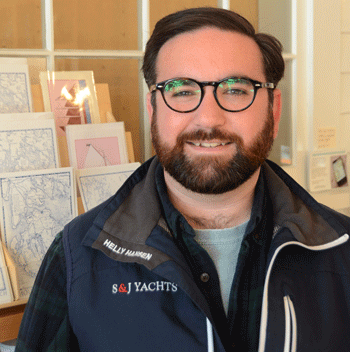 "You always think you're going to fly in one day and take off the next, and it never works out that way," Brien said. "I think there's a certain sentiment out there that the boat is just what it is, and a lot of times the clients don't want to pay for extra stuff. But I'm not going out there half-cocked."
With bad weather forecast and the boat pounding, going head on into the wind-driven seas, Brien headed for shelter and ducked into the little port at Wrightsville Beach where he could join the ICW. After a few days on the ICW, with a couple of nights spent in marinas and a couple more anchored out—in the remote Alligator River and behind a stuck bridge just outside of Norfolk—Brien and the boat reached Annapolis.
Along the waterway, Brien and his crew enjoyed the hospitality at the marinas where they waited and avoided the worst of the weather, as well as anchoring in remote rivers miles from any signs of human activity.
"You always have a good time when you stop when you weren't really supposed to be there, but circumstances worked out," he said.
A 2014 alumnus of Maine Maritime Academy's small vessel operation's program, Brien worked on tugs in Alaska and spent several years working for Moran Towing on the Gulf Coast, moving barges loaded with grain from New Orleans to Puerto Rico and, more stressful, barges loaded with petroleum products.
"That was really interesting, but it really wore on me because I really worried about either spilling it or blowing it up," Brien said.
Eventually, he returned to Castine, teaching at MMA for a year while also doing occasional stints on tall ships in the Caribbean and starting Fairwater Marine Services.
About four years, ago, a phone call to a yacht broker friend in Florida got him into the yacht delivery business—his first trip as skipper, delivering a new 41-foot sloop from Palmetto, near the mouth of Tampa Bay, to the Miami Boat Show and back again afterwards. On the way to the show, Brien made an unplanned stop in Key West for a night to avoid heavy weather.
At the boat show, the broker offered Brien a chance to join his office and Brien seized the opportunity, though three days later, Brien said, "all of a sudden, the world is locked down," thanks to the onset of COVID.
Despite the pandemic, or perhaps because of it, Brien has stayed busy delivering yachts—larger or smaller, primarily sail—locally in Maine and along the Atlantic coast. Not all those deliveries have been exactly low stress.
One trip involved delivery of a 66-foot, $2.5 million sailboat—the first of its type delivered to the U.S.—from Baltimore, where it came off a ship from France—to Newport, R.I., where the new owners would take formal delivery. The summer trip—down the Chesapeake then offshore from Cape May, N.J. to Narragansett Bay, but no more than 12 miles offshore thanks to the boat's insurance—was complicated by the failure of the yacht's high-tech mainsail furling system, non-functioning air conditioning, and the presence of the owners.
They turned out to be good shipmates who let Brien do his job as captain, and one of them was a professional chef, so meals were better than usual on deliveries.
Not all of Brien's memorable deliveries involve big boats doing offshore passages. Recently, he delivered Cercerelle, one of three classic Rozinante yawls designed and commissioned personally by L. Francis Herreshoff in 1972, from Rockport to East Blue Hill. The elegant little sailer easily made the 40-plus mile trip through exquisite Maine scenery in one day, despite light breezes along the way.