In a 1965 article in the Newark (NJ) Sunday News, Francis Hamabe explained his attraction to his adopted home to the north and east.
"Maine is like I thought Sweden would be," Hamabe told the reporter, while the Penobscot Bay area was "very much like where my father lived in Japan, outside the town of Kobe on the Inland Sea."
The geographic references make sense: Born in Orange, New Jersey, on Aug. 1, 1917, the artist was the son of a Swedish mother, Emma Tiedeman, and a Japanese father, Frank Otto Hamabe. His father had arrived in America in 1912 and opened the Art and Gift Shop, which featured a doll hospital, Japanese novelties and toys, and tropical fish.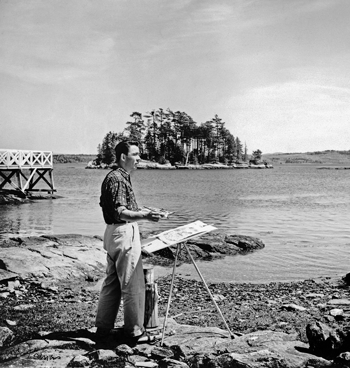 Active in the arts in high school, Hamabe enrolled in the Newark School of Fine and Industrial Arts and began a career in commercial illustration. In addition to designing ads, he was a brilliant creator of humorous vignettes, some of which ended up in The New Yorker.
After completing service in the Army's 86th Division in 1946, Hamabe returned to art, attending the Rhode Island School of Design under the G.I. Bill. "I had a chance to paint, rather than work from the illustrating angle," he told an interviewer in 1969, "to do some sculpture, and to get a good basic background in art appreciation."
Hamabe also learned screen printing, a technique which, along with oil paint, watercolor, and Japanese sumi ink drawing, would serve as a principal means for making art throughout his life. When he moved to Maine in 1947, he was among the pioneers of silkscreen printing in the state.
Hamabe had paid his first visit to Maine in his teens while working as a chauffeur for a New York businessman who lived in Orange (he drove his employer to his summer home in Bridgton). In 1933 and 1934 Hamabe returned to the state as a member of the Ridgewood Puppet Barn troupe. His marriage to Sydney Gardner in 1947 led to full-time residence when the couple moved into her family's summer home in Stockton Springs.
It didn't take long for Hamabe to make a name for himself in the Maine art scene. A clipping from around 1947 features a photograph of the artist displaying his work at the Seamount Restaurant near Camden. According to the caption, "The former New Jerseyite, who has a studio in Rockport, works in the restaurant during the winter season, using walls as a private gallery."
Among his many Maine art bona fides, Hamabe served as the first art instructor at the Farnsworth Art Museum, which opened in 1948; helped found Maine Coast Artists (now the Center for Maine Contemporary Art) in 1952; took part in Vincent Hartgen's traveling art shows and did production work for Maine Public Television at the University of Maine; was art director at Down East and later Maine Life; and taught at the University of Maine at Machias. He was a beloved teacher and an exceptional ceramicist (with Rowantrees Pottery in Blue Hill) and renowned puppeteer (he was featured on WABI-TV's Hal Shaw Show).
MAINE INSPIRED
The Maine coast was a constant source of inspiration for Hamabe. He was especially taken by harbors and working waterfronts. His modernist renderings of these busy locales at times recall the Gloucester paintings of Stuart Davis (1892-1964). In a 1965 interview the artist acknowledged this affinity.
"Stuart Davis of East Orange, one of my favorite painters, is sort of an American cubist, blocky, textural and modern, using abstract geometric shapes." He added, "This is what I like."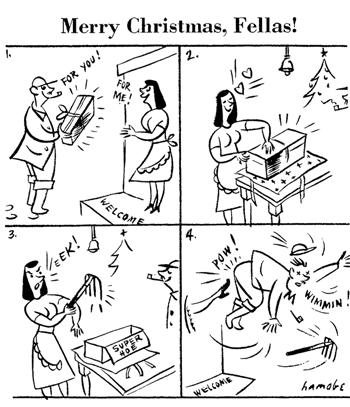 You can see the kinship in Hamabe's Boat Yard, a silkscreen with watercolor additions from around 1960. The composition requires scrutiny to appreciate its complexity. At center, surrounded by various structures, are three vessels under repair, two of them propped on boat stands. Using a mix of distinct and delicate lines and light color washes, he builds a scene of industrious activity. Perhaps a reader of The Working Waterfront will recognize the setting.
"Marsden Hartley called Maine a continent unto itself," Hamabe once said, adding his own endorsement: "You can find anything you want here. For an artist, it is one of the most inspirational states in the country."
His love of the place extended to financial considerations: "Many fine artists work in New York all year just so they can come to Maine for two months in the summer," he once noted. "I'd rather work up here for less money and be in Maine all year 'round."
Hamabe eventually left his adopted state, living out his life with his beloved Phyllis in Bristol, R.I., where he died in 2002 at age 84. His legacy in Maine lives on, through the institutions he helped launch and the art he made for everyone.
Carl Little's most recent book is Mary Alice Treworgy: A Maine Painter (Marshall Wilkes).