By Courtney Naliboff
Vinalhaven's night life will get a little more vibrant beginning in late May with the opening of Kris Davidson's speakeasy, Skål.
Located at 6 Bodwell Lane, the performance space will host live music, and will offer small plates, and a full bar on weekends in late May and June, and four nights a week in July and August, with some open nights continuing year-round. The entrance, behind Main Street and overlooking Carver's Pond, feels like a secret door to another era.
"It's off the beaten path, and you have to be 'in the know'," Davidson said. "It's not on Main Street. Then people will walk through the door and be surprised."
Davidson purchased the building, which is also home to Davidson Realty, in 2008. It has been home to several island businesses, including the Bodwell Granite Company.
"Ever since I bought the building I wanted to do something with it," she said, hoping to return it to public use after its most recent business, a hardware store, closed.
"We will be re-opening 100 years after Bodwell Granite closed in 1919."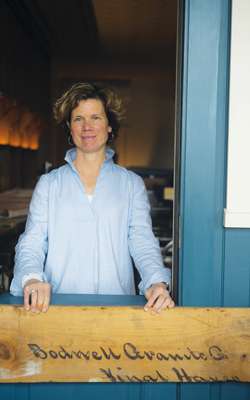 Davidson said the speakeasy inspiration came to her in a flash.
"I was standing in the space in the fall of 2017 looking at the tin wall and old oak floor and it just came to me—it's a speakeasy," she said. Her musical background as a pianist and music teacher and the island's rich musical tradition made the idea seem all the more appealing.
Davidson hired a slate of primarily local contractors in November of last year to install beams, plumbing, and lighting, as well as thoughtfully expose original architectural features. Pressed tin walls and ceilings, and elegant mahogany railings and trim, as well as new details like a zinc patina bar and antique brass lamps contribute to the sophisticated and timeless feel of the room, which includes a bar, seating for 48 patrons, and opens to a sunporch.
The New York firm Berman Horn Studio designed Skål, Davidson said. The upper level of the building is a private space with room for a piano, kitchen, and bar, which can be rented for events.
Live music will be at the heart of Skål's mission. The Shakes, a funk/soul/reggae band, will play at the opening night party on May 25, and the summer lineup includes Session Americana, Deep Gold, and Briz and Lady. A cross-island open mic series, On the Rocks, will occur regularly with support from Richie Carlsen, who will also run sound for some events.
"Dan Boyden is booking Maine acts, Stone Mountain Arts designed the sound system, and Annie Debow is the manager," Davidson said. 
If the social media buzz is any indication, Skål's opening is highly anticipated by Fox Islanders.
"The community support for this project is amazing. As someone said to me 'if you succeed, we all succeed'," Davidson said.