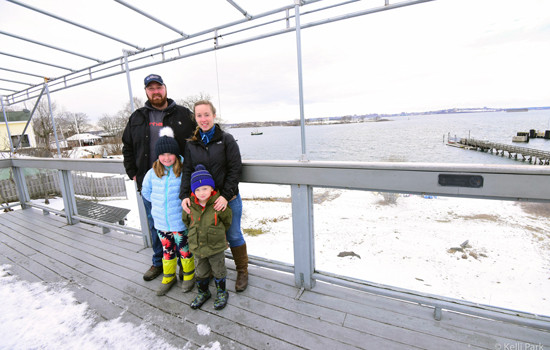 KELLI PARK
Story and Photos by Kelli Park
When it came time to sell their Peaks Island House Restaurant, Joe and Nancy Wright knew the best buyers they could hope for would be those with ties to the island and the sea.
The Wrights found those buyers in Tom and Katie Werner, she a fourth generation Peaks islander, and he from a fishing family from Cape Elizabeth. 
"If we weren't a fishing family, we wouldn't do this, and if I wasn't from Peaks Island, I wouldn't have had this opportunity to tackle this very expensive property," said Katie Werner.
The Werners aim to reopen the business in May as the Island Lobster Company.
"We're very blessed because Joe and Nancy wanted it to work for us," she added. "You can't get any closer to the boat than where our property sits. We don't just want to open a restaurant—we want to bring a story to light."
The plan also calls for renting the five rooms and a cottage on the property, possibly through an online service like Airbnb.
Katie had worked at the Peaks Island House Restaurant with her siblings in her youth.
Because of the couple's family histories in the commercial fishing industry, they are active in efforts to preserve the working waterfront in Casco Bay. Tom Werner lobsters offshore year-round and ties up at Merrill's Wharf in Portland, and, until recently, the Werners owned and operated Stoney Brook Lobster Pound on Sebago Lake.
The couple spent ten years there, expanding and diversifying inventory with local seafood from harvesters they knew personally, including cousins and friends. They recently made the decision to sell the lobster pound to a cousin, also a lobsterman, to pursue the new endeavor on Peaks Island. 
"The beauty of the property is that there's room to put a dock in," Katie explains. "That's what really changed it all for us. We feel the squeeze, so we're always worried, are we going to have a place that we can afford to tie up to?" 
The Werners will be one of few active fishing families in Maine to own and operate their own restaurant. They plan to keep the structure of the restaurant—originally built in 1900 as a cottage—and use the drivable easement and deep-water access to build a dock, 50 percent of which will be dedicated to commercial use. The dock will support between eight to ten slips, half of which will be reserved for commercial fishing vessels.
The Werners will use locally sourced seafood from harvesters, mostly friends and family, who will unload at their dock, creating an authentic trap-to-table experience for restaurant patrons. Eventually, they hope to explore the possibility of developing a seafood co-op.
"For me, it would be unbelievable to be able to pull up and drop off my lobsters," Tom said. "That's one of the challenges here—there's nowhere to pull up." 
Island Lobster Company will not only rely on local seafood, but local farms as well. The Werners believe in knowing where their food comes from and creating connections with those who provide it. They have a personal connection with each vendor who will provide locally-sourced seafood, greens, meat, and desserts, and enjoy knowing and sharing the story of each product
The menu will be simple and authentic: fresh, local flavors based on steamed seafood dishes (no fried food here) in a family-friendly environment. 
The Werners hope to offer lobster bakes on the shore, a scholarship fund for island youth, and pop-up social events for members of the working waterfront community to connect, face to face, and discuss issues that arise in the commercial fishing industry.
"We're just trying to spread the goodness and not forget where we came from," says Katie Werner.