We conducted very random interviews with fishermen at the annual Maine Fishermen's Forum in March, asking them what evidence of climate changes they are seeing on the water.
PHOTOS BY KELLI PARK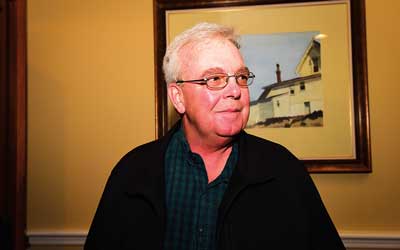 Terry Alexander of Cundy's Harbor fishes for groundfish and squid out of Boston. "Stuff's shifting, for sure," he said. "We're catching stuff in deeper waters than ever before," including cod at depths of 140 fathoms (840 feet) and yellowtail flounder at 100 fathoms (600 feet). "That was unheard of."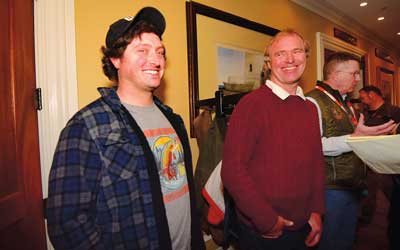 Eben Nieuwkerk and his father Knope chase groundfish and monkfish from Kennebunkport. One change Eben is benefitting from is that "The monkfish are moving farther north," as are pogies. The men also lobster, and they say that fishery is turning into a fall season.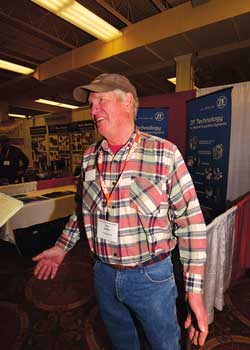 Ben Doliber of Swan's Island and lobsters from that island. "I'm seeing a little more shell disease," and "a ton of sunfish," also known as mola mola, as many as 15 a day. "There's different stuff growing on ropes," he said, but wonders if that is climate-related. "The ocean's always changing, anyway," though this past season, lobster were caught in deeper water than usual.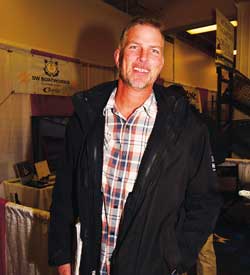 Jarrett Drake fishes from New Bedford, Mass., and said he believes he's on the crest of the wave of changes. "I'm actually really exposed to it," he said. Sea bass are now being caught just south of Cape Cod, a species that would be expected off the Carolinas, not New England. Are sea bass chasing juvenile lobster, "Or is it climate change?"
Herman Coombs of Orr's Island (seen here with his son Riley, who fishes 100 lobster traps in summer) hasn't seen definitive evidence of climate change as he lobsters in Casco Bay. "I haven't really seen a whole lot. What is climate change and what is the normal cycles?" When he has fished for tuna, he noticed fewer bait fish on the surface, perhaps because of warmer waters. And he has observed a lull in the lobster catch in August and September as waters warm.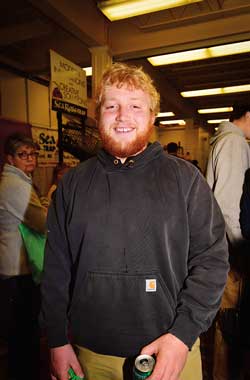 Kailed Hawkes of Cundy's Harbor is quick to note that as a younger man in the lobster fishery, he hasn't seen enough time on the water to note significant changes. Last year, the waters stayed cool, but this year, with a mild winter, they may be a lot warmer, he said. He has seen cod and other fish not known to be in northern waters, and he notes that those with decades in the fishery do accept climate change as a fact. "My grandfather thinks it's a real thing."