Story and Photos by Kelli Park
A hard kombucha brewery in Damariscotta has been doing more than serving drinks in its first year of business—Maine Booch Brewing has become a community gathering place for the younger generation.
"My upstairs neighbor calls it 'the back porch of Damariscotta,'" says Chauncey Erskine, 30, owner of Maine Booch Brewing. "In high school, we would hang out in the back parking lot," where Maine Booch Brewing is now located, "so it's an interesting poetic continuation of my youth."
Maine Booch Brewing opened in August 2021 as a result of Erskine's hard kombucha experimentation at home during the early days of COVID-19 and has since become the community-oriented space he envisioned, where, "You can read books, buy beautiful vintage art, and have experiences that you can't have in other places, like spelling bees, trivia nights, storytelling nights, and concerts."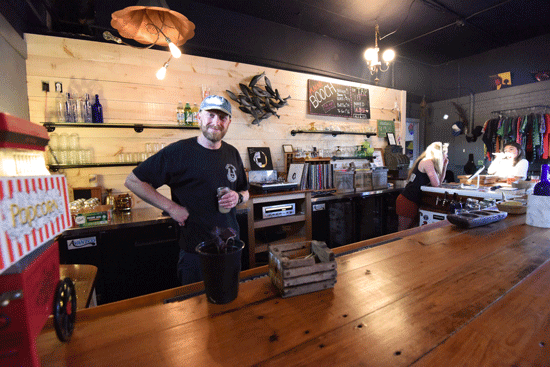 Kombucha is a fermented, lightly effervescent, sweetened black tea drink commonly consumed for its purported health benefits.
"We've drawn a lot of inspiration from other businesses started and owned by young people," said Erskine. "It's exciting to reinvigorate this area with some more youthful culture."
How has that energy manifested itself within and beyond the walls of the brewery? With a little collaboration and a lot of creativity.
"Because his booches [short for kombuchas] are often in rotation, the idea was that things are always moving within the space. Everything on the walls will be different every time you come in," said Danielle Filosa, 31, owner of Filosaphy Home, a vintage goods business, who collaborated with Erskine to curate the vintage aesthetic in the space.
"Everything is for sale—the artwork on the walls, the glassware. We wanted to create this idea that goes hand in hand with what he's doing. It's always changing," she says.
Their latest collaboration was a pop-up event that included local oyster farmer and entrepreneur Andy Rogers, 26, who co-owns Jolie Rogers Traveling Raw Bar and can be found shucking oysters at Maine Booch Brewing every Monday evening during the warmer months. The outdoor pop-up event featured oysters from the Damariscotta River and vintage home goods on display from Filosaphy Home.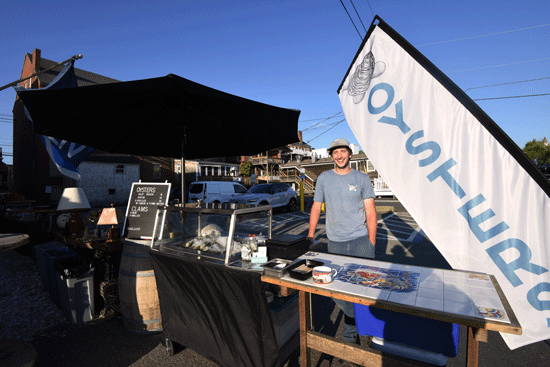 "Maine Booch feels like a magnet for all of the youth in the Damariscotta area. It's pretty cool to see all of these young people around with all this energy and enthusiasm for creating new things," said Rogers.
"When things start out small, you get this really special time frame where it gets to be this one thing," said Filosa, who also tends bar at the brewery. "It brings people together in a way that I've never experienced anywhere else in my life."
Rogers said that he looks forward to the possibility of collaborating to create aquaculture industry nights in the future.
"A lot of the pioneers of the industry are at retirement age and there's a lot of youth coming into aquaculture. There's a lot of fresh energy coming out."
Erskine agrees that oysters could continue to drive the local economy.
"Oysters have always been a crucial part of this community," said Erskine, who grew up near the mouth of the Damariscotta River.
"There's kind of a back-to-the-land movement where people are focusing on their relationship with the land and the ocean and slowing down. That's the youth, by and large, and it's the youth that are coming to Maine who are seeking that out," he said. "I think that's where the change is really going to come from."