These days, I've got scallops on the brain. It's close to the end of the wild scallop fishery season, so I'm enjoying Maine day boat scallops while I can—and you should too. With the recent windy weather, I've lost some sleep thinking about how our 8,000-plus scallops, growing on our 3.2 acre aquaculture site off Hurricane Island, are holding up.
Soon, I'll start exams for my PhD in ecology in environmental science at the University of Maine where I'm studying the interactions of wild and aquaculture shellfisheries, focusing on scallops (surprise, surprise). The truth is, I think these charismatic bivalves are awesome and that they are a part of a successful and sustainable future for Maine's economy, ecosystem, working waterfronts and, apparently, me.
Scallops have been identified as the most promising avenue for growth in shellfish aquaculture for Maine, with the potential to double the volume and total value by 2030. While interest in scallop farming is growing, with 146 current or pending aquaculture sites, only a handful are currently culturing scallops for sale or selling seed. The potential is there, and folks are waiting in the wings, but it has not yet been realized due to a few key challenges.
Scallops need a lot of space as they get bigger so they don't compete for food and don't cut each other…
One challenge is that scallop culture lacks a hatchery and is entirely dependent on successful reproduction and recruitment from the wild population. Juvenile scallops are called "spat" and each year scallop farmers deploy lines with spat bags to catch the larval scallops out of the water column to grow them on their farms or sell them to those who want to grow scallops.
Spat collection can be variable from year to year, causing uncertainty in supply. Wild harvesters, farmers, and researchers developed a project to better understand larval supply, an essential topic for wild and aquaculture industries and their management.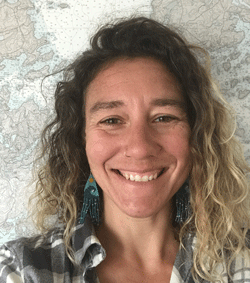 The price of testing for biotoxins is another. Scallop aquaculture has the potential to open a new market for a whole scallop product rather than just the adductor muscle—the part you buy at the store and the only part that is allowed to be landed in the wild harvest fishery. The rest of the scallop—the stomach, gonads, shells, etc.—is discarded at sea because it accumulates and holds biotoxins from the plankton it filters out of the water. To safely sell the whole scallop, growers need to test them regularly and that gets expensive—around $200-plus per test.
Another challenge is farm efficiency. Scallops need a lot of space as they get bigger so they don't compete for food, don't cut each other with their shells in the nets, and grow to market size quickly.
If you're growing tens of thousands of scallops, that makes for a lot of nets, cleaning, and restocking, which takes either person power or technology. Automated net washers, graders, and ear-hanging machines are making their way here thanks to grant funding and technology sharing from Japan, but sometimes the equipment needs to be altered or energy requirements are difficult to meet on vessels.
These challenges are being met by the early adopters of this industry: Pen Bay Farmed Scallops, Maine Island Aquaculture, Vertical Bay, Pine Point Oyster Co., Hollander and de Koning, Spartan Sea Farms, and others. Most farmers conduct their own experiments and environmental monitoring on their farms to inform their own operations, regularly sharing their findings with industry and researchers.
By partnering with institutions like the University of Maine and Maine Sea Grant, Maine Center for Coastal Fisheries, Hurricane Island Center for Science and Leadership, Downeast Institute, and others these farmers have received grants to expand and develop the industry and research. Farms provide a space for industry and research side by side.
On Hurricane Island, in collaboration with other scallop farms in Penobscot Bay, we're evaluating the potential for scallop aquaculture to enhance wild populations, the biological and ecological effects of growing scallops in aquaculture, the resiliency of cultured and wild scallops to climate change, and the use of environmental DNA in monitoring wild and farmed scallop populations.
All of this work is inspired by this emerging scallop aquaculture industry. We are lucky to be part of a true community of knowledge sharing for the future of an industry that brings together fishers, farmers, managers, and scientists. I'm hopeful for the future and thankful for such inspiring collaborators.
Phoebe Jekielek is lead scientist at the Hurricane Island Center for Science and Leadership and a PhD student at the University of Maine as part of the Maine eDNA program.