Kevin Wentworth is not an island native, but his take on life there probably rings true with those who are life-long islanders.
"Living on an island is a privilege, but sometimes it's a struggle," he said.
To ease at least part of the struggle—and to fill a business niche—Wentworth and his wife Polly have launched the Chebeague Water Taxi. In conversation, he returns to a theme: family. His family—he and Polly, a sixth-generation summer resident, have twin 8-year-olds—hopes to provide a service to be used by other families.
"I think an on-demand water taxi out here is going to enhance family life," he said. Too often, parents must leave their children's school concerts or other such important events early to catch a boat home, he explained.
Though based from his and his wife's home on Chebeague Island, where they've lived for 15 years, Wentworth believes the location is ideal for the business to reach customers throughout Casco Bay.
"We're strategically situated," he said, to pick up or deliver people to Long, Cliff and other islands. If a family wants to go to dinner at a restaurant in Yarmouth, for example, his service makes it possible.
The 31-foot boat the Wentworths will use, built on the West Coast as a recreational fishing vessel, has been dubbed The Result.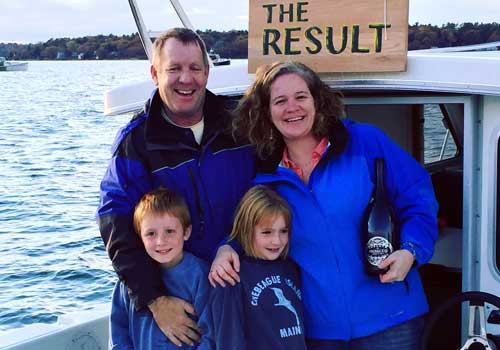 COURTESY KEVIN WENTWORTH
"It popped into my head sitting on the front porch," Wentworth, 56, said of the boat's name. "Everything was falling into place in a matter of months," so it seemed to be the "result" of that effort.
The vessel is made for rough water, he said, and features a heated cabin, refrigerator, sink and hot water, and bathroom.
Water taxis operate out of Portland and Yarmouth, the Casco Bay Lines serves the region, and the Chebeague Transportation Company makes the run from Cousins Island to the Stone Pier, but Wentworth believes his business will complement those services. He envisions picking up passengers in Portland who have arrived via the Portland Jetport, and would charge $85 for a trip to the Casco Bay Lines dock on Chebeague, and $120 to the island's more northerly Stone Pier. The business will charge $40 for up to six passengers for the shorter run from Cousins Island to the Stone Pier.
Rates are based on charging $12 per mile, he said.
The Chebeague Island Inn has already chartered The Result for summer wedding transports. He also will offer half- and full-day charters, and won't charge extra for passengers who want to bring their kayaks or bicycles out to islands.
No crew is required for passenger boats carrying up to six people, Wentworth said. He has three other captains willing to take the helm as needed.
Providing the service also will play a part in sustaining island communities, he believes.
"The easier it is for people to live on an island, the more likely they'll stay," he said.
The business likely will gear down for November and December, he said.
Wentworth's parents hail from Kennebunk and Wiscasset, so he has ties to the coast. He attended college in Vermont for a couple of years, and has lived in the Burlington area. He has eight years of experience as a captain under his belt.
Though he admits to not being an entrepreneur, Wentworth is confident about the business launch.
"I think the timing is right. I just want to take some of the stress out of living on an island," he continued. The company's tagline is "Relax—we've done it."
The Chebeague Water Taxi was supported by the Island Institute's Island and Coastal Business Launchpad program. The Island Institute publishes The Working Waterfront.