By Tom Walsh
Five years and 15,000 miles later, the changing of the guard at Anderson Marine & Hardware in seaside Gouldsboro has so far been smooth sailing.
Nearly 70 years ago, Don Anderson began selling nuts and bolts, fishing vessel necessities, and basic fishing fleet supplies and began buying their catches from a building on the busy commercial harbor within the Downeast fishing community of Corea. Years later he relocated his chandlery to a claustrophobic, 24-by-48-foot storefront on Gouldsboro's Route 1, stacked floor to ceiling with a 5,000-plus item inventory.
The late Don Anderson retired in 1972, selling his business, sight-unseen, on a handshake deal to Dave Seward, a newly discharged U.S. Navy cryptographer stationed during the Vietnam War at the Navy's Schoodic Peninsula global communications "listening" facility.
Smitten by the Downeast coastline, Seward knew nothing—at all, he says—of washers, wingnuts, and bolts, nor plumbing and electrical supplies, much less the basic needs of his customer base of local groundfish, scallop, urchin, and lobster fishermen.
"Some of the older fishermen realized how stupid I was and made me feel stupid," he recalls. "It was probably 15 years before I felt comfortable."
Forty years later, Seward retired at age 65, selling the store in 2013, once again on a handshake. The buyer was Melinda Boumans, then 41, who shared Seward's total ignorance of nuts, bolts and marine hardware. And why not?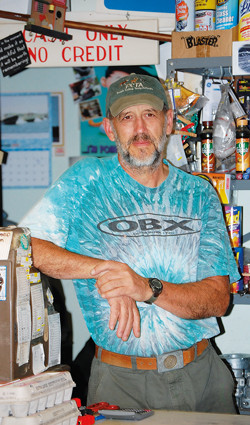 TOM WALSH
Before relocating 14,862 miles to South Gouldsboro, her last job was cutting meat in a Singapore street market to sell to local laborers. It was a hands-on skill not taught at the Natural Gourmet Institute, a vegetarian cooking school she attended for two years while living in The Bronx and Manhattan before her then-spouse was transferred from New York City to Hong Kong by The Estée Lauder Companies, a global icon among cosmetics firms.
Boumans' occasional tourist forays from New York into Maine left her, like a young Dave Seward, seriously smitten, yearning to one day call Downeast Maine home. When she arrived in Gouldsboro from Singapore, Boumans first acquired Gouldsboro Enterprises, a wharf and lobster buying enterprise on Frenchman Bay in South Gouldsboro, a wharf that has been home port to local fishermen for generations.
The seller warned Boumans that the Shore Road wharf's longevity could be jeopardized should Anderson Marine & Hardware, three miles up the road, close without a buyer. A month later, more-than-less sight unseen, Boumans bought Anderson Marine & Hardware.
"I remember that there were other customers in the store when this young woman, who I had never seen, walked in the door," said Seward, now 71. "I said 'Can I help you?' and she said 'Yes, I'm here to buy your store.'"
"I came to Maine well before retirement age, so I needed to work," Melinda said. "I didn't come with any skills that fit with the community, except for how to run a business, which are skills that I developed while working for Estée Lauder in New York. And I wanted a business that was core to the local community, which both the South Gouldsboro wharf and Dave's store are."
After buying Seward's store, Boumans had the storefront's gravel "dooryard" parking area expanded and upgraded to asphalt. Being seriously "from away," as a New Yorker, Boumans admits she didn't then know the meaning of the term "dooryard" in Downeast parlance.
Over the past five years she has nearly doubled the store's retail display space by expanding her 10,000-item inventory into an attached barn once used as a marine supply storage area. Her laptop computer now sits on a counter next to a cash register that belongs in a museum.
"It still makes that timeless ka-chingsound with every sale," she says.
Seward recalls customers being apologetic about coming in and spending a dime on a bolt or a screw. "The way I saw it, if I have 10 of those sales, that's a buck," he said. "Those sales put four children through college, one nut and bolt at a time." 
Boumans gets the same response. "People come in and spend a quarter, and they say, 'Well, that's your big sale of the day,'" she says. "But to me, even if it's only a 26-cent screw, it's a big sale to the person buying that one screw and being able to complete some project they are in the middle of."
Her customer base of local fishermen hasn't given her a hard time, as they did with Seward. "The community has been really, really, really kind to me," she says. "They were so glad that the store is still standing that they cut me some slack for not knowing anything about hardware."
Reflecting on five years of being in the store six days a week, Boumans has not had one moment of buyer's regret.
"Never," she says. "Not even on my hardest day. I never feel better than when folks are hanging around the woodstove in the store, trading stories, including guys who tell stories about when they were in Dave's Boy Scout troop. And, believe me, they have some stories to tell."