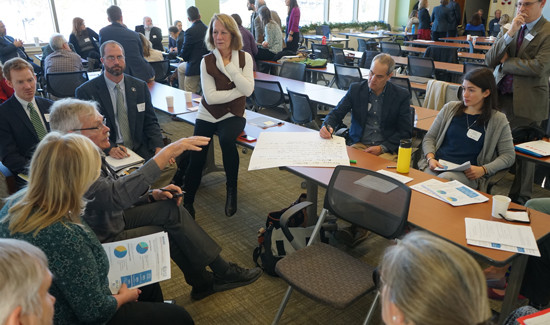 TOM GROENING
By Tom Groening
Even before newly elected Gov. Janet Mills stepped into the room, participants in the Acadia Center's Dec. 7 conference were buzzing about what they believe will be an administration receptive to bold new energy policy. In her remarks late in the afternoon, Mills confirmed many of those hopes, pledging to boost state support for renewable fuels and energy efficiency, while also working to ease the effects of climate change.
"It is time for a new and better direction," Mills told the approximately 150 people attending the "Building a Stronger Maine: Navigating the Path to the Clean Energy Future" conference in Augusta. Of climate change, she said: "The new administration will take it seriously. We will welcome new and innovative approaches to prevention and mitigation at all levels."
The conference host, Acadia Center, is a nonprofit working to develop "a clean energy economy that offers real world solutions to the climate crisis," according to its vision statement. The organization works throughout New England and in New York.
Kathleen Meil, the center's Maine policy advocate, outlined its "Memo to the Next Governor of Maine," which includes recommendations on transportation, clean electricity generation, buildings, the electric grid, and community choice. Energy policy, she asserted, impacts quality of life, economics, and the environment.
"It's all connected," Meil said.
In Maine, transportation accounts for 52 percent of greenhouse gases, she said, but given the state's status as the least densely populated state east of the Mississippi River, getting people from point A to B is challenging. The state's transportation budget faces a projected $68 million annual funding gap, while more than half of its bridges are 50 years or older, and one in seven has been found structurally deficient.
Acadia Center recommends public investment of $1.3 billion over the next 20 years in: electric vehicles and their charging stations; bus and rapid transit; intercity rail; walking and biking infrastructure; and port electrification. By 2030, the center argues, such spending would help put 155,000 electric vehicles and 500 electric buses on the roads in Maine, and build nearly 400 miles of new walking and biking trails.
"Our system is outdated and under-funded and inefficient," Meil said. While Maine leads New England in some emerging energy categories, such as adoption of air-source heat pumps, it lags behind Massachusetts and Vermont in establishing electric vehicle charging stations.
Meil urged the new governor and legislature to set hard goals on electric vehicle adoption.
Maine also lags parts of New England in solar electric deployment. Massachusetts has six times as much photovoltaic infrastructure as Maine, and New Hampshire has twice as much as Maine, she said.
The state needs to quintuple its solar production to meet demand, Meil said, noting that the Northeast has "vast renewable resources."
Currently, about half of electricity generation in Maine and New England relies on natural gas, making the region vulnerable to market fluctuations. Offshore wind and rooftop solar hold great potential to displace much of the reliance on fossil fuel, Acadia Center believes.
"We send nearly $4,000 out of state per person for fossil fuel purchases," Meil said, meaning that over $5 billion leaves Maine's economy.
State rules for residential solar, community solar, and other emerging electricity generation are "out of sync with technological advances and consumer expectation," she said. A better approach would be to "put customers at the center of the grid."
The investment in new energy infrastructure and initiatives will create 8,700 new jobs and $1 billion in new wages, according to Acadia Center's analysis.
Mills, speaking at the conclusion of the conference, cited a British academic treatise about carbon pollution causing rising temperatures—written in 1938.
"We've learned a lot since then, most of it pretty consistent with that conclusion," she said. "It's time for action—wise, prudent, informed action."
The governor called for Maine to "reclaim its place as a national leader in energy efficiency and renewable energy," by "investing in innovative technologies to create jobs, cut costs, and reduce emissions."
She pledged her administration will "encourage decentralized energy production and widespread solarization through a fair net-metering process policy," and to lift the cap on community solar projects—now at nine participating households—to encourage larger projects.
Mills also said she would "prioritize opportunities to pursue offshore wind."