A new rental fleet of small electric vehicles is winding its way around the streets of Bar Harbor and Acadia National Park—and it's an option being pitched as having great advantages over gas-guzzler cars and taxis.
"Instead of driving their Suburban from their hotel to the park, they can drive an electric vehicle," said Eben Salvatore, co-owner of Acadia GEM, a new EV rental business in Bar Harbor.
This is no small endeavor, with a fleet of 45 vehicles, each costing between $20,000 and $50,000, depending on size, for a base investment of about $1.6 million.
They're allowed to be driven on roads with up to 35 mph speed limits.
"GEM" stands for Global Electric Motorcars. They're low-speed, battery-powered vehicles developed in the 1990s to fill a space in the market between a golf cart and a full-size automobile, according to its website. They're allowed to be driven on roads with up to 35 mph speed limits. The brand was owned for about a decade by Polaris Industries, perhaps best known for its snowmobiles. It was acquired this year by Waev Inc., an electric mobility provider founded in 2021.
The vehicles come in various sizes, carry two to six passengers, and resemble large, fancy golf carts. Easy to operate, they start with a press of a button.
Acadia GEM is the brainchild of its other co-owner, Jeff Young.
Young and his wife own multiple hospitality businesses around Bar Harbor. Salvatore is Mount Desert Island operations chief for Ocean Properties, which owns a number of local hotels and Bar Harbor Whale Watch.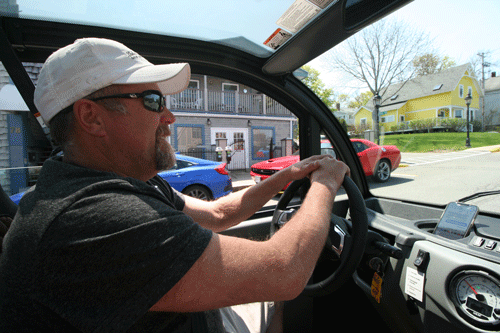 With Young's restaurants and Ocean Properties' endeavors usually stuffed to the gills with customers—through the summer and increasingly in the spring and autumn—the two were ideally suited to sussing out alternative ways for folks to get around town and into Acadia.
Young had been thinking about vehicle congestion in Bar Harbor for years and began looking into low-speed, street-legal vehicles as an alternative form of transportation. After considerable research, the GEM seemed ideal for its standard automobile features such as heating systems, windshield wipers, and seatbelts, plus amenities that included comfortable seats, leg room, and removable doors which provide an open-air cab.
He bought one second-hand last year to test in Acadia.
"I spent a month or so driving that around and immediately knew it was a great alternative for seeing the park," he said.
He approached Salvatore as a long-time connection with similar engagement in the local scene.
"I knew he was the right guy," Young said.
He recalled taking Salvatore on a test drive.
"We were driving around," he said. "I said, 'What do you think of this idea?' He was really quiet and, after a few minutes, he said, 'Wow, I think you're really onto something!'"
"It was a combination of both of us being involved in Bar Harbor, understanding customer needs and the way people visit," Salvatore said, "and recognizing there was an opportunity to see the park in a clean and green fashion."
Salvatore said that in this increasingly carbon-conscious age, Acadia's visitors—four million in 2021—might appreciate the chance to swap out their larger fossil-fuel vehicles for easier-to-maneuver electric, able to fit into smaller parking spots, and navigate through busy summer streets. The vehicles are about 4 feet wide and range from 6 to 16 feet long.
"They're nimble," noted Salvatore. "We've been up Cadillac, on Ocean Drive, over to Seal Harbor. You can cover quite a territory—any paved road that's under 35 miles per hour."
According to its website, GEM was the first commercially produced brand in the U.S. low-speed EV market. For over 20 years, the vehicles have been shuttling across "micro-environments" such as college campuses and residential communities.
The partners have installed charging stations at a garage Young owns near the rental office's downtown location. A single charge offers a range of 50-70 miles. Several area hotels also provide fast-charging for guests.
Katie Liming, a public affairs specialist with the National Park Service, said Acadia appreciates seeing more electric vehicles. Since low-speed vehicles licensed by the state are new to the park, the NPS is monitoring how they are used and interact with other vehicles to assess if there are any safety or traffic issues.
Liming noted there are many examples of national parks installing EV charging stations and offering alternative transportation options. In Acadia, plans are in the works to install charging stations at restrooms in Blackwood Campground this year, said Liming, who cited the Island Explorer as another alternative transportation.
The GEM?
"It's a really comfortable and fun way to see both Bar Harbor and Acadia," said Salvatore.